Brazos Valley Doberman Rescue
We DO NOT ship animals.
OUR WISH LIST:
FOSTER HOMES/FOREVER HOMES

"Until one has loved an animal, a part of one's soul remains uawakened."
-Anatole France
News:

*Enter Every Day to Help US Win!*

Click to see our calendar of events!

*The Doberman Pinscher Club of America*


Click here To Find The Doberman Rescue *Nearest* You


Click Here To Go Directly To Our Website


Have Your Pets Spayed or Neutered

To learn more about
SNIP click here.

Clicker Training


Click Here To Learn About Bloat

Responsible Pet Owners Alliance, Inc.
---
Our Featured Pets: ...
Max!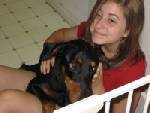 ---
Cooper!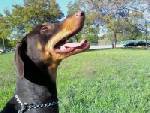 ---
| | |
| --- | --- |
| | We use Patented Kuranda Dog Beds because they are durable, chew proof and easy to clean. If you would like to donate a bed to us, click here. |
---
Donate to BVDR by searching the Internet with GoodSearch - www.goodsearch.com!
---

AFFORDABLE AGILITY for great equipment!

---
---
---

If you would like to become a member of Brazos Valley Doberman Rescue, or if you are interested in learning more about the Doberman breed, we invite you to join our group. We are always looking for another "helping hand."

Some of the ways you can participate are the following:


Foster homes. BVDR is ALWAYS in need of additional FOSTER HOMES for the Dobermans in our program. If you believe that you have the time, commitment, and experience to welcome a foster dog into your home, we need your help.


Transport. BVDR needs help with transporting the Rescue Dobermans in our program. Whether it be driving a dog from a shelter to its new foster home or escorting a Rescue to one of our participating vets for medical care, we need your help.


Fundraising. If your specialty is fundraising, we need your help. We use fundraising events to pay for the medical needs of the Rescue Dobermans. BVDR is a 501(c)(3)non-profit organization that is continuously in need of additional funds.


Miscellaneous. BVDR can always use help with "odds and ends" - help us staff our booth at education/adoption days, answer questions from potential adopters, perform home visits in neighboring areas, etc. ****** Link your Randalls Card to BVDR - our number is 3276 ... tell the clerk one time; and then every time you shop have the card swiped prior to checking out and Randalls will donate 1 percent of your total purchases to BVDR, Inc. ****** We need your help.


Your level of expertise does not matter. The important point is to GET INVOLVED. The first time you look into the grateful eyes of a starving Rescue ... well, why don't you come experience that for yourself?
The rewards are incredible.
The Rainbow Bridge Poem
---

Please contact one of the following members in *your* area for more information:

Patty, (Bryan/College Station area) at -
Email: dobierescue@yahoo.com

Dan (Austin area) at -
Email: dmcfaull@austin.rr.com

Laura (Austin area) at -
Email: l_issen@hotmail.com

Susan (Dickinson/Houston area) at -
Email: fosterboyd2000@yahoo.com

Who We Are:

Mission Statement :

"Compassion, integrity and reverence for life."

Dr. Albert Schweitzer

Our purpose is to try and find quality homes for abandoned and neglected Dobermans in and around Bryan/College Station, Austin, and Houston. Brazos Valley Doberman Rescue is a non-profit organization. It is recognized by the Internal Revenue Service as a 501(c)(3) charity. This means that donations to BVDR are tax deductible.

We also provide a referral service for people who need to try to find a home for their Dobermans. Referrals are not screened by BVDR. We only act as a liason between the current owner and the people looking for a dog.

Our dobermans are neutered, vaccinnated, heartworm tested and microchipped. The tiny injectable "chip" contains a one-of-a-kind identification number and is recognized worldwide. A special scanner is used to read the microchip through the skin of the animal. The animal feels nothing as the chip's number quickly appears in the scanner's viewing window. With a phone call, the registered chip can be traced back to the purchaser if necessary.

Adopting a Friend:

THE ADOPTION PROCESS:



Click Here To Fill Out An Online Application
STEP 1. APPLICATION: We require that you complete and return our application. On this form, we require a veterinarian and personal references. We are under no obligation to adopt any dog to any individual. Potential adopters must be able to provide proof of home owner's or renter's insurance that allows Dobermans to live on the premises. Our dogs are adopted to indoor family homes only.

STEP 2. INITIAL CALL TO FOSTER PARENT: While we are reviewing your application, you may call to inquire about any of the dogs on our "List of Available Dobermans." PLEASE BE AWARE THAT THERE IS USUALLY A WAITING LIST OF PRE-APPROVED APPLICANTS. THESE APPLICANTS ARE CONTACTED FIRST WHEN NEW DOGS ENTER OUR PROGRAM.

** It is important that you inform the foster parent that you have downloaded a copy of the application from the Internet.

STEP 3. HOME VISIT: While we are reviewing your application, the foster parent or another volunteer will visit you home to perform a home visit. The purpose of this visit is to verify any information you have listed on your application.

PLEASE NOTE: The adoption process CANNOT be completed until a home visit has been performed.

Come Visit Us!

STEP 4. MEETNG THE AVAILABLE DOBERMANS: Once we successfully have approved your application, you will be invited to meet the Doberman of your choice. If possible, we encourage you to look at all of the available dogs in our program that fit your profile. These dogs are in several different foster homes. You will be expected to travel to these homes to meet and visit with your potential adopted Doberman. All members of the family (including any family dogs) should attend this initial meeting since we consider this to be a family decision.

STEP 5. ADOPTION CONTRACT AND ADOPTION FEE: To complete a valid adoption, an adoption contract must be signed and an adoption fee will be charged. We reserve the right to change this fee based on special circumstances (i.e, elderly dogs, etc.) (Since we are a not-for-profit group, this fee is deposited into our pool of funds to help the next Doberman in need of assistance.)

If for ANY reason the Rescued Doberman is not working out in its new home, we require the dog be returned to us. It is our most heartfelt desire that all of our "fur-kids" be adopted into loving homes and be accepted as part of the family on a permanent basis.

Adoption is a commitment for life. Are you ready to make this commitment? Of all the treasures in the world, there is nothing more precious than giving a piece of your heart.

DOBERMAN PINSCHERS ARE NOT FOR EVERY FAMILY...

---
Brazos Valley Doberman Rescue
Website:
bvdobermanrescue.org
---

College Station, TX 77845
Phone: 979-776-6216

Email: dobierescue@yahoo.com
Click here for a list of pets at this shelter Powered by counter.bloke.com


---

[Home] [Information] [Shelters] [Search]


"BVDR condemns any organization, calling itself a humane society, a society for the prevention of cruelty to animals, or a rescue organization, that voluntarily sells or gives animals in its custody to biomedical research laboratories, training institutions, pharmaceutical houses, or other facilities that use animals for experimental teaching or testing purposes."...



Facts About Albino Dobermans







---
Some states may prohibit or restrict the solicitation of donations via the Internet or web sites. Brazos Valley Doberman Rescue has no intention of violating the laws of any state and, therefore, does not intend to solicit funds in those states that prohibit or restrict such solicitations.

---
---
---
---
---
The Gift
---
Eyes fearful, paws worn;
---
A sorrowful sight-
---
So forworn.
---
Love they said would be the cure
---
For the suffering
---
You had endured.
---
So our family grew that day.
---
We brought you home,
---
With us you'd stay.
---
Slowly, gently the bond it grew;
---
Faithful, loyal-
---
Loving, true.
---
Looking back it's so unclear
---
How we got by
---
Without you here.
---
Trusted companion,
---
devoted friend;
---
You give and give,
---
It never ends.
---
They said we were a gift to you
---
But now we know
---
Who rescued who.
---
--J.M. Berry
---