---
Featured Pet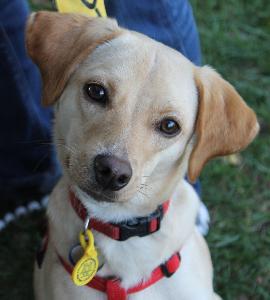 Our featured pet introduces himself...
Skylar!!
Skylar is a sweet little pup who needs a permanent or foster home. Very sweet, very friendly, loves dogs, people. The picture's a bit dated, but at 9 months old he looks JUST like a mini-lab. Seriously, like a miniature Labrador Retriever. Long legs, a bit gangling as teenagers can be, and just a love. Skylar needs a family who will work on his playful puppy nipping and be consistent with his training.



Adoption information and applications are available by visiting the our homepage.

Check our calendar to find our mobile Adopt-A-Pet locations, held each Saturday!
---
Adopt-A-Pet!
Saturday June 20th at Pet Supplies Plus in Richardson!!
Petco is located at 200 N. Coit Rd. Richardson, TX 75080.
Come join us from 1pm - 3pm.
View Map
---
Spotlight on Special Needs and Seniors!
The Pets listed here are our "special" kids, and our All-Important Seniors!
The Special needs pets sometimes require more than the usual amount of attention.
Please click on each one for further details.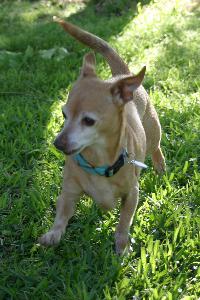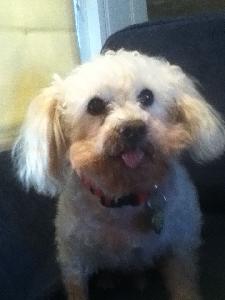 "I've raised puppies on many occasions -- forget it!
Give me the settled, laid-back, all-together, well-mannered, grateful, devoted, loving adult who know what life is all about, who respects my authority, defends my property instead of chewing it to pieces, is grateful for everything I do, and gives so much in return. He may not be around as long as a young one. No matter. The quality of love he gives makes every day a special blessing.
While the young dogs are running the fence, barking, digging, chewing, playing, ignoring my call for silence, the older dogs stand quietly by my side, content just to be with me. Oh yes, I'll miss them when God decides he needs them more than I do, but the memories and the lessons in love and devotion they are teaching me will live forever."
(Author Unknown)


---
RHS Events!
Check our calendar for weekly and upcoming Adopt-A-Pets, and Open Volunteer Meetings!
Visit our Happy Beginnings page to see our Adopted Pets!
---
Adopting a friend- RHS Adoption Process

We appreciate you considering adopting a rescued pet!! To make the process easier on you and us please take these 3 simple steps:
1: Review the Questions and Answers about our adoption process.
2: Please download and complete an Adoption Application .
3: Email the completed application to applications@richardsonhumanesociety.org ; or bring it to one of our Adopt-A-Pet (AAP) events.
All Adoptions take place at our Adopt-A-Pet (AAP) locations. Please check our calendar page for adoption locations and times.


Our dogs go to their new adoptive homes fully vetted--vaccinated for Rabies, Distemper, Parvo, Bordetella, heartworm negative and on heartworm prevention, sterilized, de-flead and de-wormed. With each adoption from RHS comes a package of very useful information, such as: New Parent Packet, Emergency contact and vet information, all veterinary records, proof of sterilization, document on Introducing New Dog to Dog and Introducing New Dog to Cat, Crate Training, Caring for a New Pet, Medical Signs to know, Basic Training Tips and RHS contact numbers. Also, there is info about RHS so that you can feel free to join in and be part of Richardson's pet friendly community. We also offer free behavioral advice for life. We will take back any pet adopted from us, at any time, for any reason, for the lifetime of the pet, no matter what.
***All RHS dogs *and all dogs living in the southern states* need to be kept on Heartworm Preventative.*** Flea and Tick preventative is suggested for our dogs as well, saves allergy problems, irritation and unhappiness!
All animals are required to have annual vaccinations and good health care to help to keep them stay healthy and happy for years to come!!! We do not do out of state adoptions.

---
Who We Are

We are an all volunteer, not-for-profit rescue organization. We do not have a facility, we rely on our foster homes to house, love, socialize and evaluate our animals. We show our animals at adopt-a-pets and events in the Dallas/Ft. Worth area. (See locations below)
The purpose of this society is to rescue and re-home adoptable pets, educate our community regarding the prevention of cruelty to animals, and the extension of humane education. We are active in our community educating the children in our schools, bringing the community together with fundraisers and pet friendly events and ensuring each pet owner has all the resources and information necessary to care for their pet.
---
Volunteering and Donations

Fosters are our most valuable resource. They are the life of our organization, the people who keep our pets safe, secure and loved while awaiting a permanent placement. The dog or cat will have been fully vetted by the time s/he gets to you. We provide a crate, training information when needed, food, bowls when needed, treats and toys. You provide the loving touch, work on housebreaking when needed and get to the know the pet so that we can match wisely with a potential adopter. Since we do not have a shelter or facility, we are always in need of loving foster homes. The more foster homes we have, the more animals can be saved! Please send an email to marthajdenton@yahoo.com if interested in fostering a pet.
Any donations or extras that can be offered is also of great value. All donations to RHS are tax-deductible, we will provide you with a tax receipt. Donations of food, supplies, toys, treats, to provide for all of our rescued pets are always needed and appreciated. RHS depends on foster homes AND donations to continue rescuing wonderful animals that have found themselves homeless.
Come Visit Us!

Petco (Richardson)
1401 E Spring Valley Rd. (Spring Valley/Plano Rd.)
Richardson, Texas
972.238.5257
OR
PetSmart (Richardson)
(Corner of Coit and Campbell Rd.)
Richardson, Texas

Please be sure to check our calendar for weekly Adopt-A-Pet locations and upcoming events.

---
Richardson Humane Society
PO Box 852515
Richardson TX 75085
Phone: 972.234.5117
Email: applications@richardsonhumanesociety.org
Click here for a list of pets at this shelter

---

[Home] [Information] [Shelters] [Search]