Houston Beagle Rescue
---
Featured Dog!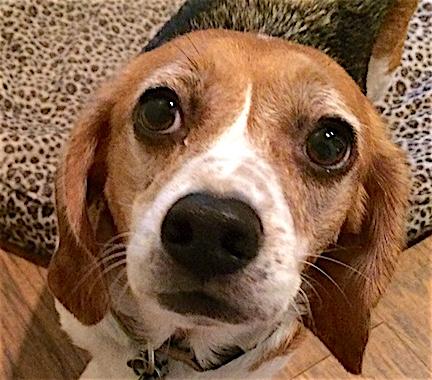 Lettie is an adorable "tri"-colored beagle (black, tan and white), with soft, silky beagle ears and a shiny coat! She was turned in to an animal control shelter as a found dog, and her owners did not come to claim her, so the shelter contacted our group and asked us to rescue her. She is about 5 years old, is about 14" tall, is current on all of her vetting, is housebroken and doggie-door trained. She gets along well with the other dogs in the foster home but does not really care about playing with them. Rather, she loves attention from her human friends, so she should be fine as a companion to another dog or as an "only" dog. She can be a bit noisy when the humans go out without her, so an apartment would not be the best type of home for her.

Lettie is a really a sweetheart! She is a bit shy and takes awhile to get to know strangers, but once she knows you, she will want to hang out with you and may even give you a little kiss if you ask! Like most beagles, she'd LOVE to go to a home that enjoys a nice walk around the neighborhood before settling in for a beagle nap. After all, a walk around the block is an opportunity to sniff out all the possibilities! She also enjoys a ride in the car, and a few pats on the head with a few treats thrown in would be good, too!

To meet Lettie or any of the other HBHR beagles, please visit our website and read the info link "About Adoption.": Houston Beagle Rescue Check out our website to find our monthly "meet and greet" events, which are usually held on the 2nd Saturday or Sunday of each month, or email us for more information! The FIRST STEP in our adoption process is for you to complete our on-line application to adopt -- so please fill it out and send it to us in order to start meeting some beagles!



News
Visit our own website with more information about our organization, about adoption, and of course, more about beagles in general. Go check it out: Houston Beagle Rescue
Who We Are
We are a small group of friends who are committed to rescuing needy Beagles and occasionally other Hounds from shelters, abandonment, neglect, and other dangerous situations. We attempt to find loving rescue-friendly homes for these dogs at risk. We have no shelter facility so the dogs are fostered in private homes, mostly in the Houston area. We are a non-profit corporation in the state of Texas.
How To Help
We are always looking for great foster homes. Also, we would love for you to volunteer to help with some of the driving (we do a lot of driving, picking dogs up from shelters, shuttling to vets, and sometimes even taking dogs to their new homes.) We also appreciate donations of any size, which helps us to rescue more needy dogs! See our Paypal link for sending monetary donations or email us for instructions on mailing a check.

Are you interested in fostering one of our wonderful beagles? If so, please fill out one of our Foster Application forms: Houston Area Foster Home Application

We are a totally volunteer-run organization. There are always more dogs than there are volunteers and any help is appreciated to get more of these dogs out of the shelters and into their forever homes.
Adopting a friend
We require an adoption fee for adopting our rescued dogs. The fee may vary according to a particular dog, so please read the info listed below each dog's individual write-up for more info on adoption fees. Our fee includes the spay/neuter, the vaccines, flea and heartworm preventative/treatment, any other healthcare needed to prepare the dogs for adoption, plus a new leash, collar, rescue ID tag, a microchip and some training! Our expenses often go way over the amount of our adoption fee, but those costs are made up by fundraising events and not added to the dog's regular adoption fee. If you are interested in adopting one of our dogs, THE FIRST STEP IN OUR ADOPTION PROCESS is to complete our adoption questionnaire here, please: Adoption Questionnaire! This is the way to get the adoption process started. If you would prefer to apply via email or FAX, please contact us for instructions on using that method.

We have been getting many, many inquiries on all our dogs, which is great news. Unfortunately, it may take us a few days sometimes to respond. Priority responses will be given to applications received online. Our volunteers must go to work during the day and phone inquiries are more difficult to respond to, in a timely manner! Thanks!

Our adoption fee does not begin to cover the expenses incurred on most of the dogs. HBHR volunteers willingly spend money out of their own pockets to help these needy dogs. Most of the dogs have been sorely neglected in their past and require some vet care to prepare them for adoption.


Policies:

We want to adopt our dogs to "indoor" home situations. The dogs are fostered in indoor homes where we work on crate-training and housebreaking, and they will be happiest in an adoptive home of the same type. We do not have a "shelter." The adopters must agree to continue to provide responsible vet care including heartworm preventative medication, current vaccines and any other care which will assure the dogs of continuing good health. All dogs MUST be spayed or neutered prior to adoption, so we do not post the new ones on the list until all vetting has been completed.

Since we usually know very little about the backgrounds of these dogs, we cannot be held responsible for any problems which might occur after adoption. We will disclose anything which we have encountered while they have been in our care. As always, we thank you for your interest in adopting one of the many wonderful dogs in our program. Check out our website for more information and to find out how you can meet the beagles in person!
Come Visit Us!
Come see our website: Houston Beagle Rescue Our Austin affiliate: Hound Rescue
---
Houston Beagle Rescue

Houston TX 77380

Email: info@HoustonBeagleRescue.org
Click here for a list of pets featured by our organization

---

[Home] [Information] [Shelters] [Search]