PROJECT PAWZ
Project Pawz
|
Promote Your Page Too
---
Our Featured Pet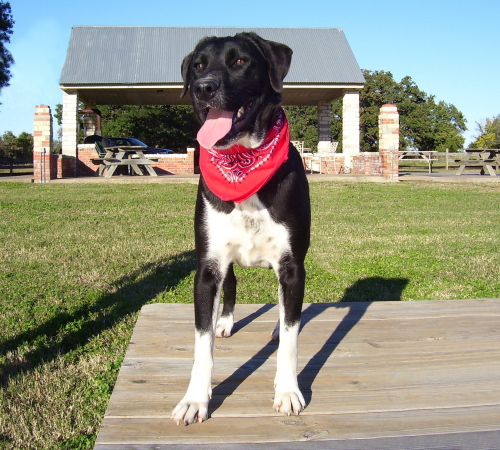 HANK
HANDSOME HANK is what we call him around here, and we sure think his name suits him!! Hank was born in June of 2008, so he's full grown now and weighs about 72 lbs. He's current on his vaccinations, neutered, and has been taking monthly heartworm preventative since he was 3 months old. Hank and his siblings were rescued as tiny pups during a hot Texas summer with temperatures reaching 106 degrees. They were all brought to safety and have been in foster care awaiting adoption ever since. A poor economy has slowed adoption rates nationwide, but Hank's still hopeful.... he knows his day will come.

Hank is a very striking boy. He's black with beautiful white stockings on his front and back feet. He also has a gorgeous white blaze on his chin and chest, and white on the very tip of his always wagging tail!!

Hank is still a young dog that's ready to make his mark on the world. He's quite smart and soooo eager to please. Hank enjoys playing chase with his brothers and retrieving his favorite ball. In the afternoons, Hank and his brothers enjoy a leisurely game of good old fashioned "fetch". One toss of the ball and they're all running to see who can get to it first. When Hank gets the ball, he very quickly brings it back to you in hopes that you'll continue to toss it for them. He seems to never tire of the competition, however he's always a good sport. Hank uses a doggie door and enjoys being both inside and outside. He's used to sleeping in his crate at night, along with his favorite bone stuffed with velveeta cheese. Hank gets along great with people of all ages and other dogs, so he's hopeful that one day he'll finally get that FOREVER HOME he so deserves!!
Who We Are
PROJECT PAWZ is small private rescue effort located in Corsicana, Texas, just south of Dallas. The animals in our care come from different places, but they all have one thing in common........ the need for a better life. Because we're a single family, and rehabilitate companion animals in our home and on our property, we have to take into consideration the amount of space necessary to properly care for each foster animal and also the monetary responsibility involved for veterinary care that each and every foster requires. Because of this, oftentimes we're at maximum capacity and simply can not take on any more animals in need until our current foster animals are adopted into forever homes, no matter how long that may take. No animal in our program will ever punch a time clock or face euthanasia due to slow adoption rates or the need to make room for other animals coming in. This is their place of safety and refuge for as long as they need us.

Occasionally we list an animal that is being cared for in a home other than our own. These listings are noted as "courtesy postings". We strive to maintain the same high standards in our outside foster homes as we do for ourselves. We take the responsibility of placing a healthy and well socialized companion animal very seriously, and want you to be pleased with your new adopted friend!!!
What We Do
Each animal in our care has been seen by a veterinarian and given an overall health evaluation. Once evaluated, that animal is given all age appropriate vaccinations and worming, along with any other specialized veterinary care they may need. If the animal is at least six (6) months of age, spay/neuter surgery will be performed if he or she is deemed healthy enough for surgery. Otherwise, the animal will be spayed or neutered at a later date approved by our veterinarian. If the animal is too young for spay/neuter surgery at the time of adoption, the adopter will be required to have the animal spayed or neutered when the animal reaches six (6) months of age. Confirmation of spay/neuter must be sent to PROJECT PAWZ immediately following the surgery.
Adopting a Friend for Life
Our process starts with an adoption application. This allows PROJECT PAWZ to better understand exactly what you're looking for in an animal companion. Because we know our foster animals so well, we try to match them to the best possible family situation. Just like humans, each animal has his/her own personality and temperament, regardless of their breed. Some of our animals enjoy having a playmate, while others prefer being an "only child". Some love children, while others would rather settle into a slower paced lifestyle. The more information we can exchange, the higher the liklihood of a successful and lasting adoption. We don't just adopt out animals. We strive to make the best compatible fit, which is why we like to know all about our prospective families.

Prospective adopters will be requested to complete an application, provide vet and/or personal references, and allow a home visit. Our goal is for our animals to be adopted into families that will devote themselves to the continuing care of their new pet, ensuring his/her health and happiness. We have a lifelong commitment to each and every animal that enters our program, as well as to the families that offer them a 'forever' home.

We want our adoptions to last a lifetime, however we realize that's not always possible. If for any reason your situation changes and you can no longer keep your adopted friend, we ask that you return he/she to PROJECT PAWZ. We will gladly accept your adoptee back into our program regardless of the amount of time he/she has been in your home. Whether it's been 6 days, 6 months or 6 years, we understand that sometimes things happen that are beyond your control and you may be forced to give up your pet. Our fosters are always welcome here.

If you're interested in adopting one of our available pets, start by completing our Adoption Application. Please contact us at (903) 874-3722 or via e-mail at fosterfolks@projectpawz.com and we'll be happy to e-mail it to you. Upon completion, please return your application via e-mail to fosterfolks@projectpawz.com
How You Can Help
One of the most valuable services you can offer to a rescue or shelter is becoming a foster home. Many abandoned animals are taken in by foster homes, which house, feed, care for, socialize, and most importantly just love them. Rescues such as ourselves desperately need foster homes. With more fosters, fewer animals are left in shelters to face the possibility of euthanasia. In fact, fostered animals are more adoptable thanks to the ongoing socialization and care they receive in a home environment. Your daily TLC can completely turn an animal around.... An animal that previously had no hope of ever being adopted. Being in a foster home helps rebuild loyalty, trust and confidence in each adoptable pet.

There is no stronger link in the rescue chain than the foster home. Quite simply, we couldn't do it without you. It's a very rewarding experience knowing you helped rescue a companion animal down on their luck, and then nurtured & cared for that animal until they were safely transitioned into their forever home. Please call or e-mail PROJECT PAWZ to find out more about our foster program. You will truly be saving a life!
---
PROJECT PAWZ

Corsicana, TX 75110
Phone: (903) 874-3722

Email: fosterfolks@projectpawz.com



Check out our Adoptables:Adoptable Pets


Visit our Website: www.ProjectPawz.com

---

[Home] [Information] [Shelters] [Search]