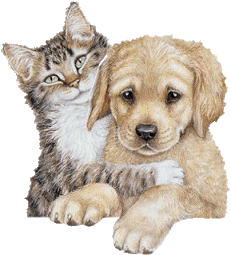 Forever Homes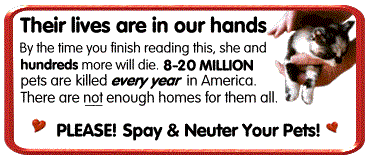 ---
---
Our Featured Pets...
News


Our Website
Click here to Visit Our Website
Our Mission
Forever Homes is a Rescue group whose mission is to rescue homeless and abandoned animals from euthanasia, provide sanctuary, and ultimately find a Forever Home.
An estimated 52 million dogs and 57 million cats live with U.S. families. More than 12 million dogs and cats are euthanized in shelters each year. Millions more are abandoned in rural and urban areas.
We promote spay/neuter and provide safety and care for homeless animals and education for the pet owning public in order to prevent needless deaths of unwanted pets, preventable but fatal diseases and cruelty to animals We are also working with other rescue groups throughout Texas, helping many pets in our local shelters. This is done by volunteers. We all have jobs and families.
All our Rescue Pets live in our own Homes or in Foster homes, we do NOT have a shelter facility. Most live with children and other pets.
We are located in Central Texas. Our Homes and Foster Homes are Located In Kempner, Fort Hood, Killeen, and Harker Heights.
We are about 1 hour away from Austin and 45 min away from Waco.
We are an ALL Breed Dog Rescue ,if space is avaible and a foster Home can be found.

Adopting a friend
If you are interested in one of our rescue Dogs Please fill out an application. To fill out an application Click Here . Your application will be evaluated on the best match possible for our pets and not on a first application basis. We All are Volunteers and will be answering your applications as soon as time is available. A call to your Vet will be placed to check on sterilization of your present pets, current vaccinations and monthly Heartworm preventative for any dogs you may own. A home check will be scheduled to check on proper fencing and living conditions for our dog. This will also give us a chance to meet you and your family! All pets will be adopted out as Family Members only! Adopting a friend is a lifetime comitment.

Rescued Pets
Dogs and cats will come Utd on age appropiate shots,Spayed or neutered, microchipped ,heartworm negative, on Heartworm prevention and Flea& tick Control.
We are fully committed to our rescue pets,many come to us needing little to severe medical attention,like Heartworm positive,Mange,Infections,broken bones,severe sunburns,dental work,cherry eyes etc. All will be treated for their medical Issues.

Donations
Donations are needed.
bleach
antibacterial cleaner
iverhart max,heart guard or other heartworm prevention Any size
frontline plus any size
collars
leashes
towels
blankets
capstar
Rawhides&Treats
Kennels any size
Cat/Kitten Food
Dog /puppy food any age ,any size.
cat litter
Canned Dog/puppy&cat/kitten food
Gift cards for the purpose of buying items stated above.
Donations are always needed
Questions?
For Q&A Click Here .
---



Forever Homes



Phone: Please E-mail us!

Email: rich5921@earthlink.net
Click here for a list of our pets


---

[Home] [Information] [Shelters] [Search]