Tails of Hope Dog Rescue
Our Mission Statement :
Our purpose is to rescue, socialize, rehabilitate, and find forever homes for abused, neglected, abandoned and unwanted dogs and puppies.
---
Our Featured Pet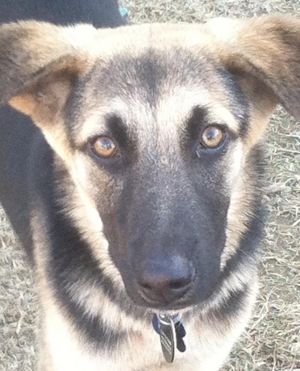 Bismarck

This handsome boy is Bismarck. He is a German Shepherd ( possible mix just not sure) that was born in May of 2014. He is up to date on vaccinations, rabies, bordetella, microchipped, and set to be neutered. He was found as a stray and was in a shelter when we rescued him. He gets along with other dogs ( his foster home has many) and shows no interest in cats ( the foster has two). He sleeps in a crate at night and has done very well letting you know he has to go potty. If you are interested in adopting Bismarck please visit our website for adoption information and please send in the application: www.tailsofhopedogrescue.com. .
Every rescue is up to date on vaccinations, heartworm & flea prevention, microchipped, and spayed/neutered before adoption!
Please help us help more dogs by donating toward medical costs. Visit our website: www.tailsofhopedogrescue.com and you can make tax deductable donations on our PAYPAL button! Thank you!
Who We Are:
Tails of Hope Dog Rescue is a non-profit 501 (c) (3) , non-specific breed rescue made up of dedicated dog lovers. We have a network of families and individuals that provide foster care for dogs and puppies (some too young or sick for adoption) until they can be adopted into loving, responsible homes.
Where Every Dog has Hope...because THERE is hope for every dog!
Would you like to help a rescue dog or puppy but just can't adopt? Then why not sponsor one! So many come into our rescue needing medical care: heartworm treatments, spaying, neutering, skin issues, broken bones and so on. You can become a special angel to a very lucky rescue by sponsoring their medical care so they can be adopted to a forever home! Contact us at our email below and we will be more than happy to send you information about those poor furbabies just waiting in the wings for funds to get the medical care they need! You will get their profile information, pictures and ways to help! What a wonderful way to help a rescue baby!
<
Low cost spay/neuter services available:Midsouth Spay & Neuter Services
854 Goodman Street,
Memphis, TN 38111-6744
(901) 324-3202
Humane Society of Memphis & Shelby County
935 Farm Road
Memphis TN, 38134
901.937.3900

Fetch-A-Friend!
Come See Our Adoptable Pets at our adoption days!

We hold adoption events in the
Memphis area where you can come and meet
some of our adoptable dogs!


The 2nd weekend of every month we alternate between

Hollywood Feed on Broad ( Saturdays, 12-4)

WoofGang Bakery and Spa, Germantown Rd Cordova ( Sundays 12-4)


Every 4th Saturday

Hollywood Feed 3615 S Houston Levee Rd
Collierville, TN 38017
(901) 316-0362




We are on PINTEREST! http://pinterest.com/tailsofhope/tails-of-hope-dog-rescue-adoptable-dogs/


FOLLOW US ON FACEBOOK! SEE ALL THE NEW RESCUES AS SOON AS THEY ARRIVE!


facebook.com/tailsofhopedogrescue

Tails of Hope Dog Rescue
P.O. Box 30245
Memphis, TN 38130

Email: tailsofhopedr@yahoo.com
www.tailsofhopedogrescue.com

Please visit our website: www.tailsofhopedogrescue.com
All downloadable forms are available under the "HEEL" button
Donations may be made using our PAYPAL button


<
---

[Home] [Information] [Shelters] [Search]