Our Featured Pet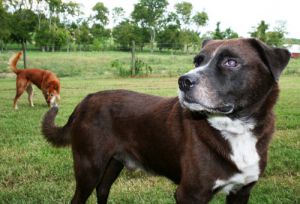 WON'T SOMEONE LOVE DAVID??? HE IS BLIND BUT OH SO BEAUTIFUL
---
---
Who We Are
Clover for Rover Animal Sanctuary and Rescue, Inc. is a special needs, non-profit organization run by only 2 women located in a rural community outiside Nashville, TN. We are 100% no-kill. Our rescue is a farm sanctuary nestled on about 10 country acres. We are home to dogs, cats, horses, donkeys, cows, pigs, tortoises, birds, the occassional rodent, and even our feathered friends. Our dogs don't live in kennels or crates but live in a home environment and have the freedom to run several acres. We feel this setting provides a less stressful and more enjoyable life for our dogs. And, makes a smoother transition into their new adoptive homes.
In an effort to handle the enormous pet overpopulation crisis here in the south, we conduct a south to north transport approximately every 4-6 weeks. We relocate and rehome dogs who are virtually "unadoptable" in our area to homes in the northern Illinois (Chicago) and Wisconsin area. We have even transported animals as far as Rhode Island. We have been successfully placing "southern" dogs "up north" for approximately 10 years.
Many of our beloved animals have one kind of special need or another. For example: our sanctuary is home to many animals who are senior, deaf, blind, diabetic, injured, physically handicapped, etc. In fact, the majority of our special needs dogs are permanant residents and will live out their life here at the farm. Actually, every dog at Clover for Rover was in jeopardy of being euthanized prior to finding us. Some were saved only minutes before being put to sleep. We love, cherish, and respect every animal that passes through our gate; therefore, it is our philosophy to go the extra mile for each and every one of these special creatures. In fact, it is common for us to treat a dog who was hit by a car for a broken leg, heartworm infestation, and pneumonia in addition to routine vet care. Most of our animals require some kind of treatment and/or training prior to being ready for adoption. Therefore, we want to ensure they find the best home possible. If you feel like you will be able to give one of our dogs a wonderful, forever home, please contact us.
---
Adopting a friend
Adopting a rescue animal is a long term committment, can be costly, time consuming, and one of the most gratifying decisions you will ever make. If you are interested in adopting one of our animals, please feel free to contact us via email. We care deeply about each and every one of our animals therefore, we have an interview and application process. Due to the volume of our rescue work, we prefer to be contacted via email. Lastly, we only show our animals by appointment. Unfortunately, if you show up at the farm without an appointment, we will not be able to accomodate you.

Our adoption fee typically ranges between $100-200. All of our adoptable animals are fully vetted (spayed/neutered, current on shots, frontlined, heartworm preventative, and dewormed) before they go to their new homes. Lastly, if you adopt one of our beloved animals and the match doesn't fit, we want our animal to come back to us.

Thanks for looking at our pets!
---
Donations
Clover for Rover is strictly operated via donations. We are always in need of doggie biscuits, treats, toys and balls. We graciously accept any donation.
NEEDED items: horse feed, hay, straw, wood chips, bleach, laundry soap, blankets,and towels

If you love what we do, we always need support and donations. In fact, we survive solely on donations.
---
Clover for Rover

Gallatin, TN 37066
Email: cloverforrover@yahoo.com
Click here for a list of pets at this shelter

---

[Home] [Information] [Shelters] [Search]