The Cat Shoppe Rescue
Our Featured Pet...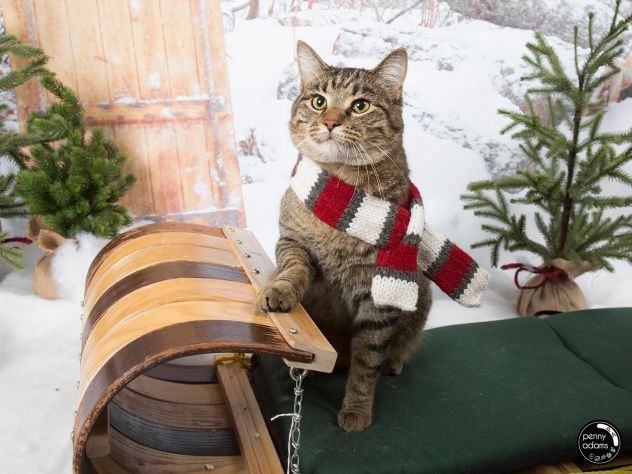 Our featured pet is Chubby! I am a handsome and sweet male brown Tabby kitty. I am precious and extra sweet too. I have a thick tail hence my name "Chubby". I will be the best companion you ever had! Just let ol' Chubby show you the love! If you are interested in adopting me just call Chris at The Cat Shoppe for more information at (615)297-PURR! The Cat Shoppe is located at 2824 Bransford Ave in Berry Hill area 37204.We are open Mon-Sat 10-6 Thanks!
News
"What greater gift than the love of a cat?" ~Charles Dickens~
Black Is Beautiful!! It is known throughout history that if a black cat crosses your path and enters your home, it will bring you good luck and fortune! Black cats also guide your soul when you die. More reasons to adopt a black kitty or two!

<--The cat furniture guy is Steve Hall from Furwood Forest. Steve handcrafts fabulous rustic and durable trees for your special feline friend. Every size color and style is available or he can custom make one for your cat. Please visit his website at http://www.furwoodforest.com/ Show your kitty the love with a new tree! We love Steve, we love his trees and you will too!->
Adopting a friend
The adoption process consists of a friendly conversation with the potential adopter. We also consult with the adopter to help select and make a good match. We provide advice and help with questions and concerns to the best of our ability. The adoption fee is a donation to The Cat Shoppe Rescue fund, we ask for a minimum of half the vet bill (within reason mind you, some cats have had surgery other than a spay or neuter which is usually covered by a special fund). You will also receive 10% off all food, litter, litter boxes, toys, treats, beds and other kitty supplies the day you adopt your angel. Please note, most cats are frightened when they arrive at a new home and may not warm up to you or your other pets right away. We ask that you be patient and allow a minimum of 2-3 weeks for them to adjust to you and their new surroundings.
Come Visit Us!
We would love to have you drop by! The rescue is located in the store and the hours are Monday through Saturday 10 am to 6 pm, and Sunday 1 pm to 4 pm. The address is 2824 Bransford Avenue, Nashville. TN 37204. Most of the cats and kittens for adoption are on site. A few are being fostered. If you are interested in volunteering or becoming a foster parent for The Cat Shoppe please talk to Chris, we always need fosters and volunteers! (615) 297-PURR Thank you!!
The Cat Shoppe has all your kitty supplies that you need to keep your furry friend happy and purring! NEW NEW NEW!!! New arrivals at The Cat Shoppe include fun T-shirts, scratching posts, organic cat grass, Blue Diamond ALL-NATURAL CAT LITTER! Long lasting, 100% Natural and Biodegradable, Superior Odor Control....the secret... the Nutshell! Very affordable!! Try the clumping or Pellet formula...cats dig it! LOTUS dog and cat food! It's baked and has nature's finest ingredients! Samples available! The Dog Store connected to The Cat Shoppe has new dog toys made in the USA without the toxic lead paint. These new dog balls are extremely tough, come in two sizes and are flavored with mint! Keep your dog happy with a new toy and fresh breath! Woohoo! Also NEW at The Dog Store are quality but affordable treats by Cloud Star, Natural Balance, Solid Gold and others! We have a huge selection of cat and dog food, treats, toys, supplies and gifts. If we don't have it we'll special order it for you, no problem at all! Please visit us today, we'd love to see you! 2824 Bransford Ave in Berry Hill area of Nashville, TN 37204. Our rescued cats and kittens roam free in the store so c'mon in and pet a kitty, it reduces hyper tension and it's good socialization for the cats! Thanks a bunch! Most of the rescue cats and kittens are photographed by the amazing Penny Adams. She donates her time and professional photography skills to help these babies find homes. A picture says a thousand words! Please visit Penny's website to view her work or call (615)332-5358 to arrange a photo session for you and your pets! www.pennyadams.com Try our new line of all natural Naked Bee! Heavenly and yummy scented lotions, soaps, lip balms and much more...no bad stuff in these products! We have lots of unique and hard to find gifts for cat and dog lovers! We carry Laurel Burch! Laurel Burch is a famous and talented artist and designer. We have a huge selection of her purses and other apparel and items at The Cat Shoppe. Please stop by 2824 Bransford Ave in Berry Hill beside Cafe Monell's! Pet Community Center is a low cost spay and neuter clinic located in Nashville, TN. Please call today to have your pet spayed or neutered (615) 512-5001
---
The Cat Shoppe
2824 Bransford Ave

Nashville, TN 37204
Phone: 615-297-7877

Website: www.thecatshoppedogstore.com

Facebook: www.facebook.com/catshoppe

Email:
Click here for a list of pets at this shelter

---

[Home] [Information] [Shelters] [Search]