Sheltie Rescue of East Tennessee
---
Our Featured Pet...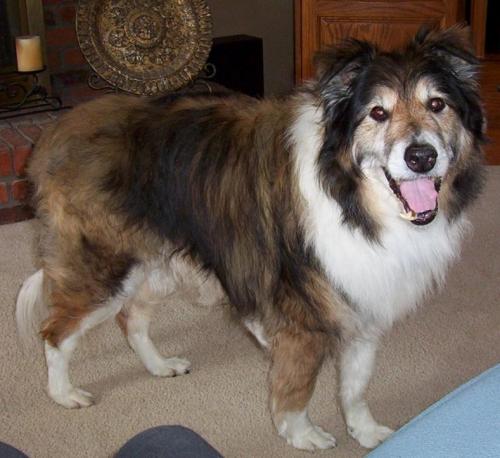 Chewy!
Chewy is a great older boy that is full of love and gentle as a lamb. He needs a great home where he can shower his love on all around him!
News
As you may know East Tennessee was hit by storms and tornados. One of our local rescues took a direct hit by a tornado. While everyone and the 70 plus animals are all safe and unharmed the facility is in need of repair. Love Handlers is a sanctuary as well as a rescue and they provide a permanent home many animals that are not adoptable. If you can help please go to Love Handlers and make a donation. Donations of any amount will be greatly appreciated. http://www.lovehandlers.org

Our Christmas card and Note card sets, featuring our rescued Shelties, are available now! Please visit our web site for more information http://www.sheltierescueetn.com

We also have new 3 inch diameter Collectable Sheltie Angel Ornaments made for Sheltie Rescue by Incolay! Available in 6 Incolay colors. And we've just added a beautiful Sheltie Angel Urn or Memory Box, also made by Incolay, to our product line. It comes in all 14 of the Incolay colors. You have to see them to believe how beautiful they are.

We've just added some wonderful Sheltie and dog related magnets and a new set of Sympathy cards to our Sheltie Store. Stop by and take a look at all of our products. Pictures and ordering through Paypal can be found on our web site in the "Our Store" page. Click on any picture to enter our Sheltie Store. http://www.sheltierescueetn.com.
Who We Are
Sheltie Rescue of East Tennessee,Inc is affiliated with the American Shetland Sheepdog Association's national rescue group. We are a small 501 (c)3 group of dedicated volunteers in the East Tennessee area that find loving, safe homes for displaced Shelties. When a Sheltie comes into our rescue they are placed in a temporary foster home. While there, the physical needs, personal characteristics and emotional stability of the dog is assessed. Foster parents work on any training thatís needed such as basic obedience and manners, crate training, socialization, and housebreaking. To help insure good matches, all adoptions include a two week introduction period. If for any reason during that time you decide a good match has not been made, you may return the dog to us and your adoption fee will be returned. Adoption fees vary depending on the dog.

All Shelties placed through us are required to be inside dogs and must have a fenced area for exercise. Buried, electronic fences are not acceptable. Although they will contain some breeds, they donít work well for Shelties nor will they keep dogs or other animals out of the fenced area. There is more information available concerning why we do not approve electronic fences at Illinois Sheltie Rescue's web site http:illinoissheltierescue.com/invisiblefences.html
Adopting a friend
An application is the first step in adopting your new friend. It asks all the questions that help us make the best Sheltie/family match.

A home check is required and can be done at any time after your application is approved. An appointment will be made for one of our volunteers to visit your home with all family members and other pets present. The volunteer will answer any questions you may have.

You usually meet the Sheltie in his or her foster home. However, if you have another dog, you will probably meet the volunteer housing the Sheltie in a neutral location such as a park. The dogs can meet without feeling defensive or threatened. You will be encouraged to interact with the Sheltie, perhaps walk or play with him or her.
How You Can Help
If you live in the East Tennessee area and would like to become a foster parent, help watch for Shelties at shelters near you or help with transport to other locations please visit our web site for more information http://www.sheltierescueetn.com

Unfortunately, the cost required to ready our Shelties for placement is often higher than the adoption fee. Donations of any amount are always appreciated and may be sent to: Sheltie Rescue of East Tennessee, Inc PO Box 2354, Greeneville, TN 37744
Or Donate through Paypal.


Come Visit Us!
---
Sheltie Rescue of East Tennessee, Inc
PO Box 2354
Greeneville, TN 37744
Phone: 423-525-2945

We do not accept Text Messages

Email: brenda@sheltierescueetn.com
Please visit us at: http://www.sheltierescueetn.com

Click here for a list of pets at this shelter

---

[Home] [Information] [Shelters] [Search]