Tiger is about 2 years old. She is good with other cats & knows to use her litterbox. Her mom gave her up due to domestic abuse. Tiger is looking for her furrever home. Please come visit her at the Smyrna Petsmart.

*** SPECIAL EVENTS ***

.

It is kitten season and we are full with kittens of every kind. We have too many to list on our website. Please contact us if you are looking to adopt a kitten. We also have a few older cats that are not listed as well.
We are always looking for foster homes. Please contact us if you are interested in fostering some of our wonderful kitties.


---
Who We Are

Twisted Whiskers is private rescue organization that operates soley on private donations and volunteer efforts. We are dedicated to assisting the community in the difficult task of finding loving and safe homes for cats that would otherwise be euthanized.

Twisted Whiskers takes care of the abused, neglected, lame and hurt, and offers them a second chance at life. We provide care for orphaned kittens and make every effort to match each feline's personality to their new family. By helping, we can make a world of difference for them.

All cats that are offered for adoption are spayed and neutered before going home. They are tested for Feline Aids and Leukemia, dewormed, started on monthly flea preventative, and have received their 1st vaccines. Our adoption fee of $65.00 includes all of these services. Come meet them at the PetSmart in Smyrna, TN!


---


There are too many homeless kitties sitting in high-kill shelters and pounds that need our help. We work with local shelters for the cats and kittens whose time has run out! We can only take in as space allows.


---
Adopting a friend
If you would like to adopt a feline friend, please contact Twisted Whiskers by sending an email to: SAVINGKITTIES@YAHOO.COM and we will contact you as soon as possible. All of our cats and kittens are spayed and neutered before being placed for adoption.


---
How you can help
Twisted Whiskers appreciates any donations we receive in order to provide vet care for our rescues. If you would like to make a secure online donation, you may do so by clicking on the DONATE button below.
---
Come Visit Us!
WE HAVE NOW TEAMED UP WITH PETSMART. PLEASE CALL FOR AVAILABILITY.
PetSmart
807 Industrial Boulevard
Smyrna, TN 37167
615-220-8487


---
CONTACT US:
Twisted Whiskers



Tina B. e-mail: savingkitties@yahoo.com




Click here for a list of pets at this shelter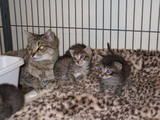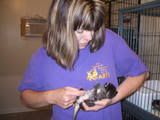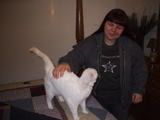 ---
RAINBOW BRIDGE
Just this side of heaven is a place called Rainbow Bridge. When an animal dies that has been especially close to someone here, that pet goes to Rainbow Bridge. There are meadows and hills for all of our special friends so they can run and play together. There is plenty of food, water and sunshine, and our friends are warm and comfortable. All the animals who had been ill and old are restored to health and vigor; those who were hurt or maimed are made whole and strong again, just as we remember them in our dreams of days and times gone by. The animals are happy and content, except for one small thing; they each miss someone very special to them, who had to be left behind. They all run and play together, but the day comes when one suddenly stops and looks into the distance. His bright eyes are intent; His eager body quivers. Suddenly he begins to run from the group, flying over the green grass, his legs carrying him faster and faster. You have been spotted, and when you and your special friend finally meet, you cling together in joyous reunion, never to be parted again. The happy kisses rain upon your face; your hands again caress the beloved head, and you look once more into the trusting eyes of your pet, so long gone from your life but never absent from your heart. Then you cross Rainbow Bridge together....

IN LOVING MEMORY OF PRINCESS, STARR, AUTUMN, SIERRA, & WEEZER