---
The Stray Connection is a program dedicated to rescuing stray cats and kittens and is structured to ensure that all cats go to good homes. By adopting a cat from the Stray Connection you will be supporting our caring, no-kill organization and making room for one more homeless cat. We are always looking for safe, loving homes for the many homeless cats and kittens we are asked to take in.
Stray cats and kittens are housed in temporary foster homes until a loving, responsible, permanent home is found. There is no time limit on how long animals can stay in foster care. They stay until they are adopted. The Stray Connection rescues and adopts about 150 cats and kittens each year that may have otherwise been euthanized.
All of our animals receive high quality veterinary care. Before adoption, all cats and kittens are tested for feline leukemia (FeLV) and feline aids (FIV). They are thoroughly examined by a veterinarian and treated for internal parasites and fleas. Our adoption fee also includes the necessary distemper and rabies vaccines, as well as the spay or neuter.
All of our animals go to their new homes healthy and well-adjusted.
If you are thinking about adopting a cat or kitten, the Stray Connection is your answer!
Our cats and kittens come in all sizes, shapes and colors.
Your new companion is waiting for you!
If you like to donate to the Stray Connection, please contact Holly at 865-671-4564 or hhfrey1@tds.net
---
VOLUNTEERS NEEDED!
Volunteers are needed to help at weekly adoption fairs. We set up every Saturday at the PetsMart on Morrell across from West Town Mall from 1-4 pm. Volunteers are needed to interact with the public and the cats. Most individuals volunteer one Saturday a month. Our schedule is very flexible. Transportation to and from the store is also needed.
---
---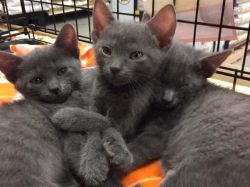 Hi We're Galaxy and Stardust!


Galaxy & Stardust are beautiful short haired Russian Blue mix kittens. They are virtually identical in color and hard to tell apart. Galaxy is male and the bigger, while Stardust is female and smaller. Both LOVE everyone as soon as they meet them. They purr as soon as you touch them and follow me around like a dog. They are VERY playful and active. They love to play with toys or other cats and are never bored. They like to be held and to snuggle. They get along well with cats, and I think they'd be great with dogs and kids. They are negative for feline leukemia and aids, had their first distemper vaccine, been wormed, had advantage for fleas, and been vet checked and spayed or neutered. Additional vaccines included in adoption fee. May be adopted separately or as a pair (discount for two!) If interested in these cutie pies, please contact Holly at 865-671-4564 or hhfrey1@tds.net
---
Potential adopters are required to complete our application before adoption.
You may request an application emailing hhfrey1@tds.net
Our adoption fee is $125 for cats less than 6 months old, and $75 for cats more than 6 months old. Adoption fees for exotic, unusual, or pure bred cats (e.g. Himalayans, Siamese, Main Coon cats) may be higher. The fee includes testing for feline leukemia and aids, the series of distemper vaccines, the rabies vaccines, wormings, advantage so they are flea free when you take them home, a veterinary exam, and the spay or neuter. Microchipping is available for an additional $45. The adoption fee is waived for qualifying adopters interested in one of our sponsored cats.
At the time of adoption, adopters must sign a contract indicating their willingness to obtain all remaining vaccinations, treatments, and spay or neuter. If a placement doesn't work out (e.g., a family member discovers he/she is allergic), the animal is returned to the Stray Connection and re-adopted.
The Stray Connection WILL adopt pets out of state if the adopter is willing to come to Knoxville to pick up the animal.
---
Adopting a FIV Positive Cat
Although we no longer take in FIV positive cats, some of our rescued cats are FIV positive.
Lisa Chassy, DVM, has provided helpful information about caring for FIV cats.
Please consider adopting one of these wonderful cats.
---
Please check our Facebook page for changes to our standard adoption times.
Check us out on FACEBOOK!

---
NOTE: Due to technical difficulties at Petfinder, only about half of our adoptable cats are displaying. For a full list, go here: Adopt-A-Pet.
Click on "Search Cats," enter the zip code "37922," and click "Here Kitty Kitty!" You will then see all of the Stray Connection cats!
---
A "FREE KITTY" isn't really...FREE
Average costs:

Vet Exam: $42
Spay/Neuter: $65-$125
Testing for FELV and FIV: $57
FVRCP vaccinations: $45-$60
Rabies vaccine: $15-$20
Treatment for parasites: $25

Totals:
The Stray Connection Fee Includes...
Veterinary Exam
Spay/Neuter
Testing for FELV and FIV
FVRCP vaccinations
Rabies vaccination
Treatment for parasites
And….discounts for multiple cat/kitten adoptions
---
Benefits of Having a Furry Friend
Cats provide Companionship!

They love cuddling up with you on a cold evening
Indoor cats and spayed/neutered cats live long lives, up to 20 years of friendship

Cats are Fun!

They are entertaining to watch and fun to play with
Just 15 minutes a day of playtime with you will satisfy a cat

Cats are Functional!

They are comfortable in small spaces like apartments
They are typically independent and can be left alone while you're at work
Cats are easy to house train, especially adult cats, who are probably already house trained
Taking care of a cat can help teach a child responsibility and humane value
A cat's mere presence will ward off unwanted mice and pests
Cats are very clean; they bathe themselves!

Cats Save Lives!

Having a cat reduces your blood pressure and helps prevent heart disease
Having a cat also fights depression and loneliness
Cats are affectionate; their purr is instantly calming and relaxing
Lots of cats need good homes, when you adopt one, you're saving a life!!
---
Success Stories!
---
The Stray Connection needs people who live in the Knoxville area, and are willing to provide a loving, safe, temporary foster home for a few kittens or cats. The compassion of our foster families provide the second chance that so many stray, abandoned or homeless animals desperately need. It is very rewarding to watch an animal that was once discarded blossom into a wonderful pet and find that perfect home. All our foster parents enjoy the satisfaction of knowing that they have helped save the lives of these helpless animals.
The Stray Connection's foster homes provide more than eighty animals a safe, nurturing, and caring home environment while awaiting their forever homes. Our cats and kittens are placed in homes that are focused on giving detailed attention to the animals' specific needs. We care for mother cats and their growing kittens, sick or injured cats, help in socializing shy/timid cats, and work with cats to correct behavioral issues.
Without these temporary homes, many wonderful cats and kittens would not survive. Foster homes free up space at local shelters, allowing the Stray Connection to save even more lives. The number of kittens and cats that can be rescued depends on the number of foster homes available for temporary housing.
Veterinary care, any necessary medicines, food and litter are provided/paid for by the Stray Connection.
If you are interested in finding out more about fostering cats and kittens, please contact Holly at 865-671-4564 or email hhfrey1@tds.net
---
Other Ways You Can Help
Foster Homes Desperately Needed!
Volunteers needed to assist with adoption events, cleaning, making phone calls, and other various duties...
Donations always appreciated

Monetary donations
Food, Treats, Kitty Litter, Blankets, Toys, etc...
---
<22px> The Murphy Road Hoarding Case Rescue22px>
The Stray Connection is helping with the recent Knoxville hoarding case. 60 live cats and 38 dead cats were found inside the home of a Murphy Road resident on February 5, 2012. The hoarder surrendered the cats to the Young Williams Animal Center (YWAC) on February 9. The Stray Connection was asked by YWAC to help with these cats on Friday, February 17. On Saturday, February 18, Stray Connection volunteers evaluated all 60 cats. Several of the cats had serious medical issues, upper respiratory infections, or were very scared or asocial.
The Stray Connection has taken a total of 21 cats from the Murphy Road Hoarding case since February 25. Maddie is a long haired Himalayan mix female who suffers from cataracts and a condition called nystagmus, also known as quivering eyes. She only has 50% vision. Clawdia is a petite female calico cat who is severely underweight and malnourished. Two of the cats, Mr Finnegan and Sir Keegan, (pictured below) had muscle atrophy in their back legs that should, thankfully, correct itself with proper nutrition and exercise. When they were first rescued, these poor cats were so weak they had trouble walking and simply standing on their back legs, probably due to prolonged time spent in a cage or carrier. You could feel every bone in Sir Keegan's body with ease. Many cats were filthy from being forced to lie in urine and feces for extended periods. Many of the cats were terrified.
With just a few weeks of proper care (a good diet and lots of cuddles) they are renewed with life. Unlike animals from other hoarding cases, most have fully recovered and will live healthy, happy lives. Maddie, Sir Keegan, and Mr. Finnegan have all been adopted. Clawdia continues to have serious health issues and is still being cared for by The Stray Connection. All of the rescued cats are negative for feline leukemia and aids. The Stray Connection intends find a good, permanent home for each of these loving animals.
The Stray Connection is also dedicated to sharing information on hoarding and abuse. In bringing the public's attention to this, we hope to curtail the excess of brutal and senseless animal neglect and abuse by increasing community awareness, encouraging and supporting individuals to report any information or suspicions concerning possible hoarding, abuse or neglect situations to local authorities (e.g., animal control officers or local law enforcement officers). Please take action if you have knowledge that or suspect an animal may be suffering. You may be their last hope.
---
The Stray Connection would like to say a special thank you to Callahan Drive Animal Hospital, Lovell Animal Hospital, Concord Veterinary Hospital, and Ideal Veterinary Hospital. We appreciate the vets and their staff always providing the best possible care to our animals. We would also like to thank PetsMart for hosting our adoption events. And we are so grateful to all our caring volunteers who give a little of their heart and soul to each animal they foster.

Thank you to everyone who makes our organization possible.
Because of you, countless precious animals will find their forever homes!
---
The Stray Connection
Knoxville, TN 37922
Phone: 865-671-4564

Email: hhfrey1@tds.net

Click here for a list of pets at this shelter
---

[Home] [Information] [Shelters] [Search]