We got a call from a shelter in Arkansas asking if we could take Ralphie into our rescue. He needed medical attention the shelter just could not provide. He needed a rescue or he was going to be euthanized. We took him in and got him the medical help he needed as soon as possible. We are thrilled to say he's completely recovered and is looking for a special home where he will be loved forever. He's is a wonderful foster home and doing great there. He's getting lots of love and extra attention. .
Shih-Tzu and Precious Paws Rescue is in desperate need of foster homes. Due to the economy, families are surrendering family pets to shelters in record numbers. In turn, the shelters are overflowing with perfectly adoptable pets who will die needlessly and alone in these shelters if help comes too late. Some are never even given a chance to be adopted in the shelters because by law, the shelter can put them down immediately as an owner turn in. When shelters are full, dogs are put down by the dozens.
We also have only limited space to house these rescued animals We opperate without kennels or "shelters" and foster these innocent animals in our own homes. Without qualified foster homes, we cannot rescue them from the shelters nor can we save them from the streets. We need temporary foster homes until a forever home can be found. If you would like to become part of the solution and foster one of our rescues like "Ralphie", please contact us for all the details. You would be making room so that another homeless pet can be saved. For each pet placed in their forever home, we have four more homeless that need a place to go or they will die. We need your help. Please help us save lives and become a foster home today.
Email Shih Tzu and Precious Paws Today!
---
Our Happy Tails
November was Adopt a Senior Pet Month. Thankfully, we had several of our seniors adopted, but we were especially "over the moon" with joy that our sister pair, Precious and Candi were adopted. Not only were they adopted, they were adopted together. We would not let them be separated.
This is their amazing happy reunion story: Candi and Precious were ten years old when they were dumped at the Memphis Animal Shelter by their own family after they were separated from their loving owner due to illness or death. By divine intervention, or call it the will of God, these two sisters managed to end up in this rescue with Ms Donna.
Precious was rescued first because she had a terrible skin condition and was literally on her way to the Rainbow Bridge when Dr Chandler called the shleter to offer her medical treatment. One of our facebook followers let us know she was at the shelter so Donna followed up. After she was treated by Doctor Chandler, she was able to come home with Donna. Almost a week later, Donna went to the shelter to pull a dog for someone else and saw the most beautiful little white female looking so sad and lonely. She told the shelter she wanted to save her. When she filled out the necessary paperwork to save this one, named Candi, she learned from the shelter officer that the one she had saved a week earlier was this one's sister! Precious was actually her sister! OMG, no wonder Candi was looking so sad. They had been each other's world for ten years and were separated when Precious was taken to the vet and saved by our rescue. When Donna got Candi home to reunite her with Precious, it was the most beautiful and tearful reunion! These two little girls were so happy they couldn't get enough love from one another. It was one of the most beautiful moments Donna has ever been a part of. She sat in the floor with them and cried as she watch them love on each other again. There are no words to really express the joy of seeing the two of them together again. We were able to adopt them together to a wonderful home where they continue to do well together.
God bless the family who opened up their home to Precious and Candi.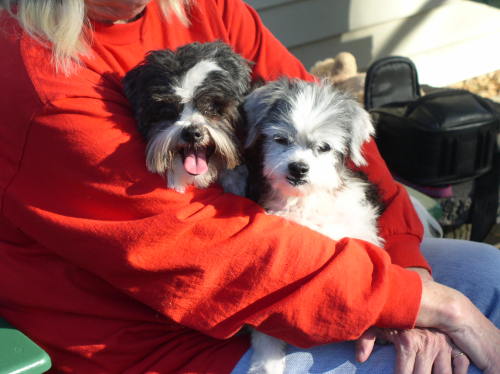 Congratulations to Precious and Candi.
They are living very happy lives TOGETHER in the same home. We are absolutely overwhelmed with happiness for these two!
---
Reunions at the Bridge

[Author Unknown]

The young pup and the older dog lay on shaded sweet grass watching the reunions. Sometimes a man, sometimes a woman, sometimes a whole family would approach the Rainbow Bridge, be greeted by their loving pets and cross the bridge together.

The young pup playfully nipped at the older one. "Look! Something wonderful is happening!" The older dog stood up and barked, "Quickly. Get over to the path." "But that's not my owner," whined the pup, but he did as he was told.

Thousands of pets surged forward as a figure in white walked on the path toward the bridge. As the glowing figure passed each animal, that animal bowed its head in love and respect. The figure finally approached the bridge, and was met by a menagerie of joyous animals. Together, they all walked over the bridge and disappeared.

The young pup was still in awe. "Was that an angel?" he whispered. "No, son." The older dog replied. "That was more than an angel. That was a person who worked rescue."
Dedicated to all those who work animal rescue.
---
Adopting A New Best Friend
Potential adopters must complete an application, which includes personal information, personal and veterinarian references, and questions which will help us determine which pet will fit best in your home and family. The applicant must sign an Adoption Agreement and Contract.
We are looking for homes that understand that adopting a pet is a 15 to 20 year commitment to care and love our homeless friends. Please call or email us to make an appointment to meet these precious little homeless animals. We are a very small group of volunteers, who work full time jobs, so please be patient with us while we return calls. We understand how excited and anxious you are to adopt your new pet and we are equally as excited at the possibility of a homeless pet having a new home. We do return all phone calls and answer all e-mails within 24 hours.
While you wait to hear from us, please find us on Facebook. Stop by and "like" our page. Here you will find the latest information available regarding our pets and rescue news.
Our Adoption Program is designed to ensure the placement of our foster babies into permanent, loving, responsible forever homes. We make every effort to match our fur babies with the adopter, so as not to expose the animal to any further trauma, stress, neglect, or rejection. We strive to see that our fur babies receive the stability and unconditional love they deserve for the rest of their lives. Adopting a new family member should involve a well-thought out and deliberate process. Adopting a pet should not be an impulsive decision. Please understand that we do not want our fur kids to ever be homeless again.
Adoption donations vary depending on the age of the pet and what the circumstances are coming to us. This usually ranges between $250-$400. You should always ask when you call or email about the pet. Fenced yards are preferred and required in most cases, however each adoption application is worked on a case by case basis depending on the living situation.
Our adoption procedures are strict and our screening process is very thorough. Potential applicants must complete an adoption application, agree to a home visit and interview, and sign an adoption contract. We hold the right to disapprove any adoption. All pets are altered, heart worm tested, current on vaccinations and checked by a vet prior to being placed with their forever family. All adoption donations go toward the rescue and care of other animals in need including extensive medical care in many cases which far exceed the donation for adoption.
We look forward to working with you.
---
Contact Us!
Shih-Tzu and Precious Paws Rescue
Collierville, TN 38017
Phone: 662-893-1037

Email Shih Tzu and Precious Paws Today!
---
---
Visit us on Facebook! Please "Like" our page and help spread the word about Shih Tzu and Precious Paws Rescue
Shih Tzu and Precious Paws Rescue, Collierville, TN
|
Promote Your Page Too
---

[Home] [Information] [Shelters] [Search]