---
Colonies
---
Featuring:
Dennis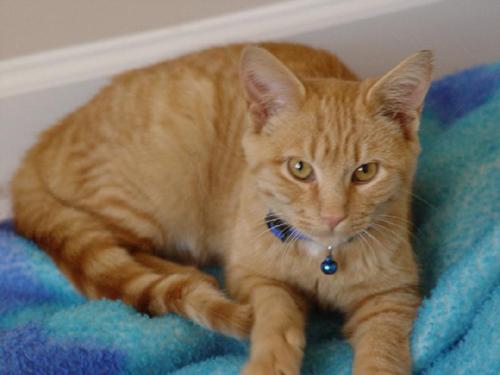 He has short haired and is orange striped tabby with pink paws.  He was found hungry and shivering in the cold.  We think that he was born in July 2006.  He is litter trained and does not try to escape outside when doors are open.  He lets you know when he is hungry by sitting by his food bowl & meowing. He is very playful, gets along with other pets (including small dogs).  We're not sure about how he does with big dogs because he has not been around any that we know of.  He likes to sleep all day, is very affectionate, and likes to curl up next to you or on your lap and then go to sleep.  He loves being around people but doesn't mind being left alone for a couple of hours during the day.  He just sleeps when he's home alone. 
Dennis would love to meet you. 
CLICK HERE for an Adoption Application that you can copy and paste into an email and send it in right now to 2Colonies@Comcast.net . Or give us a call at 615-945-7025. 
Colonies Is
a group of caring individuals dedicated to relieving the suffering of feral, abandoned and homeless cats in the Middle Tennessee area. We provide neutering and medical care for each cat and kitten we take in. Pets are placed in loving, forever homes. Ferals are released back where they came from when possible or relocated to a safer setting when needed. Caretakers feed and look after these ferals for the rest of their lives. We assist people in bring their feral/cat populations under control by providing them with information about services in their area and physical assistance when needed. Educating people about feral and homeless cat issues is a very important part of what we do. We believe that the pet over-population problem is not an animal problem, but is a people problem, and that only people can fix it.
Wish List
We can use any brand of canned kitten food or cat food, but prefer dry Nutro Max Cat for adults and kittens, Purina Cat Chow and Kitten Chow, and KMR Kitten formula. We use amazing amounts of Tidy Cat Antimicrobial clay cat litter and always need more. Old towels or blankets make great cat bedding and the kitties would love to have some new toys, scratching pads like the ones to hang on door knobs or a freestanding scratching post at least 36 inches tall. We can use gift cards or certificates to help pay for kitty supplies during our frequent trips to PetsMart, Kroger, Wal-Mart, Pet-Co and SuperPets stores. Your Lowe's or Home Depot gift card or supplies can help build projects like outside encloses to acquaint feral cats to their new home before release, feral feeding stations and shelters, and outside encloses for FIV and/or FeLV cats. Help building these projects would be greatly appreciated, too. Your monetary gift would help in so very many ways. We Thank You for your help and the kitties do too.
We need Volunteers
We need caring foster homes for all kinds of cats, people to transport cats and run errands, caretakers to feed and help look after feral cats, and rural or barn homes for feral cats. If you're handy with a hammer and a saw, we could use your help with our building projects. If you know how to trap feral cats and handle them or would like to learn, we need help all over the Middle Tennessee area and could use help in your area, too.
Adoption Process
We strive to match people with cat and kitten's individual characteristics. To do this, we ask you to fill out and return an adoption application. We can send you an application by email, snail mail, or take the information over the phone. Or CLICK HERE to see an Adoption Application form that you can copy and paste into an email and send it in right now or print it out and mail it to our address below. Then we'll contact you to setup a time when you and your family will be home to bring your kitty candidates out for a kitty interview. This is the best way we've found to tell how the kitty reacts to your environment, if you like the kitty, and if the kitty might be right for you. Most people enjoy this personal, individualized attention and stress is reduced for kitties and their new family, too. Before the adoption is complete, we ask partial reimbursement for medical expenses and you'll need to complete an adoption contract.
Click here to see our Cat Happy Tails!
---

Colonies
Nashville, TN
Phone: 615-945-7025
Email: 2Colonies@comcast.net
---
Click here to see our cats and kittens for adoption


---
Please use the above ShelterCare banner-link to enroll your new kitty/kitties in ShelterCare's free gift program courtesy of Petfinder.com or in any ShelterCare Pet Insurance Program. When you purchase any ShelterCare Pet Insurance Program using this banner-link we will receive a donation. You can even apply the value of your ShelterCare free Gift to any ShelterCare Pet Insurance Programs. This is an online-exclusive offer and signing your pets up by phone does not qualify us for the donation. You may enroll your newly adopted kitty here along with any other pets you already have, now or later, and we will still receive a donation from ShelterCare Pet Insurance.
---

[Home] [Information] [Shelters] [Search]