You can also donate without paying a dime out of your own pocket by shopping on Amazon Smile. Amazon will donate to our charity with each purchase you make. It doesn't cost you a penny! Go to Smile.Amazon.com and pick Lowcountry Animal Rescue.
OR donate by using the Walk For A Dog App:

Donít just take your dog for a walkÖ Take your Walk for a Dog! Go to WoofTrax.com, download the app, and support Lowcountry Animal Reacue every time you walk your dog.
Our Featured Dog...JUMBO


If you are interested in adopting, you can contact us at lowcountryanimalrescue@ymail.com or come to one of our adoptathons to meet the animals (information below). Our Featured Cat...
Ginger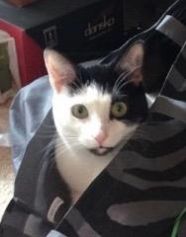 VERY sweet, 5 year old, calm, spayed, declawed, lovable, playful, well-behaved and microchiped female cat. Annual vaccinations and wellness visit 2/17 so up to date on everything. From the former mom: I inherited Ginger 3 years ago after her elderly owner passed away. She gets along very well with dogs and other mellow cats. She LOVES sitting on the screen porch, and watching the lizards and birds. She also loves playing with the laser pointer, being brushed, and generally just hanging out. Sheíll follow you around (not in an annoying or needy way) just to be with you. Sheís a great lap kitty who loves attention. The reason Iím looking for a new home for her is because my other cat tortures her- playing too rough, biting her, and stalking her when she is trying to eat or use the litter box. Iíve tried correcting the problematic behavior, but itís not working and I see Ginger becoming increasingly more unhappy (I canít blame her). Please help me find the perfect home for this super sweet, well-behaved kitty.

Please email us if you are interested in adopting or fostering, contact lowcountryanimalrescue@ymail.com
Next Adoption Event Our next adoption event is this Saturday from 12-4 at Petco in Summerville by Earthfare. Not all of the dogs can attend so please email us ahead of time if you are interested in a particular dog.

Check out our Pet Boutique at Simply Vintage located at 419 East 5th St. North (hwy 78) in Summerville. We accept donations as well as consignments. Help us raise much needed funds for the animals while doing a little shopping for yourself, your home or your pets!

WE DO NOT HAVE A FACILITY. YOU MUST COME TO THE ADOPT-A-THON TO SEE THE ANIMALS. ALL OUR ANIMALS ARE IN FOSTER CARE AND OUR CATS ARE KEPT AT THE PETCO STORES, 7400 RIVERS AVE IN NORTH CHARLESTON, 1101 N. MAIN ST. IN SUMMERVILLE AND 1501 HIGHWAY 17 NORTH IN MT. PLEASANT. SOME ARE IN FOSTER CARE.

For an application on any of our animals, send an e-mail to: lowcountryanimalrescue@ymail.com

Who We AreLowCountry Animal Rescue was formed in 2002. We are an all breed dog Rescue and Sheltie Rescue. We help all breeds as well as mutts and cats, but we take in mostly smaller dogs. We do our best to educate the public about pet overpopulation and responsible ownership. Adopting a friendAll of our dogs are tested for heartworms and treated if positive, spayed/neutered, current on all shots, given fecals and wormed if needed and microchipped. All of our cats are tested for FELV/FIV, spayed/neutered, current on all shots, given fecals and wormed if needed and microchipped. Come Visit Us!We hold adoptions at our local Pet stores on Saturdays and rotate the stores. We also do adoptions at special events. We also have cats available for adoption at Petco stores in Mt. Pleasant, Main St. in Summerville and Rivers Ave in North Charleston.

---

LowCountry Animal Rescue
P.O. Box 952, Ladson, SC 29456
Email: lowcountryanimalrescue@ymail.com
Click here for a list of pets at this shelter


---





[Home] [Information] [Shelters] [Search]