Flock Together Bird Rescue Inc.
---
Our Featured Pet...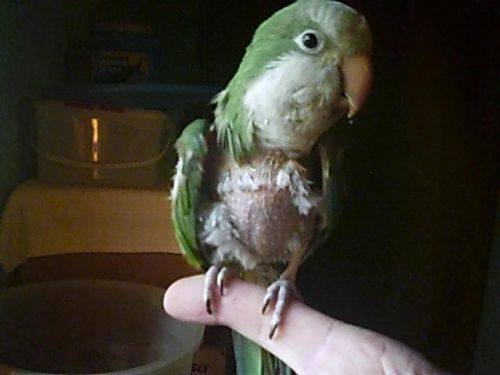 News
Who We Are
We are an all volunteer organization of people who LOVE birds! With YOUR help we provide a safe,loving shelter for those birds, who for whatever reason, can no longer be cared for by their owners. We take in breeders to prevent their euthanization and do not separate bonded pairs.We are a 'no kill' shelter. We provide all the birds love, proper nutrition,medical care if needed, companionship,and behavior training. As the economy worsens,YOUR HELP is desperately needed-NOW,more than ever! All of our program services are provided by people who donate their time and receive no compensation.The birds rely on YOUR donations to provide their food,shelter,and medical needs. We are a registered South Carolina public charity and a 501(c)(3) non-profit organization.Your gifts are greatly appreciated and tax deductible. PLEASE see it in your heart to help these birds and send a donation today! THANK YOU!!!!
Adopting a friend
Many of our birds can be adopted. Email for the current information on the particular bird you are interested in.All adoptions take place here-we do not ship the birds.All the birds have an adoption fee which varies from $50 to $800 based on care costs.An initial interview to determine your ability to properly care for the bird can be accomplished by Email.The final adoption interview is by appointment.
Come Visit Us!
Birds to be adopted and general viewing are by appointment.
---
Flock Together Bird Rescue Inc.
6 Sandy Hollow Rd

Windsor, SC 29856
Phone: 803-648-9303

Email: ppdvnelson@yahoo.com
Click here for a list of pets at this shelter

---

[Home] [Information] [Shelters] [Search]