MANDA
FROM TRASH TO TREASURE: Last summer we rescued a cute little torti mama and her two munchkin-sized babies from the trash collection station on Old Bush River Road (we rescued a pregnant kitty from the same place last year). Dora, the little black and white tuxedo, placed third in the Household Pet contest in the summer TICA cat show and was adopted by the show's organizer. She is shown on the TICA circuit in Household Pet and has won all sorts of ribbons and is now 10th internationally and we all think she'll be a champion! Lily, her calico sister, has also been adopted. Trash Torti Mama is a bit skittish, and really needs someone to work with her a little - we think she has potential (maybe in a home instead of a cage she would be happier).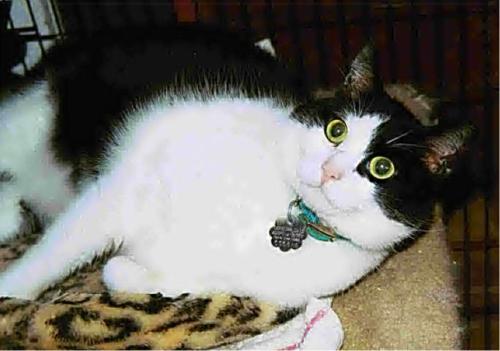 IN MEMORY OF JACKSON - our FIV boy, with us since 1998 when he was first rescued, never adopted, was in kidney failure and needed Procrit ($33 for three weeks' supply) to keep him with us! Update 1/1/07 - Jackson's mouth problem did turn out to be a severe ulcer, not oral cancer, and it healed, but sadly, he became anemic because we simply couldn't afford as much Procrit as he needed. He received a transfusion shortly after Thanksgiving and his hematocrit increased nicely, but unfortunately his kidneys simply couldn't keep up - his BUN and creatinine climbed significantly between his pre-Thanksgiving and the one just over a week later, after his transfusion. He valiantly continued to eat and get around and use the litterbox until his last day. We lost him December 11. We'd promised him no more needle sticks after his transfusion, and were able to keep that promise as he died in his little bed in my lap on the way to the vet's to be put to sleep. A tough loss. Jackson was 10 years old and will be greatly missed.

Jerry, the kitty we redeemed from the pound after his owners were hospitalized and the neighbors trapped him and left him in the trap 3 days in 90-degree weather, recovered from his upper respiratory illness and has regained some of his weight and is ready to go to his new home.
2006: Sadly, we had to put Leo, 12, one of our long-term feral kitties, to sleep due to cancer in May, and on Memorial Day we had have dear little Cinnamon, who was probably at least 18 or 19, put to sleep too - she had been a thyroid patient for a while and more recently had heart and kidney problems.
Cecil's torti, the very pregnant kitty we rescued and had hospitalize for 10 days due to severe respiratory distress has now been spayed - thank goodness (being part Siamese, she was very loud when she was in heat!) The stress of trying to breathe when she was ill had caused her to lose her kittens, but she is now well recovered and needs a home. We have already spent more than $500 testing and fixing five other cats from this situation, mostly females, and there's at least six more males to be done. Can you donate $30 to help fix and give a rabies shot to just one of these males? We also tested and fixed 9 kittens from this situation and placed them, but the donations we received for them didn't cover in full the cost of their spays and neuters, tests, shots, Advantage, dewormings, food and litter for several months and in the case of four of them, additional antibiotics, bloodwork and diagnostics for intestinal problems. Ashley, the little calico dumped on our doorstep last year is now over the corneal ulcer she developed and her skin issues seem to have resolved; she tested leuk and FIV negative and is now spayed.
In addition to all the above, we had to spend over $600 saving 14-yr-old Bonnie's eye (she had a severe corneal ulcer that almost caused her eye to rupture); $300 on hospitalizing and treating 13 yr.+ Lola for pyelonephritis, a severe kidney infection that also affected her heart; $150 on diagnostics and medications for Leo, 13, before we ultimately lost him to cancer - he had dropped a lot of weight and was not eating well; several hundred dollars for Tabba's and Luckie's terminal vet care, pain medications and cremations (Tabba, 20, was diabetic and Luckie, 13, had oral cancer); bloodwork and other diagnostics for Honeybun, 11+, and Cinnamon, 17+, and heart and thyroid medication for Cinny before we lost her; hospitalization and various medications, including Procrit at a weekly cost of $15-20, for Jackson, 9 and FIV positive, diagnosed in kidney failure in January; Lola, Hoppy and Kitty had much-needed dentals (they had to be postponed several times because we needed our money for even more urgent vet care) - Kitty has had long-term gingivitis/stomatitis and Lola's bad teeth and gums may have caused her kidney and heart infection, which we had to treat first. Hoppy has good teeth but very bad gums and had to have almost all his teeth out as the gums were very infected. Bonnie ended up having a dental the same day as the others - her nose started bleeding on one side and we were praying it wasn't a tumor after spending so much money to get her eye better - fortunately, inflammation from a bad tooth was causing the nosebleeds! These dentals cost $550.00.
WE URGENTLY NEED YOUR DONATIONS TO CONTINUE TREATING THESE AND OTHER KITTIES AND TO CONTINUE OUR WORK. WE HAVE NO MONEY FOR SPAY-NEUTER, YET THERE ARE MANY CATS WE NEED TO FIX AT THE VARIOUS FEEDING SITES WE MONITOR. (We did manage to fix a dozen or more females since the beginning of 2006, and several dozen kitties in 2007 but now we're out of money because of all the involved vet care our permanent residents have required).
Carolina Cats will be 13 yrs. old this coming spring. Over 2,500 cats homed, thousands more spayed/neutered at low cost or free of charge, including more than 1,200 ferals trapped/neutered/released. We were the Columbia area's first rescue organization specializing in cats and are the only one providing permanent sanctuary, as space permits, for special needs kitties, including geriatric cats, leukemia and FIV positive, and cats with congenital and acquired disabilities. We also always have plenty of healthy kitties needing homes.
We don't have a shelter, and are currently supporting over 225 cats, so we regret that at present we are unable to take on new cats. We could probably remedy this if we could raise the money to convert an unfinished garage at one home into a finished partitioned room, or to add on a room at the back of the house, so that we can uncage 16 cats who have had to be caged long-term because they either don't get along with other cats, have litterbox issues, or have FIV, and the few newcomers who haven't yet been twice-tested for leuk and FIV. We will need $5,000 to $10,000 to convert this space to comfortable living quarters for these cats. Can you help by making a donation towards the cost?
FOSTER HOMES NEEDED: Because we have so many elderly, special needs, feral and semi-feral adults who will probably never be adopted, we no longer have room to take on many kittens as we have nowhere left to isolate them to prevent them catching upper respiratory or other illnesses to which small kittens who do not yet have good immune systems are vulnerable to. We DESPERATELY need some good new foster parents, especially fosters who are willing to socialize kittens, so that we can continue to help these little babies. Please let us know if you can help.
ADOPTING A KITTEN: If you're looking for a kitten, be wary of "free to a good home" and rescues who don't isolate their kittens from older cats and who don't wean the kittens by 6 weeks but leave them with their mothers and/or other cats past this age -such kittens are more likely to be exposed to corona virus through contact with the feces of other cats, and unfortunately it may later mutate to feline infectious peritonitis (FIP), for which there is no cure. FIP is not common, but is sad for cat owners to have to deal with. There is no way to completely avoid it, and often it is strong, outgoing cats who are affected, not necessarily the runts or weaklings of the litter, but responsible rescue agencies follow recommendations to minimize exposure of young kittens to the feces of adult cats by weaning them early, separating them from their moms, and keeping them separate from other litters and adult cats. Also, some shelters and many individual rescuers do not test mother cats AND each individual kitten for feline leukemia and FIV - testing one kitten in a litter isn't at all reliable, and if only the kittens are tested that's not reliable either - leukemia can take 90 days after exposure to show up on a test, FIV even longer. CAROLINA CATS IS THE ONLY AREA RESCUE ORGANIZATION THAT FOLLOWS RECOMMENDED GUIDELINES FOR AVOIDING FIP, FIV AND FELINE LEUKEMIA TRANSMISSION. For more information, see below.
FOOD, LITTER AND OTHER DONATIONS DESPERATELY NEEDED! We desperately need donations of food, litter, and cash for vet care for our special needs and older unadoptables - see WISH LIST below for the types of food and litter and other items we need.
2005 RAINBOW BRIDGE KITTIES: We also lost dear Mistletoe, 17+, another of our oldest kitties, to a stroke due to heart and thyroid problems in early November, and dear little Baby, our tiny little tabby who was threatened many years ago with being put to sleep at Pets, Inc. because she was "too feral for adoption." We saved Baby, and she rewarded us by eventually becoming quite tame! Her tiny little body just couldn't cope any longer with thyroid, heart and intestinal problems, but she was always right in your face and is sorely missed.
UPDATE ON BISHOPVILLE KITTIES: We spent more than $3,000 on testing, shots, spay-neuter, dentals and bloodwork for the 14 cats who had to be removed from the condemned home of the elderly lady in Bishopville who had to be put in a nursing home. Two of the outdoor kitties have a home on a farm on Wadmalaw Island. Thanks, Donna! Two of the tame cats found homes with sheriff's deputies and their families in Bishopville. The three remaining outdoor kitties -- two blacks and a tabby - were being long-term fostered by Barbara, one of our past adopters, in her garage until they were tamer and/or adopted. The two black cats have now both warmed up to Barbara and are much tamer, allowing plenty of petting and she's thinking about making them indoor cats like her others. The third kitty, a tabby, is still a bit skittish but is quite happy in the garage and back yard. Barbara renamed them after The Chipmunks - Alvin is the tabby and Theo and Simon are the black "twins."
The old lady's indoor cats have all blossomed since being rescued. They have all gained weight and Avery and Scarlett have gained fur - lots of lovely persian fur - they looked almost short-haired when we first got them because they were starving and neglected.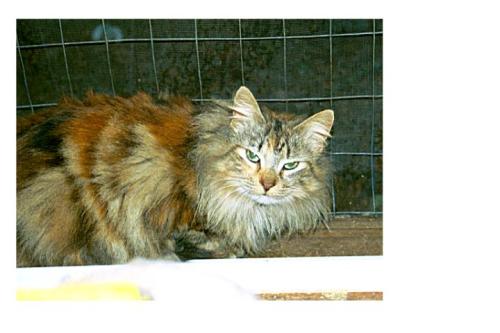 \SCARLETT

Donations needed to help cover vet care for these kitties would be much appreciated. Homes are still needed for the 7 indoor kitties, all listed on our Petfinder pages.
There is one kitty in the Bishopville situation and one in the W. Columbia situation who is blind in one eye - in both cases probably from an injury. These kitties need indoor homes - the West Columbia kitty, a sweet torti, is still outside as we have no room yet to rescue her. There is also a scared kitty with severe eye problems in the St. Andrews area that needs to be rescued.
We are also almost through trapping and fixing more ferals in the Harbison area and donations towards this are also needed. One Check out the three Schiano's kittens on our adoption list - they all came from Harbison, and we fixed both moms and several males from this area from 2005-2007. This year the shopping center management has apparently been having cats in the area trapped, so we had to re-trap and take in several of the cats, and are looking for adopters or farm/barn type homes for them. Some will do fine as indoor pets, others are semi-feral but could be worked with. The tabby kitten we trapped who was living in the drains at Seven Oaks Shopping Center was kept by his foster-mama and dad!
LAURA'S KITTIES: Laura is one of our past adopters. About 18 months ago she began feeding a feral cat that lived in the woods behind her house in Harbison. She had kittens, and before Laura knew it the kittens had had kittens, too,. resulting in 14 cats! Laura writes inspirational poetry, and her latest book, The Year of the Cat, which has been nominated for a Pulitzer Prize, is a book of poems about these cats. Laura enlisted our help to get the cats fixed and to hopefully find homes for some of them, but sadly, some were leukemia positive. However, at least half a dozen were negative, and even the positives are were healthy with no symptoms, and they were all very pretty - calicos, tuxedos, and little spotted tabbies that look like Abyssinians and Ocicats! See pix of some of them at www.bemikitties.com/carocats.pg7.html. If you have no other cats and could offer a home to one or two of the positives, or would like to adopt one of the negative cats to get them indoors as the weather gets colder, please give us a call! Adoption donations will be waived for the positives, and all vet care will be provided. The positive kittens are all from the one positive mama except two who have other mamas but nursed on the positive mama. We believe that the cats who are negative will remain negative as they would otherwise almost certainly be testing positive by now. Some may have contracted the disease but fought it off (at least one-third of those who are exposed do so) - these cats will then be immune.
DONATE YOUR CAR: If you have a car or anything else of value you can donate, please call us. 100% of the proceeds will go towards vet care for our cats - we do not pay another agency to auction the car, and our only cost is the title and $25 to advertise it.
Other major expenses we've had in the last two or three years include huge vet bills for Baby Slippers and Kiki's ultrasounds and other diagnostics (we lost Kiki, 15, in December and Baby Slippers, 12, in February, both to liver cancer); we lost dear Mama to heart failure at age 19 - we took her in 6 years ago after her caretaker, Marlyn Schumann, died of cancer. She was mother/grandmother to Sweetie, whom we lost in August at 17 to kidney failure, Little One, whom we just lost also at 17 to kidney failure, and to Kiki and Baby Slippers. We lost little Chuckie in March to kidney failure after a heroic battle. Last October he was dying, but he rallied and hung on for a while with the help of Procrit for his anemia (it cost us $25 a week, but he'd had such a hard life, we thought he was worth it - see more of his story below). Carolyn lost little Clint, a USC rescue, only 10 months, who developed intestinal problems and died of pneumonia and a massive e-coli infection despite several weeks of treatment, Clawdine, the mama of the lovely USC calico kittens we adopted out last year, to heart failure (she was only 2 years old) and Josie, 7, to biliary neoplasia. We also just lost Gabby, Sue's favorite kitty whom Faye took in after Sue died in Nov. 2000; Gabby had liver problems, although extensive diagnostics never did get an exact diagnosis. Baby (tabby) had surgery to remove what appeared to be a foreign body in her intestines, but turned out to be a large growth, fortunately benign but interfering with intestinal function (Baby is also a thyroid and heart patient and had just had bloodwork and a checkup; she came through the surgery well) UPDATE - we lost Baby in November - see info higher up; we recently lost dear Jimmy James' after hospitalization three times for pancreatitis and diabetes - he suddenly went into complete kidney failure, a particularly difficult loss for just five days after losing Little One, especially since he was only 8 years old. Necropsies showed that both Little One and Jimmy had chronic interstitial nephritis - in other words they had long-standing kidney disease that didn't show up on bloodwork and other diagnostics, despite constant monitoring, until their kidneys failed completely. Somehow their bodies compensated until the last minute.
Sugarmama, Bailey, and Luke were hospitalized for pancreatitis also; Sammy, Josie and Noelle ( all have experienced weight loss and inappetance) had to have bloodwork and diagnostics; Cinnamon (16+) weight loss - thyroid patient; Jackson (FIV positive) - small cyst-like growths in skin (fortunately, this condition has resolved with treatment); In addition to the kitties mentioned above who went to the Rainbow Bridge, we also lost in 2003 and 2004 our dear 20-year-old leuk positive Pompom to kidney failure and age-related problems, Graycie, Phoebe and Leggo to cancer, Samson (suddenly) to heartworm disease he contracted before we took him in, Spirit, one of the ferals from the Chinese restaurant to kidney failure after his neuter as a result of antifreeze ingestion; and two of our extra-special kitties - Belle to myeloid leukemia and Doodles, our little liver-shunt boy, to cholangiohepatitis as a result of his shunt condition, and incurred major expenses for final diagnostics, IV fluids and ultimately, cremations for each of these kitties (we do not dispose of our kitties in the dumpster or landfill when they cross the Rainbow Bridge, as some other organizations do).
We wish someone would consider adopting Aslan. He really deserves a loving real home with a lap to sit in and a bed to sleep on again. Aslan is very sweet, and although he is FIV positive he is unlikely to cost you any more in vet care than any other kitty that is growing older. If we can't find them homes soon, we want to try to raise enough money to convert a garage into two rooms for our five FIV kitties. We currently have some kitties caged in this garage, including Aslan and Jackson, plus several others who don't get along well with too many other cats, and Greyboy and Shadow, two feral FIV positives from the Burger King on Beltline at Devine. We want to have one room for all the FIV kitties, and a second room for the remaining caged kitties so that they can get out of their cages. This will probably cost $5,000 to $10,000.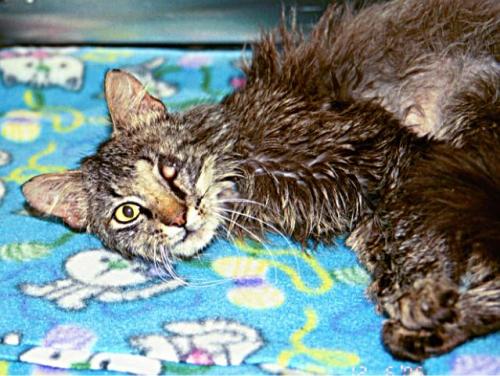 MERCY! Two years ago Mercy suddenly joined one of our downtown feral colonies. He had a severe eye injury and was bone thin, with most of his long tabby fur missing, naked skin showing, and what little was left was horribly matted. The cat seemed sweet and docile but looked in such bad shape we thought it must be an elderly female, so we were very surprised to leaern it was a young male. We named him Mercy, because he certainly needed it. Mercy was tested for every disease known but came up negative, so what could have caused him to be in such a condition? At first he couldn't eat, but after a few days he began eliminating what looked like rubber and styrofoam. We think he may have been shut up somewhere, either deliberately or accidentally, for quite some time. After a month, he had gained sufficient weight to undergo removal of his injured eye, and he has now recovered from this surgery. Bones in this side of his face were found to be broken - we believe someone hit him. He has now recovered well and his fur has grown back in, and he is very affectionate and quite playful, but doesn't show well at Adopt-A-Kitty - he's nervous of the noise and cars, so he hunkers down in his bed and mostly sleeps., and prospective adopters can't see what he is really like. He snuffles from time to time, particularly when stressed - this is apparently due to the injury to his face/sinuses. Mercy needs someone to adopt him who can give him some individual love and attention. Can you help? His many expenses were over $500, so please help by making a donation if you can.
We also have Hoppy, a small but now nicely rounded very cute little grey and white tuxedo feral rescued from the colony at the shelter for homeless people on Two Notch. Hoppy limped, and it was believed he had been hit by a car; he had a huge ulcerated area on his paw pad, probably because - as we have since realized - he has had a severe injury to his back leg or legs, causing him to have a lop-sided gait that is low to the ground. Before we rescued him he could only get around on three legs. He also had some difficulty eating, and once under anesthesia was found to have severe gum problems. He experienced respiratory difficulty while undergoing neuter surgery, and an X-ray showed he has asthma. A biopsy was taken, and the gum problems, paw-pad ulceration and asthma were thought to be caused by a related, immune-mediated condition. He has, however, tested negative for both leukemia and FIV (we even retested to make sure). He was initially thought not to be tame, but he quickly got over being scared of us and loves being petted now and we can also pick him up, but you have to do it carefully because he is nervous about his back legs dangling. If we returned him to the colony the paw-pad ulceration would probably recur, and he would continue to limp on three legs and have difficulty eating. He really needed an indoor home with someone who has experience with ferals, but noone offered to take him, so we have ended up with yet another permanent resident (but we'd still like to find him a real home as he has to live in a cage at the moment). His paw pad healed with medication. Although he was able to eat dry food after a course of oral antibiotics for the gum problems, he still had severe gum inflammation and infection, so recently most of his teeth were removed, and this has helped him feel great! Hoppy loves it when we talk to him and purrs loudly when petted. and he now lives for his food bowl to be filled - probably because he had such difficulty eating for so long. He has plumped up considerably. Can you help Hoppy? He is about three years old and is very cute-looking.
Update! All of the kittens we rescued from under an empty house opposite a shelter for homeless people were adopted. We trapped, neutered and returned 15 cats at this colony location ( the man next to the empty house was trapping them and was going to send them to the pound. We provided him with information and products to help keep the cats off his property, and he gave back two cats he had trapped). The kittens were scared at first and needed some socialization, but were young enough that it only took a few days, and all were adopted. In summer 2004 we had to go to Family Center and pick up Junior, one of the kitties, and take him to our vet. He had been missing for several days and when he returned, he was weak and dehydrated and lay under a car in the parking lot. When our vet tested him he was, sadly, leukemia positive and his overall condition indicated the disease had him in its grip. We had to make the decision to help him to the rainbow bridge, where he must surely be running and playing again. Can you help - there are always more kitties like these needing to be rescued and socialized?
We re-trapped three of the cats that we fixed five years ago behind restaurants on St. Andrews Road. The remaining two decided not to be trapped, and due to other commitments we gave up for a while and continue to feed them. We continually trap, neuter and return cats from many colonies in the USC, Vista and Harbison areas. We urgently need donations to help continue this work, and foster homes for kitten socialization.
FERAL CATS
If you are feeding feral cats, we can teach you how to trap and fix them before they reproduce and the numbers get out of hand. We can also link you with a couple of programs that may be able to offer you financial assistance with spay-neuter if you qualify (most programs require that you be low-income, elderly, or on assistance). <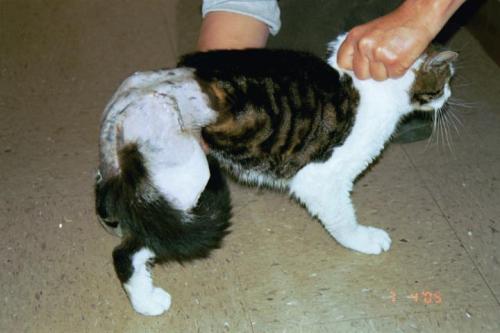 STEVIE
Stevie Wonder isa tabby and white rescued after being hit and dragged for some distance underneath a car in Two Notch Road. Stevie dislocated both hips and a front leg and fractured his pelvis. He came to us with three legs taped to his body, and he was in a great deal of pain. He underwent FHO surgery to remedy both hip dislocations. Stevie's bills were upwards of $500, but he can now walk again, and you would never know what we went through. At first he was very scared and swatted at everything, probably because of his terror at being hit and dragged along by the vehicle. It took him two or three months to learn to trust us, but turns out he is really a perfectly tame cat. It's a miracle he survived. Please help, if you can, towards his expenses - and if you can offer him a home, check him out on our adoption list.h3>
Our first donated car helped us pay for Cherokee's double ear canal ablation surgeries ($1,600.00) - thank you, Vickie!. For months, Chera had to have her food pureed and watered down, but she finally can eat dry food now (it took over a year after her surgeries). She still has some trouble with infection inside one ear, but antibiotics from time to time take care of this. She has finally regained most of her weight. .
Toto, our kitty with 3-1/2 legs, injured shortly after birth, had to have his little stump amputated as it kept getting infected. As usual, we didn't have the money (about $250), but went ahead anyway because we didn't want him to be uncomfortable.
WE RECEIVE IN DONATIONS ONLY ABOUT ONE-THIRD OF WHAT WE SPEND ANNUALLY - THE REST COMES OUT OF OUR OWN POCKETS ($10,000 out of the founder's pocket last year alone) AND NOW THAT OUR POCKETS ARE EMPTY, WE'RE HAVING TO BORROW. WE ALSO URGENTLY NEED FOOD AND LITTER - FOR MORE DETAILS ON EXACTLY WHAT WE NEED , PLEASE SEE BELOW.
HELP! HELP! HELP! We are caring for over 200 kitties. While many are adoptable, more than half have special needs and probably will never be adopted. Several dozen are over the age of 10. We can't keep up with the huge vet bills, and desperately need your help! In .
A few more examples of those we're currently caring for: Hopi, 6, had to have a kidney removed ($1,200); Gus, born with cutaneous asthenia - a lack of collagen causing his skin to rip easily - wears clothes and socks and has to have wounds debrided and vet-glued; he came to us from Pets, Inc. with hemobartonella and a severe respiratory infection, and had to have a hernia repaired - we lost his brother to the same condition (total costs to date at least $800); Cody, 6, was dragging around on a broken leg - it had to be pinned in three places, and the pins migrated, but he has recovered well now (the bills were over $500); Buddy, 6, had to have his leg amputated ($200); Sammy, also 6, suffered a complete urinary blockage ($250) - he's OK now, thank goodness, but must remain on a special diet; Biggie had a limp when rescued - broken leg? - no, he has a bullet in his spine - too close to the spinal cord for removal, but he's doing OK so far ($250); Smokey, Jeff , Kitty Blackface and Hoppy suffered from severe stomatitis (inflammation of the gums and throat) and had to have pretty much all their teeth removed ($350 for diagnostics, surgery and medication); Rocky, 10, became jaundiced due to cardiomyopathy ($750 in diagnostics, vet care, emergency care and - sadly, cremation after we lost our big bunny boy when his heart gave out); we also lost little Nakita, 17, to fibrosarcoma after a valiant battle against the cancer and thyroid problems ($1,000+), Caressa, 10, to cholangiohepatitis ($800), and Merlin, 18, to heart and kidney failure ($hundreds).
See pictures of Doodles, Gus and Cutie (in their clothes), Mystimoo and Tiggeroo (born with deformed front legs), Belle, our sweet leukemia kitty, and some of our other special needs kitties at www.bemikitties.com/carocats.
ADOPTING
WHY GET YOUR NEW KITTY FROM US?
We are life-long "cat-ladies" running Columbia's ONLY all-volunteer, all-cat rescue, specializing in particular in special needs kitties.
Our cats are our children. We seek adopters who feel the same way. We have MORE kitties for adoption than any other Columbia agency, but many have special needs, and because we've rescued them from dire situations and become attached to them, we're very particular about the homes they may go to. We keep them in our own homes, so we KNOW their purrsonalities and do our best to make the right match. We don't try to pretend they're purrfect if they aren't, just to get them adopted - we're honest about them, and tell you their good points and their not-so-good points. We know that most cats who haven't been exposed to dogs when young are not going to learn to get along with dogs, and we don't pretend they will. It isn't fair to them to stress them out by expecting them to. On the other hand, we do have some kitties who grew up with dogs and have no problem with them. The same goes for kids - if cats don't grow up with children, they generally aren't comfortable with them, especially with small children.

P.O. Box 5465
Columbia SC
29250