All For The Animals, Inc.
(AFTA)
---
---
---
PLEASE DO NOT CALL THE WARREN ANIMALS SHELTER OUR DOGS ARE LOCATED IN FOSTER HOMES ......
---
For folks who follow AFTA's Facebook page
---
Our Featured Dog...TASHA
This is TASHA, she is a Boxer mix female that is 5 yrs old and weighs 50 -60 lbs. I like children and other dogs, but do not care for cats or chickens at all. I am looking for a new family to call my own. Do you think you could help me find my new forever family Will you help make that dream come true?

Licks of love,

TASHA
---
---
---
ANOTHER FEATURED PET ...ODIE!!


Hi, I'm Odie! I'm a seventy pound Boxer-Hound mix and I'm a year old being born on November 19, 2015. My foster mom tells me that it's time for my forever person to find me and we'll be forever friends. I've never had one of those. Before I came here I was shuffled from one bad situation to another. I've gained a lot of weight and I feel sure I'll gain a lot more! The people I live with call me Odie because I'm so much like Garfield's best friend. Goofy, loving and playful! They look at me and shake their head in disbelief. They wonder how a dog so mistreated by humans can be so trusting but I am! And I'm ready to meet you and start our life together! Loving hope, Odie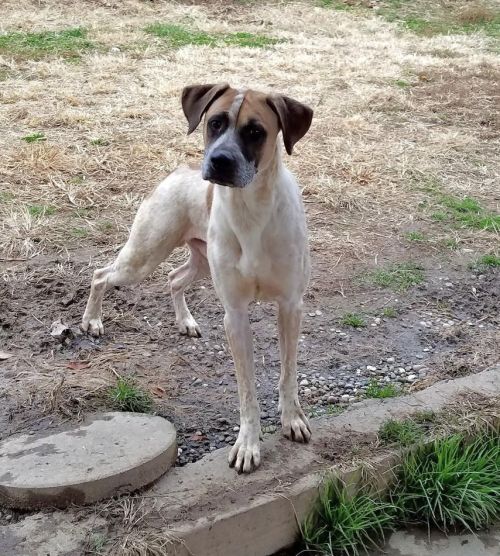 Note: With so many cats in need of homes right in New England, as a rule, it makes no sense for AFTA to transport more from elsewhere. It is never void of felines waiting for lifelong homes. Please visit them at 80 Wood Street, Warren, RI 02885. T/401.245.4569



---
---
---
Who We Are:
AFTA is a 501(c)(3) non-profit rescue licensed and serving in the states of West Virginia and Rhode Island. It is run completely by volunteers from both regions. Our goals are to humanely create a negative canine and feline balance through a spay/neuter program, and to rescue and place adult dogs and puppies with WV area folks and with New England families...and, of course, to help home cats (and other animals) as best we can. Please visit www.AllForTheAnimals.org for more detailed information about our organization.

"Like" us on Facebook!


---
---
---
Adopting a Friend:
Click here to see our dogs and pups available for adoption (along with courtesy feline postings). IMPORTANT INFORMATION! Most of our dogs are not physically located at the shelter in Warren, RI, but in foster care. Therefore we INSIST you do NOT contact the shelter concerning pets available through AFTA. To review the adoption process and/or fill out an application, kindly visit our website's Adoptions page. An AFTA representative will contact you upon review of your application. If you have questions regarding an animal or protocol, do not hesitate to contact AFTA at aftainc@hotmail.com. (For adopters in the WV area, please contact Angie at aftainc@hotmail.com for fee information.)


---
---
---
Foster Homes Needed:
AFTA IS IN NEED OF INDIVIDUALS AND FAMILIES WILLING TO OPEN THEIR HEARTS AND HOMES AS FOSTER PARENTS/FAMILIES. If you would like to provide a temporary home for an animal, please complete an application found on our website's Foster Care page. You're also invited to email aftainc@hotmail.com for more information.


---
---
---

All For The Animals, Inc.
Warren, RI 02885
Email: aftainc@hotmail.com
Facebook!

Click here to see AFTA's pets.


---
---
---

[Home] [Information] [Shelters] [Search]