In the Cat Adoption Room at The Warwick Animal Shelter you can visit with the many cats that are available for adoption. You will have the chance to speak with the staff about the different personalities and which cat would be a great fit for you or your family. As you can see by the picture potential adoptors love to sit on the floor and visit with the many cats and play with them. It is a very relaxing atmosphere. So stop by and visit the the many cats in The Cat Adoption Room.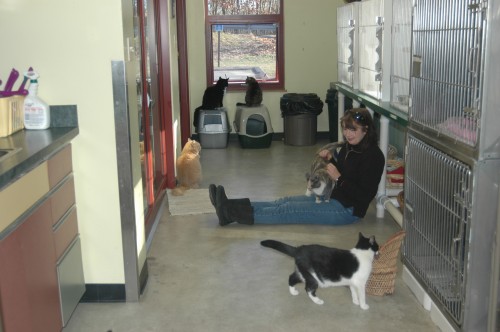 Getting to know the kitties
Have you lost a pet and now are ready for a new family member? Maybe your kitty would like a new friend?
**************************************************************************************************************************************************************
WHY ADOPT AN ADULT CAT? Check out Red now Elias transformed from shelter cat to being at home with his two new siblings.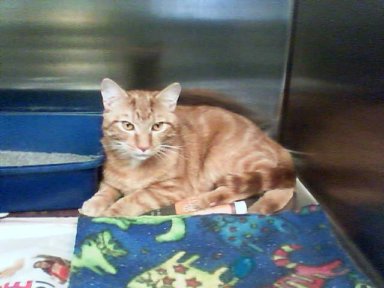 At the Shelter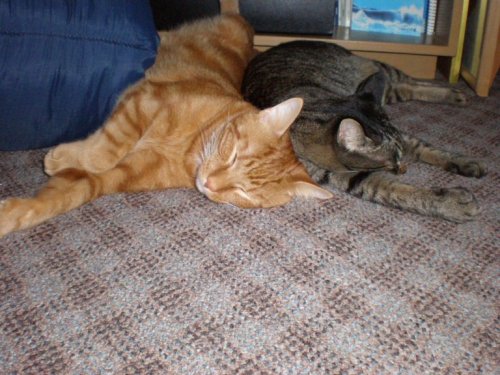 With one new sibling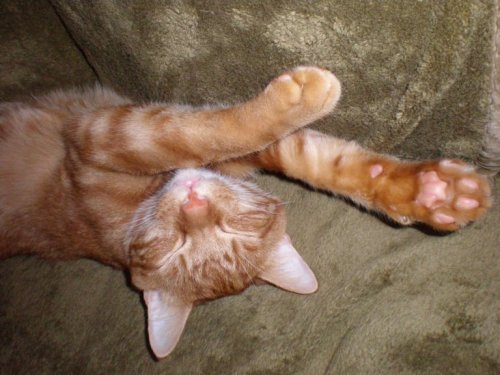 It doesn't get better than this!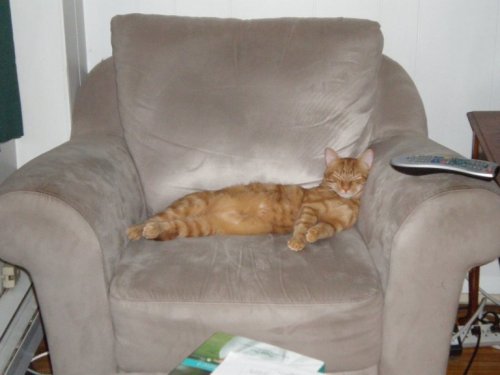 Home at Last!
We have been meaning to email you guys for a while to share with you how much we love our newest baby! We adopted Red (we named him Elias) back at the end of April, beginning of May. We have loved getting to know him! He was pretty shy when we met him at the shelter. When we found him, he wouldn't come out of his cage (see first picture). He has slowly come out of his shell and has developed quite the personality. He loves to be held (and will purr like crazy), but that can be hard because he has gotten to be HUGE! He is a very tall and long cat, it seems like he is half the size of his mom! He also loves his brother and sister and the three can often be found cuddling together! His other favorite is water! He is obsessed with the cats water fountain, the bathtub and the sink. He drives us crazy when we are trying to do dishes, he just wants to play! Thank you to the Warwick Animal Shelter for rescuing our baby and getting him ready for us to adopt, he has been such a wonderful addition to our lives! Joy & Andrew
Always call the shelter to see if you pet was found! 401-468-4377
PETS IN NEED OF HOMES

CATS IN NEED OF HOMES

Delfina may had not made it to an adoption room in another shelter. She is a little shy with people but loves other cats. She plays with the other cats all day in the adoption room.She needs to be rescued and allow to have some fun in a home with a playmate. She will warm up to her human with time and patience.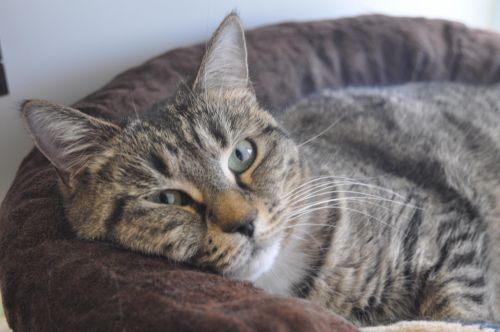 Delfina

Merlin has been at the shelter for some time and needs someone to give him a chance. Are you that person?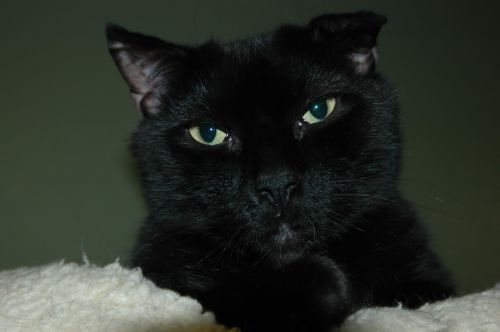 Merlin

BULLY BREEDS IN NEED OF HOMES

DID YOU KNOW?

Most people, who are unfamiliar with the American Pit Bull Terrier or Staffordshire Terrier falsely believe that they are dangerous dogs. Unfortunately, Pit Bulls have a bad reputation based mostly upon media coverage. Like all breeds of dogs there are good and bad, but what many people don't realize is that it is rare for pitbulls to be aggressive with humans. The news always covers the bites given by this breed and neglects to cover serious bites given by other breeds thus scewing public opinion about the pitbull breeds. Pits are actually very stable, intelligent, and highly trainable (and they think they are lap dogs). They are strong athletic dogs and they require a guardian who is responsible and will give them plenty of exercise and training. They are loving and loyal and make excellent animal companions. Have a pitbull that needs to be spayed or neutered? call us for info on low cost clinics in the area that provide special rates for pitbulls
---
| | |
| --- | --- |
| | |
Consider these statistics on cats...
According to The Berlin Longevity Institute:
Cats can add as much as 10 years to their owners lives
Picking up a cat has a nearly instantaneous calming effect on humans, causing blood pressure to drop and the heart rate to slow
The estimated population of homeless cats in the United States (70 million) is almost equal to the number of owned cats (75 million)
Throughout the spring and summer, animal shelters across the country are inundated with dozens of litters of kittens. Tragically, about 71 percent of these animals will be euthanized because there are not enough loving homes

Combat the tragedy of overpopulation - Improve your life with a catís companionship, and spay and neuter your pets!
---
---
If you're seeking to adopt a pet, please don't forget that if you are visiting cats and dogs in the shelter, they are typically stressed out from being caged in. Many of the pets need to be taken away from their cages for you to see their real personalities. So give them a chance. If a dog is barking noisily in its cage, please speak to someone in the shelter who knows its behavior. The shelter worker will tell you if the pet is appropriate for young children, if it's good with other pets, and generally if it might be a good match for you and your family.
If you'd like to contact us regarding a particular pet, you will find information below. Please allow 24 hours for us to return your call or email. Thanks!
| | | |
| --- | --- | --- |
| Cats by Phone | Dogs by Phone | Cats & Dogs by Email |
| Call Debbie (401) 468-4377 | Call our general voice mailbox: (401) 468-4377 | Please email Maggie |
Please email for an application Application
---
Have you adopted a pet from the Warwick Animal Shelter? We would love to hear what he or she is up to now! Please feel free to send us an email (preferably with a picture attached), and describe what a difference your new pet has made in your life.

Hello my name is William Reed my wife Lori and I adopted Delilah several months ago and thought I would send you an update, she is doing really well and has a good weight on her she is rather vocal when it comes to times to eat and getting her cookies, teaching her new tricks like a double high 5 etc she is quick to learn. She is a huge baby and falls asleep very easily while petting her it's very funny. Anyway including an updated picture. Thanks, Bill and Lori Reed Thank you for bringing James (formerly Bunky) into our lives. He is such a good boy, eager to please, and always available for a cuddle. We could not have hoped for a better companion. He quickly adjusted to our house rules, in fact he follows 'rules' of etiquette that our laid-back household would never have thought to enforce! We feel very lucky to have this gentlemen beagle in our family. He is my second baby, my husband's good buddy, and our toddlers best friend. We appreciate the work that you do at Warwick Animal Shelter. Thank you for the joy of James! Sincerely. The Branda Family

Dear Warwick Animal Shelter, Hi! My name is Jennifer and I adopted Priscilla from your shelter in October of '04. I know it's been a while but it was on my mind and I wanted to send a quick Thank You. I'm not sure you'd remember her, she was a stray (about 1 1/2 years old) when I adopted her. I was told that she was special to you guys and if for any reason I had to give her up you begged me to bring her back to you.

Anyway, I wanted to send a photo and say she's doing wonderful!!! She's been such a blessing to me and a great addition to my family, I don't know what I would do without her. Since I'm a big Elvis fan I kept her adopted name...however sometimes she goes by Sweet P. Currently there are also two dogs in my home.... Sometimes she thinks she's one of them, running around at all hours of the night! One of the photo's I attached she's actually opening her Christmas presents. Too funny! Thank you so much for the great work your shelter does. I don't live too far from you and I'm sadden about the flooding we had in March. I know that you're still trying to rebuild. Although I know it's not enough, I would love to make a small donation. Whether it be food, toys, bedding or cash. If you could please let me know what would help I'd greatly appreciate it!

Good Luck and Best Wishes! Jenn
| | | |
| --- | --- | --- |
| | | |
| Priscilla | | |
Warwick Animal Shelter Happy Tails!
---
Not only is it good for your companion animal, it's now the law! The State of Rhode Island has a new law requiring that all cats living in Rhode Island be spayed or neutered. . By spaying or neutering your cat, you not only give her or him a healthier, happier life, but you also prevent generations of unwanted kittens. The shelter hosts low cost spay/ neuter clinics provided by Salmon River Vet Services. Please call the shelter at 401-468-4377 for information and appointments on low cost spaying and neutering.
---
FRIENDS OF THE WARWICK ANIMAL SHELTER EVENTS
For more information on any events, please call 401-467-2692, email shelterhelp@FriendsRI.org or visit Warwick Animal Shelter's page on www.FaceBook.com
Follow us: https://www.facebook.com/FriendsOfTheWarwickAnimalShelter
All proceeds from these events to Friends of the Warwick Animal Shelter, a 501(c)3 non-profit humane organization, will be used for spay/neuter assistance and emergency veterinary assistance for cats and dogs housed at the shelter as well as to make improvements to the Warwick Animal Shelter for the comfort of the animals.
Donations are tax deductible as allowable by law.
Past proceeds from these events have installed central air-conditioning in the dog's indoor kennel area, a surveillance camera system for the entire shelter, and a large outdoor playpen for the shelter dogs so they can run around, socialize with other dogs and meet potential new families.
Friends is an all volunteer organization and we depend on your support to help homeless animals. Please join us at one of our fundraising events! And please spay or neuter your companion animals. Thank you.
---
---
We are in need of donations for the dogs and cats:

We are always in need of any dog and cat items, such as:
CAT LITTER(CLAY ONLY)

peanut butter
canned cat and dog food

If you would like to mail a monetary donation which helps pay for the cost of special Veterinary care, please send to:

Warwick Animal Shelter
101 Arthur W. Devine Blvd
Warwick, RI 02886


Please include the name of the animal you'd like to donate to, and if applicable, include the names of the person(s) you are honoring. We would like to send a card to you to thank you for your donation, as well, so please note your address. What better way to send a special occasion greeting for someone who has everything?
---
There is nothing more gratifying than helping to save a dog or cat! If you are unable to adopt a pet, but would like to help out, consider becoming a volunteer. You must be at least eighteen years of age.
We need volunteers to walk the dogs during the week or play with the cats. They will be stuck in their cages without your help!
To volunteer , please call the Warwick Animal Shelter at (401) 468-4377
---
Dynamic Dog Training - Susan Parker, Obedience Instructor

Dynamic dog training services provides both private and group lessons for your dog. While we enjoy working with all dogs we love working with bully breeds, this is our specialty. Please contact us for more info 823-8851 or visit us at www.dynamicdogtraining.net Sue has been volunteering her time with shelter dogs for many years and provides a discount for any dog adopted from a local shelter

Great Dog! K9 Training - Jim O'Neill, Obedience Instructor

Looking for a trainer for your family friend? For a great local trainer, please contact our good friend Jim O'Neill 447-2380 or visit us at www.greatdogk9training.com. For several years, Jim has been volunteering his time on the weekends, working with our shelter dogs, and he even provides a discount for all dogs adopted from the Warwick Animal shelter.
---
Do you want to adopt a dog or cat and cannot find a home that allows pets?? Check out this link www.myapartment.com Dog Friendly
Do you want to adopt a dog that your homeowners' insurance policy will not allow you to have? Homeowners with breed exceptions on their insurance policy can get the Lester Kalmanson Agency's policy and still own the breed of their choice, because it insures the dog, not the home. Renters, and dogs that have a past bite record, can also be insured.
---
Who We Are: Mission | About | Urgent! Homes Needed | Pet Information | Happy Tails! | Email Us
What We Offer: Low Cost Spay/Neuter | Events | Shelter Training
How You Can Help: Donations | Volunteering
Resources: Training Resources | Dog Liability Insurance


7/29/2017