PIT BULL AWARENESS
(Special thanks to the REAL Pit Bull!)
The American Pit Bull Terrier (Pit Bull) is a fascinating breed. Historically, Pit Bulls have served the dual purpose of working dog as well as canine companion. Originating in England, they were initially created by crossing hardy terriers with the working bulldog of the 1800's. The breed was used as a butcher's catch dog, pit fighting dog, and feisty human companion. Pit Bulls are unique in that they were created to perform a specific working task, yet their nature proved so amiable, loving, and non-aggressive with humans that they fell seamlessly into the role of human companion dog right from the beginning of their existence. There are many old black and white photographs depicting gentlemen in top hats and ladies in their Sunday best posed with the family Pit Bull, as well as plenty showing children with their arms draped lovingly around their favorite pet Pit Bull. Petey from the Our Gang series was a Pit Bull, as was Buster Brown's dog, and a Pit Bull Terrier was the symbol of America during the era of World War I.
Very popular in the early part of the 20th century, the Pit Bull gradually faded into relative obscurity. The breed didn't reemerge until the 1980's when they were brought into the public eye after some unfortunate press pegging them as fighting machines good for nothing but the illegal and inhumane practice of dog fighting. Even though the Pit Bull has always been known to be a safe, sound, and stable companion dog by those who care for and love them, this blitz of negative press caused mass confusion and fear of a breed that was once seen as a noble symbol of America. The result was an increase in Pit Bulls obtained for illegal and inhumane purposes, laws emerging meant to ban the breed, and a rash of newspaper articles declaring the breed public enemy number one. To counter-act the negativity and help the truth resurface, breed lovers rose up to defend their beloved and maligned dogs. Pit Bull advocacy and rescue groups came to the defense of the breed, speaking the truth, debunking myths, fighting cruelty and bans, and helping the Pit Bull regain its once solid reputation as a companion dog. Today, slowly but surely, the Pit Bull is regaining ground as a solid working dog and wonderful companion animal. Pit Bulls make great pets for those who want an active dog, are looking to provide an outlet for the breed's drive and energy, and want a loving, loyal, silly dog to share their life with.
Pit Bulls make great working dogs and today compete in obedience, agility, conformation shows, weigh pull events, work as search and rescue dogs, and even police drug detection dogs. The temperament of the real American Pit Bull Terrier is extremely friendly with humans of all ages, trusting, never shy, smart, and tenacious. The breed is also known for high prey drive so they should be kept on leash when out of doors to prevent chasing of squirrels and other critters; they also may not make the best addition to a home with cats. Pit Bulls are also a "dog sensitive" breed - they do not always do well with other dogs and can easily become defensive over food, toys, or "personal space"; for this reason, they typically do best as an "only dog", or in a home with a savvy human guardian willing to properly supervise the dogs. Dog parks are not recommended for this breed since such places can easily overwhelm a Pit Bull and cause a defensive reaction.
Pit Bulls are NOT the breed for everyone, and but make an amazing companion for the right person or family. Please do your research before bringing home any dog.
This breed needs the most help! We fight everyday to provide real information, and to find responsible owners for these dogs. Once you meet a true pit bull, you will fall in love instantly! Once you own one, you will never live without one!
We are always searching for new foster families, if you have it in your heart please contact us!
We can also use medium and large crates, dog food, treats, toys (Kongs with peanut butter are our favorite), leashes and collars, and gift cards to local pet stores.
Information provided by The Real Pit Bull, www.realpitbull.com One of our favorite educational sites!
EVENTS
GET READY! Please check out our upcoming events for October 2012!
DOWN TOWN BETHLEHEM DOGGIE DAY!!!!!!
Location is down town Bethlehem.
Sunday October 21st 2012
11am till 3pm
Come and join us for a day of fun events in the city! Everyone is welcome to attend with their well behaved, leashed pets.
FOSTERS NEEDED
Do you love dogs? Are you breed savvy? Do you just happen to know and love American Pit Bull Terriers?
We are looking for foster homes that are pit bull friendly! The more foster homes we have available, the more urgent dogs we can help save!
If you think pit bulls are:
Love-a-bull and Adore-a-bull
And you are:
Response-a-bull and Reli-a-Bull!
Contact us! We would love to have you on board! Foster families provide love and attention! We will provide all vet care and supplies needed!
THE AMERICAN PIT BULL TERRIER
Officially known as the American Pit Bull Terrier, the Pit Bull is recognized as a breed by the United Kennel Club (one of the largest dog registries in the world).
The Pit Bull has been officially recognized since the 1800's but its ancestors (working bulldogs and terriers) have been around much longer.
The Pit Bull was created and has always been bred to be sweet-N-stable and non-aggressive towards people!
Ruff-n-Tumble with other dogs at times, the Pit Bull has a long history of working side by side with people performing tasks like butcher's catch dog, working farm dog, fighting dog, and always most importantly as a cherished family companion animal. Modern Pit Bulls excel in police work, agility, tracking, therapy dog work, and more!!!
TIME TO RETIRE THESE MEGA MYTHS!
Pit Bulls have locking jaws.......... FALSE!
Pit Bulls have the strongest jaws..........FALSE!
Pit Bulls "turn" on their owners............FALSE!
A higher percentage of Pit Bulls attack people than other breeds..........FALSE!
ALL Pit Bulls are aggressive............FALSE!
Pit Bulls are only good for fighting.......FALSE!
PIT BULLS ARE NOT FOR EVERYONE! PLEASE DO YOUR RESEARCH BEFORE BRINGING A DOG HOME! THERE IS NO SUCH THING AS TOO MUCH INFORMATION!
www.realpitbull.com
www.pbrc.net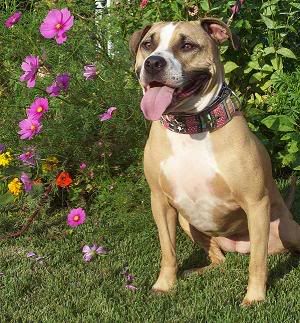 WHO WE ARE
Sunrays Pit Bull Rescue is run by a small group of volunteers who dedicate their lives to the American Pit Bull Terrier. We believe pit bulls are not for everyone and we strive to educate new potential adopters and the community about the breed. We know what great companions pit bulls can be, and focus on finding responsible dog owners who can help us with this mission. Those who know pit bulls, k now what lovable, courageous, happy go lucky clowns they are. They have an intense love for their family, and make horrible guard dogs since they love people! They live to please their owners.
Most of the dogs we take in are stray dogs from local animal control, and holding pens. When shelters are full local municipal holding pens are used to keep dogs safe until an owner or rescue can be found. We take in dogs that are highly adoptable and have sound temperaments. We like to see our adoptive dogs become breed ambassadors! We focus on our community, since there is such a high need here in the Allentown, Bethlehem, Easton areas of PA.
All of our dogs go through behavior evaluations, they are vet checked, spayed/neutered, microchipped, and vaccinated. They are tested for heartworm and started on prevention. After they are checked out they find comfort in our loving foster homes. This way we can see how they interact with people, other pets, and children. They are then placed up for adoption. We have trainers on staff, dogs are started with basic obedience while in our program. All new dogs stay with our foster families for a minimum of one month for their evaluation period.
Since we do not have a shelter facility we depend on our foster homes! We are always looking for more help for these dogs. If you think you have it in your heart to open your home up to a rescue dog, please contact us to learn more about our foster program! The more foster space available, the more dogs we can save!
We are committed to our dogs, and once one is adopted we are there for the lifetime of that dog! We are here to help with any problems or issues that may arise. If something would happen and you would not be able to keep your companion we are willing to take the dog back. We like to consider our adopters to be extended family. We love hearing updates and receiving pictures, matter of fact we expect it!
We are located throughout the Lehigh Valley here in PA. Please contact us via e-mail at: sunrayskelly@gmail.com.
Our motto is: FIGHTING TO BAN IGNORANCE AND FEAR THROUGH EDUCATION OF THE BREED!
Anyone interested in one of our pets, will need to fill out our adoption form. Also home, and veterinary checks will be conducted. Sunrays Pit Bull Rescue recommends that Pit Bulls are adopted as only dogs or with a compatible dog of the opposite sex.
Become a fan of Sunrays Pit Bull Rescue on facebook!
Sunrays Pit Bull Rescue is approved by the IRS as a 501(c)3 non-profit organization. This means that all of your donations are 100% tax deductible! Thank you to all of our supporters! We could not do any of this without you by our side! The dogs thank you as well, WOOF! :)
SOME OF OUR FRIENDS!
Over the years we have helped save some amazing dogs. Here are just a few of their adore-a-bull faces!
---
Sunrays Pit Bull Rescue
www.sunrayspitbulls.org
Lehigh Valley PA
Email: Sunrayskelly@gmail.com
Click here for a list of pets at this shelter

---

[Home] [Information] [Shelters] [Search]