The Animal Friends of Westmoreland
---
---
OUR FEATURED PET- "MOLLY"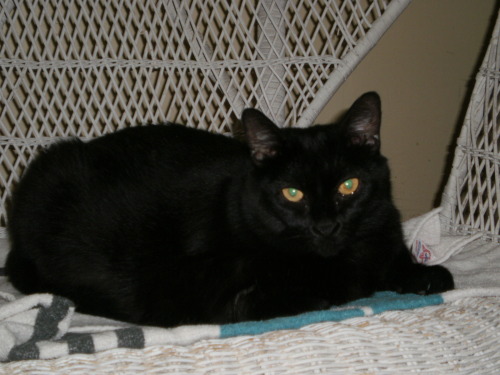 My name is Molly. I have recently had the status of official office Queen. I spent some of my days in the office at the shelter, helping the Shelter Manager with her daily duties. I often had to bring her down to earth and get her to slow down and smelll the roses. I sat right in front of her and gave her daily therapy sessions. I helped her and she helped me. She helped me by rolling the toys around and making me move my butt for exercise. I don't much like exercise, or the low-calorie diet that I was on, but I do like spending my days with humans and getting my Queen throne all to myself. I have sinced moved back to the general population cat room and am just as happy as can be. I would much rather live in a home with a real family to call my own. If I were to be adopted, I promise to control my eating habits and not to leave my Ho-Ho wrappers lying around. I promise to exercise without being told and I promise to get down to my goal weight, at least to be able to groom my back end all by myself. Won't someone please give me a chance. I know I will make an awesome companion to anyone. My name is Molly. I am spayed and up-to-date on current vaccinations. I used to live in a dumpster outside of Smokey Bones, but now I am ready for luxuries of a real home with a real window that I can look out and watch the world go by. You can see some of our adoptable pets every Saturay at the Petsmart in Greensburg from noon to 6pm and most Sundays too. All adoption fees include spay/neuter and up-to-date vaccinations.
News
The Animal Friends of Westmoreland has rescued and rehomed over 600 Dogs in its THREE years of operation. AFW has rescued and rehomed over 200 cats and kittens.
Who We Are
The Animal Friends of Westmoreland is an independent no kill animal shelter saving the lives of abandoned, abused and homeless animals. Our mission to educate the public, rescue and rehabilitate animals, and give those a voice that cannot speak. Utilizing the approach of having a self sustaining facility, by minimizing expenses and the use of traditional fundraising efforts, AFW is a full service shelter offering care and placement as well as everything you need to maintain a happy and healthy pet. For more information about AFW, please visit our website at www.animalfriendswestmoreland.org
Adopting a friend
If you are interested in adopting one of our homeless pets we would first like to THANK YOU for opting to adopt. Over 10 million dogs and cats are put to death each year and space is always an issue when you are a no kill facility. Thank you for your committment to saving precious life. Please email us your interest at animalfriendswestmoreland@comcast.net and visit our website www.animalfriendswestmoreland.org to obtain all neccessary adoption applications and forms. Click on the ADOPT tab to email us an adoption application. Or come visit us and meet all of our adoptable pets.
Come Visit Us!
We are agressively working on our permanent shelter. If you can volunteer in any way, please email us! The 8500 square foot facility is located at 216 Depot Street in Youngwood, Pennsylvania.
---
The Animal Friends of Westmoreland

216 Depot St.
Youngwood, PA 15697
Phone: 724-925-2555

Email:
Click here for a list of pets at this shelter

---

[Home] [Information] [Shelters] [Search]