Itty Bitty Kitty, Inc.
To learn more about us VISIT OUR WEBSITE:
www.ittybittykitty.org
Check out our videos of our Foster Cats on Itty Bitty Kitty's YouTube Channel:
www.youtube.com/user/IttyBittyKittyorg
Online Application Form
Please help us by donating to Itty Bitty Kitty, Inc.! Because we are a no-kill rescue organization and shelter, we incurr many additional vet bills that other rescues don't. Many bills are due to injury, illness, and ongoing care for our special needs cats. Our vet bills can add up very fast. We would like you to help our kitties out by giving them what they need while they are with us. Please help us help more cats and kittens!
Please make a TAX DEDUCTIBLE DONATION for the CATS.
Mail to: Itty Bitty Kitty, Inc., 878 Minesite Rd. Allentown, PA 18103.
OR to make a donation thru PAYPAL click on "MAKE A DONATION" !
Adoption Days!!
Adoption Days are now everyday at the PetSmart in Quakertown, located at 620 NW End Blvd, right off of Route 309. Please come visit us at our new location!! We also have adoption days every Saturday from 11 am - 2 pm at our shelter. Stop by and see all the cats and kittens we have available for adoption or take a tour of our shelter!
Adoption Days!!
Adoption Day!!
We will be having an Adoption Day on Saturday, February 13th from 11 am - 2 pm at the PetSmart in the Quakertown. We will have a couple of our foster cats and kittens at this event. You can always see some of the adoptable cats and kittens at our Adoption Center located in the PetSmart in Quakertown.
If you're interested in adopting we suggest you complete and online application prior to this weekend. This way we can get you preapproved for adopting.
<
---
Our Featured Pet...
INTRODUCING.....
Bonita .........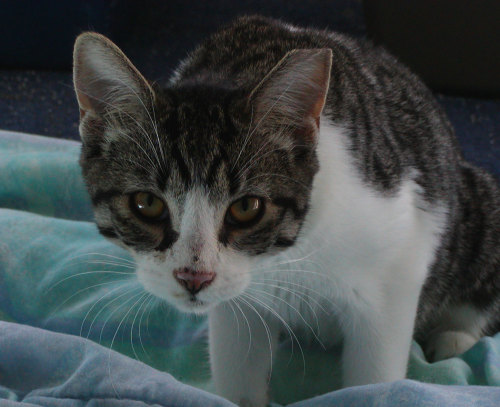 Bonita was one of 50 cats that was recently rescued from a hoarding situation in Allentown. She wasn't being feed on a regular basis and never received any attention. Bonita is a friendly girl who just wants someone to love her. She gets along well with other cats and would do best in a home that has another outgoing playful cat as she tends to mimic their personalities. Bonita is estimated to be a year old and rather petite. She loves to be petted and is constantly purring. She isn't fond of being picked up yet. Please consider adopting this wonderful girl and giving her the home she so deserves. Click on Bonita's name for more information.
News
Who We Are
Itty Bitty Kitty, Inc. is a non-kill, 501(c)(3), cat rescue and shelter serving the Lehigh Valley and beyond.

We are dedicated to saving the lives of homeless, stray and unwanted cats or kittens. We are a small but dedicated group of volunteers with over 10 years combined experience, looking to put an end to the stray cat population. We provide safe and secure homes for abused, homeless and sometimes unwanted cats and kittens until they find their forever home. We are dedicated to finding that "Purrfect Match" everytime.

Our philosophy is being kind to animals helps build a better world for everyone. Through the generous support and donations from individuals within the community, we can ensure that any cat or kitten that comes into our care will receive the best of care and never have to worry about being alone, hungry, sick or in danger again.
Adopting a friend
All of our adoptable pets are seen by a veterinarian and given a clean bill of health prior to adoption. They are updated on all vaccinations, tested for Feline Leukemia (FeLV) and FIV, dewormed, flea treated (as needed), and if over 5 months of age spayed or neutered. If you adopt a kitten that is not spayed or neutered at the time of adoption, the kitten will come back to our organization at the age of 6 months to be altered. Our adoption fee now includes the microchip and lifetime registration for all of our cats and kittens. All of the medical work is included in the adoption donation fee of $90.00.

We do have a standard adoption agreement, which is filled out at the time of adoption. A pre-adoption home visit is required before placing the cat in his/her forever home. We are committed to finding the "Purrfect Match" everytime.




Online Application Form

Come Visit Us!
Come visit our cats and kittens at our Shelter which is located at 878 Minesite Rd in Allentown. We are open to the public every Saturday from 11-2 and by appointment other times. If you are interested in seeing a specific cat or kitten, please contact us to schedule an appointment to see the cat or kitten. You can also come and visit the adoptable pets at one of our adoption days.
---
Itty Bitty Kitty, Inc.
878 Minesite Rd.

Allentown, PA 18103
Phone: 610-973-7400

Email: ittybittykitty@bdog.org
Click here for a list of pets at this shelter

---

[Home] [Information] [Shelters] [Search]