For the Love of Cats
---
Our Featured Pet...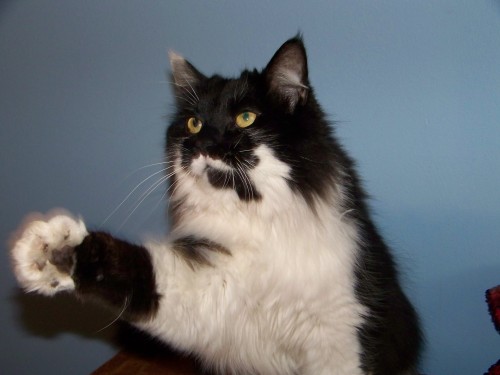 About our Featured Pet
M. Butterfly is a real beauty. She is a young adult and as playful as a kitten. Loves to talk to you and get your opinion. Enjoys her naptime on a big fluffy pillow. This girl knows what comfort is and located the large feather bed on top of one of my dressers. She immediately claimed it for the afternoon and took a long siesta.

M. Butterfly is very affectionate but would be best in a home where there are no little children. She does not like to be picked up and does not like anyone to mess with her lovely furr alot. She enjoys being petted but very gently. She likes being brushed with my soft baby brush but not bristles. Like I said earlier, she is a comfort hound. She wants gentle, quiet and rainy day days every day. Can you provide her with her snuggles and comfort???

Our Fundraiser

We are having a fundraiser to help some very sweet and needy cats that are not posted yet because they require a lot of medical attention. We are selling a Queen size home made cat quilt that is fabulous and has been donated by a wonderful woman and made by her mother. Thanks Jenny! Photos to follow soon.

Who We Are
Our Mission is to reduce the overpopulation crisis of ferals, stray, abandoned or otherwise unwanted cats. Our plan will consist of the use of TNR (where appropriate); relocation, foster placement, and adoption. The ultimate goal of our program is to reduce the suffering of any and all cats in need. We do this by assisting owners rehome their pets using petfinder and assisting with the adoption process, trapping and rehoming the friendly kitties dumped in our colonies and assisting with feral colonies.

Adopting a friend

If you would like to adopt a cat from us, please email me at ktolwinski@roadrunner.com and I will respond within 48 hours. Arrangements to meet and adopt cats will need to be scheduled in advance. Most of the cats that are listed on petfinder are not living here, they live with their families or their foster Moms until ready to go to a new home. They are not boarded here, so stopping by to visit is not encouraged unless you would like to play or socialize with my cats. Many of these cats reside with their families and I am the coordinator trying to find them a new home. Some will end up in shelters if not placed within a reasonable time. It is a sad fact that animals are tossed away like a used piece of furniture every day.

All of our kitties are combo tested negative. All of our kitties will be up to date on shots and spayed or neutered.

Pricing varies with age and cost of medical treatment expended towards each cat. Prices are between 50.00 and 125.00 if they are one of our little furry friends. Cats or kittens that are courtesy posted may be less or more. Multiple cat adoption rates may apply.

Breed cats and kittens will also require information as to your knowledge of the breed. When adopting a cat it is important to understand that like humans they are each unique in their requirements.
Please consider an adult cat as they bond very well and are very healthy. We have many seniors that need a good home and will provide you love and comfort. Seniors can get a senior cat for free with an approved application.

Transportation is limited at this time and so a gas charge may be added to the adoption fee if we do not have a transport scheduled for that area.

***** Very important to note that we screen: We require with no exceptions a Vet check (Veterinarian reference as to prior or current care), house check, and for first time pet owners we will require a minimum of 3 character referrences. Adopting an animal is not to be taken lightly. This is a long term commitment and in many cases not a cheap one. We do not give our cats away nor do we adopt them to people that do not have the means to supply veterinary care and a stable home. We also want to know what type of food you will feed. Nutrition is the most important part of being a pet caregiver. Iams and Nutro are not good quality foods and we discourage all adopters from feeding these brands to their pets.

WE DO NOT ADOPT TO PEOPLE THAT MUTILATE ANIMALS BY DECLAWING!! It is sadistic and cruel!

We need donations.... Cat food for our colonies and the inside ones too, dog houses for our outside friends, Clorox, laundry detergent, pee pads, litter boxes, Tidy Cat Blue Lid or Green Lid cat litter, tube socks for toys, window perches, and plastic storage bins. Almost anything that can be used in a multi apartment cat house or used to manage and care for ferals... You name it and we probably need it! Please contact Kate at 814-622-1006 if you have donations available.
Adoptions are by appointment only.
---
For the Love of Cats

P.O. Box 86
East Springfield, PA 16411
Phone: 814-622-1006

Email: katescats@live.com.com