Who We Are


We are a small in-home based rescue. Our goal is to take in a pet, get it all the necessary vet care and place it in a wonderful home. The vet care usually includes testing, deworming, shots, microchip, and spay or neuter. We then carefully screen anyone applying to adopt this animal to ensure the perfect placement. We take pride in maintaining a good relationship with the adopters and absolutely love hearing about how spoiled their pets have become.



Adopting a friend

Come Visit Us!


Rocky's Friends

Lansdale, PA 19446
Email: radosti1@yahoo.com
A huge thank you to PetFoodDirect.com (www.petfooddirect.com) for donating food, treats and other supplies to our rescue. They are a wonderful company!


We highly recommend Harleysville Veterinary Hospital. The vets there really care about all of our fosters and make sure that they go to their new homes happy and healthy. A big thank you to the staff there as well for babying any foster that has needed to stay there a couple of days.


We are always in need of donations:
- Crates are used to transport and train fosters.
- Food and treats are either used here or forwarded on to the shelters who don't have the funds to buy enough.
- Blankets and towels are always needed.
- Monetary donations help us off-set our vet bills and let us donate trays of vaccines to the shelters that we pull pups from. This allows prevention of diseases that otherwise spread through these shelters.


In Memory of Rocky (Jan/1993-20Apr2005)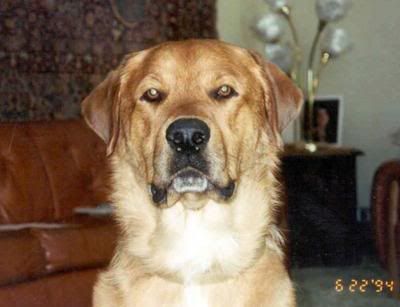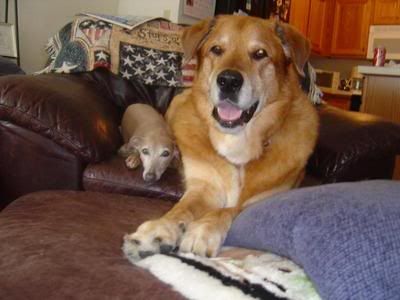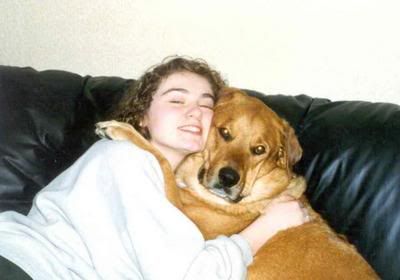 On the 20th of April, 2005 we had to say goodbye to the most amazing dog we have ever had the pleasure of knowing, our Rocky. Rocky was 12.5 years old and was recently diagnosed with progressive kidney failure. Three weeks later, he was gone.

My family adopted Rocky on January 9th, 1994 from the Animal Orphanage in Voorhees, NJ. He was a gorgeous Rottweiler/Golden Retriever mix with no manners. However, the wisdom I saw in those eyes was unforgettable. I was 17 and knew immediately that Rocky was meant to be my dog. We brought him home and spent the next three days washing the stench out of his fur. The only information the shelter provided us was that Rocky was a stray from Camden, NJ. Within a few weeks, it became evident that Rocky was a trained dog fighter. So, we began to train the aggression out of him. He was worth the effort.
Four years later, Rocky was completely trustworthy. He had transformed into a very smart and loving companion. He loved all kids and would spend hours playing with any child that walked in the door. He had appointed himself the pool lifeguard and if anyone yelled for his help, he'd jump in and pull them out.
As the years went by, Rocky's wisdom grew. He was an extremely loving dog and the peace and serenity that was in his ancient soul was evident to all. Everything that I've done for the animal world has been because of Rocky. All of it, from donations to rescue has been because Rocky inspired me every day. In his name, we've rescued 58 dogs so far.
Three and a half years ago, Rocky experienced his first bloat (GDV). He had surgery, but it didn't work and 2 months later he rebloated. We took Rocky to UPenn Vet School where they misdiagnosed him with Delayed Gastric Emptying and gave him 3 months to live. I read the scientific paper presented to me by the lead gastroenterologist and the symptoms didn't match. So, I made the decision to remove Rocky from their care and drove him to a local emergency hospital - Gwynnedd Veterinary Hospital. There, Dr. Decker and other vets agreed with my opinion and took Rocky into surgery. They performed a belt-loop gastropexy and saved his life. For the next 3.5 years, Dr. Decker has been an angel in Rocky's and our lives. It is to her that we owe these three precious years.
This week has been extremely difficult. I keep expecting to see Rocky around every corner. I keep expecting to see his stubby little wagging tail. Instead, he is gone. Rest in peace my dear Rocky.

I Loved You Best
Copyright © Jim Willis 2002

So this is where we part, My Friend,
and you'll run on, around the bend,
gone from sight, but not from mind,
new pleasures there you'll surely find.

I will go on, I'll find the strength,
life measures quality, not its length.
One long embrace before you leave,
share one last look, before I grieve.

There are others, that much is true,
but they be they, and they aren't you.
And I, fair, impartial, or so I thought,
will remember well all you've taught.

Your place I'll hold, you will be missed,
the fur I stroked, the nose I kissed.
And as you journey to your final rest,
take with you this...I loved you best.