---
---
Please check back frequently -- We never know what the next phone call may bring us. As dogs become available for adoption, they will be posted.
2014 News
---
Current Fundraisers
---
---
---
Pet of the Month
Our featured pet in "Briann's Kennel" introduces himself...
Hi, My name is "_____"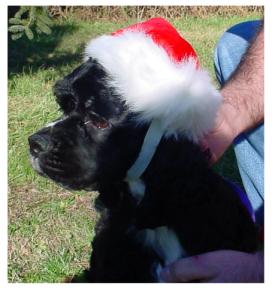 ---
2005 News
Please keep in mind that we do NOT have Federal 501c3 Non-profit status, so gifts are NOT tax deductible. We do maintain a separate checking account for the rescue dogs. All monies are deposited in that account and all bills are paid from same. We do not make a profit from our efforts on behalf of the homeless cockers in our care.
2004 News
Our Open House was a great success. Thanks to all who came and participated. We had over 40 people and about 20 cockers here.
"Briann's Kennel"
Established July 2001 in Loving Memory of Briann Pomroy

Our dogs love to sleep on Kuranda Dog beds, but we don't have enough for everyone. If you would like to donate a bed at a special wholesale price for a another dog to sleep in comfort, please click here.
---
Who We Are
CastAwayCockers is dedicated to the memory of "Dawn's Midnight Angel"
Our goal is to rescue, evaluate, and rehome needy cocker spaniels who would otherwise be euthanized due to time and space constraints at animal shelters.
We hold a kennel license issued by the Pennsylvania Department of Agriculture, which subjects our facilities, records, and dogs to twice yearly inspections by the State Dog Warden.
Each cocker spaniel is evaluated for conformation, temperament, and health before it is accepted into our facility.
We are very limited in the number of dogs we are able to help, so our first priority is cocker spaniels in kill shelters.
Owner surrendered dogs are accepted on a space available basis. Owners must turn in previous vet records for the dog and the dogs must be up to date on vaccines and rabies. We request a donation from owners surrendering their dogs to help offset the cost that rescue incurs caring for these dogs until a suitable home can be found.
Once a dog is accepted the following is provided: Grooming, vet care, temperament and personality evaluation.
We intensely screen applicants and do home checks in order to match the pet with the family's lifestyle. We educate people about the needs of the breed. We also provide post-adoption support and advice.
Each cocker spaniel is adopted under a contract that is strictly enforced.
We do not have non-profit status and receive no funding. Adoption donations are necessary to reimburse us for some of our expenses. All the shortfall is paid out of our own pocket. If we don't recoup some of our money, we will not be able to continue helping other needy cocker spaniels. All freewill and adoption donations are maintained in a separate checking account set aside for rescue expenses.
Please note that all photographs posted on these pages by us are copyright protected.
---
Contacting Us About Cockers in Shelters or Owner Surrenders
Many people contact us to let us know about a cocker spaniel in a particular shelter or they know someone who needs to relinquish.
When contacting us regarding a dog that needs help, please provide a photo of the dog, if at all possible.
We also ask owners wanting to surrender their dogs to fill out a Profile Questionnaire on their dog. If the dog is a stray or is in a shelter, just provide as much information as possible about the dog.
Click here for a Profile Questionnaire to submit to us, if you want to surrender a dog to rescue:
---
Adopting a Friend
Our adoption procedures go as follows:
We make every effort to match each individual dog with a family who can meet their needs. Dogs have different personalities and needs just like people.
We have potential adopters fill out an application and return it. We review the info and check references. If everything checks out, then we make an appointment for the adopter to visit the dogs. Please note, we do NOT ship any dogs. Potential adopters must be willing to drive here and meet the animal they are interested in adopting.
An adoption donation is necessary in order to help offset the tremendous expense rescue incurrs housing and vetting these dogs.
We do not make a profit from this. We rely on the adoption donations to reimburse us enough, so that we are able to continue helpin gother needy cockers. We spend several thousand dollars each year providing vet care, medications, heat and air-conditioning, dog food, toys, bedding, chew bones, and grooming and cleaning supplies to take care of the rescue dogs.
Each dog that leaves here has the following:
Vet-Checked
Spay/Neutered
Wormed
Current on DHPP, Bordatella, and Rabies Vaccines
Heartworm tested and on Preventative
Frontlined, if they have fleas when they arrive here
Microchipped
A new Lupine Combination Collar, with a lifetime guarantee - even if the dog chews it, the company will replace it. A matching leash included, also.
A Lifetime Cocker Rescue ID Tag
Any health issues a particular dog may have, are addressed before the dog is placed into a home.
Each dog is freshly groomed to go to their new home.
Sorry, but we do NOT ship or transport dogs under any circumstances... so please don't even ask. No exceptions to this policy.
You may either print the application out, complete it, and mail it back to CastAwayCockers, Cocker Spaniel Rescue, P.O. Box 6314, Hellam, PA 17406... OR... Copy and Paste the application into an e-mail and return it that way, to castawaycockers@yahoo.com. Either way is acceptable.
---
What To Bring When You Come To Adopt
To ensure that you are prepared when coming to adopt one of our cocker spaniels, we have created a list of items you will need. Please call if you have any questions. When coming to adopt an animal please bring the following items:
1)A carrier approximate size 21" wide, 27" deep, 20" high.
2)
3)The necessary fees for adoption and license.
4)Your driver's license or other form of valid ID.
Additionally, we would appreciate it if you could take a minute to look at Our Wish List. If you have any of these items around the house that you can afford to donate, we would be most thankful!
---
Volunteering and Donations (Our Wish List)
If anyone wants to help, we always have a need for the following:
We have a need for the Reuseable Washable Pooch Pads. They are absorbent pads to use in the crates with sick or paralyzed dogs. The dogs shred the paper ones, so we prefer the ones that are made of cloth, with a waterproof backing and they can be laundered and re-used. They are available from Ryan's Pet Supplies, item number PP32301.
Disposable Puppy Piddle Pads
We use these under the grate floors in the crates, when we transport dogs. Keeps the dogs cleaner if they get sick while riding in the car.
Individually wrapped sliced cheese. We use this to wrap pills in for the dogs. We use it sparingly and the individually wrapped slices keep longer.
Genteal Lubricant Eye Gel - Available at WalMart or Costco - for the cockers with dry eye
Merrick Moozles Available From:
Wolf size nylabones
Doggie Treats and Biscuits
Paper Towels
Zip close food storage bags in pint and gallon sizes. We always send along some biscuits and a small amount of dog food with the dogs when they are adopted, so they don't get diarrhea from a sudden change in food.
Q-tips -- must be the kind with a cardboard stick -- NOT the plastic sticks.
Bags of Fresh Baby Carrots - the dogs love these for a treat.
Baby Wipes - we use these to clean up dogs who have accidents while traveling.
Scented Chlorox or other brands of sanitizing wipes. Again, we keep these in the car to wipe the crate out when dogs have accidents.
Small trash bags to keep in the car for cleaning up messes along the road.
Waterless Hand Sanitizer
Natural Balance Duck and Potato Canned Food
WISK or ALL Liquid Laundry Detergent
Downy fabric softener
OdoBan available at Sam's Club
D cell batteries. We have crate fans for use in the car, when traveling, and they need D cell batteries.
9 volt batteries for microchip scanner.
Interceptor - both the green and yellow weight sizes.
Frontline
Oster Clipper Blades #10. #15, #7 full tooth, and #40
Postage Stamps
Hewlett Packard Black Ink Cartridge #HP 56
Hewlett Packard Color Ink Cartridge #HP 58
Heavy black trash can liners.
Tall white kitchen can liners.
Or feel free to donate anything else you think we may be able to use for the cockers in our care.
"CJ, the lost cocker from IN, is Home!"
To see some of the dogs we have helped along to a new life:
---
"Links"
Below are some links if you like collectibles. The people we have listed have been very supportive of our rescue efforts. We hope you will take a look at their pages.
---
2002 Current News
Our intake numbers are absolutely staggering for this year, already. The current news will be updated when we have time. Right now, the care of the foster dogs who are here, and the Cockers Available section of our page, are our top priorities. More info coming later... when intake (hopefully) slows down.
Update August 2002 - We have doubled the number of dogs that we have accepted into our program this year. We are really hoping things slow down going into the winter months.
We received a donation from Mt. Nittany Dog Training Club in Honor of Ricky. Enclosed was a note telling us that Ricky has successfully completed the basic obedience class. Ricky's current owner adopted him from CastAwayCockers in 2001. Way to go Ricky!!
---
2001 News
We didn't start fostering until April this year, when the cold weather broke. We've made a lot of strides in improving our facilities for the rescue cockers this year.

The Memorial Fund was used to install a new propane gas heater in the kennel and purchase 100 gallons of fuel... enough to get us started into the cold winter months. Our heartfelt thanks to all the "Cocker Friends" who donated to the fund in Memory of Briann.

We also were able to get our security fence installed this summer. We now have a 30' by 32' play yard fenced in for the rescue dogs to go out and run some of their energy off. This has helped tremendously with the stress levels of the cockers who are in our care for longer periods of time. My husband gets the credit for footing the bill on this major improvement.

A big thank you to GA Electric. This generous guy adopted one of our cockers last year. After we got our play yard finished this year, he came back and put outside floodlights up all around the kennel building and play area. He not only donated his time and labor, but supplied all the materials too. With the days gettting shorter, it is so nice, because the dogs can still be exercised in the play area in the evening. The lights also help with the security surrounding the building. We are truly grateful for all his help.

We want to thank all the individuals who have been supporting us throughout the year with donationsof cash and supplies. No matter how small the donation, every item helps us to make life a little nicer for these dogs while they are in our care... peanut butter for in their kongs, toys, soft blankets for them to lay on, new collars, paper towels to clean up after them... every single item is important.

And last, but not least... we need to thank our vet, Dr. David Pike of Dover Area Animal Hospital for everything he has done to help us with the cockers. We couldn't do it without his help. Thank you, all.
---
Come Visit Us:
Visits are by appointment only, after an adoption application has been submitted and reviewed by the Adoption Committee and veterinary references are checked. If you call and leave a message, long distance calls will be returned collect only.
---
CastAwayCockers
York, PA 17406

---
---
---

[Home] [Information] [Shelters] [Search]