Lycoming Animal Protection Society
Our Featured Pet: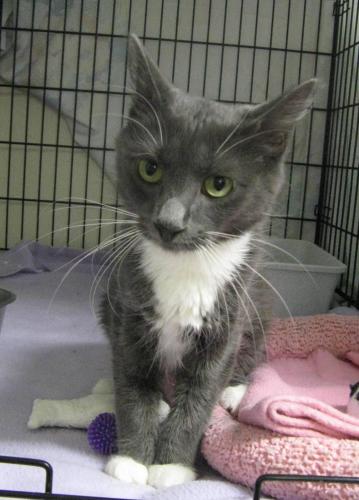 Emmy
Who We Are
Lycoming Animal Protection Society (LAPS) is a no-kill cat shelter located in South Williamsport, PA and is staffed solely by volunteers.
All of the cats and kittens we offer for adoption have been spayed or neutered if they are over 6 months of age, tested for FeLV and FIV viruses, given both their initial dewormer and their initial vaccinations. If necessary, they have been treated for fleas and ear mites. Veterinary records are provided as part of the adoption process. Kittens adopted at less than 6 months of age are issued a certificate which entitles the owner to a free spay/neuter surgery, when the kitten reaches 6 months of age, at one of the shelter's participating veterinarians.
Most cats are quite social, so two cats, especially kittens, are usually better than one. There is a misconception that male cats are more likely to spray in the house and some people are reluctant to adopt them for that reason. The fact is that male or female cats who are not neutered or spayed could exhibit this territorial behavior. This is just one of the many reasons to spay or neuter your cat. Many cat lovers prefer male cats because they are often more affectionate and less territorial than females.
Adopting a Friend
Cats can live an average of 10-18 years. During a cat's lifetime, its adopter can experience many life changes. Our adoption process is designed to make sure a potential adopter is a serious applicant ready for the commitment of caring for a cat for its whole life, come what may. We require a veterinary reference, and LAPS reserves the right to decline any adoption at our sole discretion.
It may take a couple of days from the time you complete your adoption application until your new cat may come home. The length of time can depend on how easy it is to reach veterinary references, etc. If you rent your home, we will need some evidence that cats are permitted where you live and that there are no limitations on cat ownership that would conflict with our adoption policy. Once an application is approved, we will set up an appointment to complete the adoption process.
Since LAPS is staffed solely by volunteers, our hours are subject to change without notice. However, we can usually be available 7 days a week by appointment. Until we have an approved application, we will continue to accept and consider other applications. So if you think you are interested in meeting a specific cat, don't delay in sending us your application. Once it is approved, you can make an appointment to meet your potential new family member.
Calendar of Events
More events are in the works, watch our website or join our email list for updates. We are always looking for help staffing our fundraising events. If you are willing to volunteer a few hours of your time at one of our events, please contact the shelter. Also, we are always looking for fundraising ideas. If you have an idea, please contact the shelter.
Our Wish List
Donations of items used in our everyday care of the cats in the shelter are very much appreciated! These donations greatly assist our finances. Items used on a regular basis:
Bleach
Paper Towels
Laundry Detergent
Fabric Softener Sheets
Antibacterial Dish Soap
Antibacterial Hand Soap
Copy Paper
Tall Kitchen Garbage Bags
First Class & Post Card Postage Stamps
Household Brooms & Wringer Mops
Cat Food - Dry & Canned
Gift Cards - Wal-Mart, Wegman's, Giant, etc.
Come Visit Us!
We can be found on the web at LapsShelter.org.
Make a Cash Donation
You can also make a cash donation to help with everyday expenses like utilities, heating, cooling and veterinary bills.