South Coast Humane Society
---

Our Featured Pets...

IT SHOULDN'T BE A CRIME TO BE A BLACK OR TUXEDO FELINE!



The sad fact is that Black and Tuxedo (black and white of any combination) are the longest serving felines at shelters. Black or Tuxedo kittens often grow up in shelters and sadly their changes of adoption diminish even more with age. They wait the longest for a home, being overlooked and left behind for their more colorful feline friends. Sadly that too applies for black and black and white dogs!

Did you know?
People from Great Britain and Newfoundland, Canada consider seeing a Black Cat as very lucky – Scots believe that the arrival of a black feline in a home will also bring prosperity and a lady with a black cat will have many suitors!
There are very few cats that are pure Black, most have at least a few white hairs. In the middle ages when black cats were persecuted, even one white hair on their body could save their life – the white hair was called "Angel's Touch!"
Many Black and Tuxedo Cats change color in the sun – usually to a brown or rusty red – It makes them even more beautiful!
The only pure black cat breed is the Bombay – a gorgeous sleek feline with a shiny coat!

THESE GORGEOUS CATS ARE SOME OF THE NICEST YOU WILL EVER MEET!

VIRA (ADOPTED) AND WISELA are two sweethearts. Both arrived as kittens and despite their loving, outgoing natures never did find a home. Now they are young ladies, a little over a year old and want nothing more than to attract your attention, be petted and be close. These two sweethearts can be adopted alone or together – they love each others company, but would do fine on their own. Bring these lovely ladies home today!

THERE ARE SO MANY MORE BEAUTIFUL BLACK FELINES FOR YOU TO MEET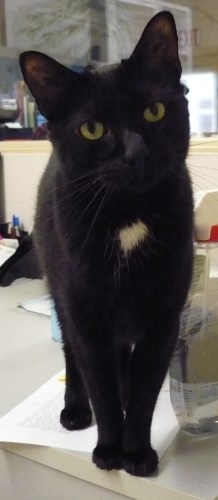 News
We have a THRIFT STORE that provides our sole support besides the donations that we receive. Please visit our store and know that your purchase is going to help support our shelter. It is located at: 620 HEMLOCK in Brookings. 541-469-5694
Who We Are
At the South Coast Humane Society it is our goal to place healthy spayed or neutered companion animals in a home where they will recieve excellent life-long care.
Responsible Care Join in the fight against pet overpopulation. Millions of cats and dogs of all ages and breeds are euthanized annually or suffer as strays. Many of these are the result of unwanted, unplanned litters that could have been prevented by spaying or neutering. Rarely surviving for more than a few years on their own, strays die painfully by starvation, disease, freezing or being hit by cars.
Adopting a friend
Thinking about adding a pet to your family? Going to your local shelter may be just the answer. The ASPCA and South Coast Humane Society remind you that there are millions of young or adult animals in shelters across the country, just waiting for a good home like yours....
Come Visit Us!
Map to our shelter

---
South Coast Humane Society
828 Railroad St.

Brookings, OR 97415
Phone: 541-412-0325

Email: socohumane@frontier.com


---

[Home] [Information] [Shelters] [Search]