Rabbit Rescue Inc.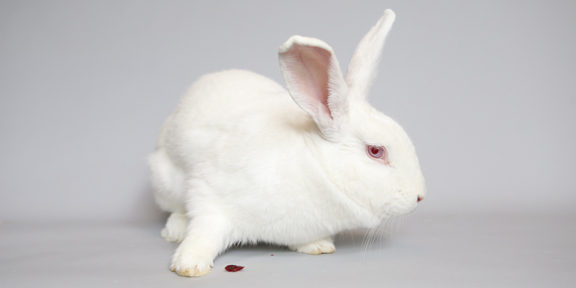 Our Featured Pet...
SERENA IS OUR FEATURED BUN
Serena was an owner surrender to a shelter when she was 6 months old because she was considered to be grumpy and not friendly. Being in the shelter for another 6 months didn't help Serena become any more friendly, even with the shelter staff making efforts to bring her out of her shell. The shelter was just not an ideal place for Serena. RR was called to spring her out. Serena went into foster care for a chance at a happier life. When Serena arrived into foster care, she was scared and her nose was out of joint for being moved to a new location. She grunted and lunged at any advance towards her or to get to know her, she even boxed her foster mom on the 2nd day. Her foster mom did not let that get in the way of getting to know her and was adamant on making Serena comfortable and able to trust again. Within 3 weeks of being in her foster home, Serena began to turn into a different bunny. She began to take treats from her foster mom's hand and allow a few strokes on her head. She is living free range in her foster home and loves it, she has currently shown zero signs of being destructive. It is likely that she did not have much, if any time out of cage in her previous home which often leads to cage aggression. We feel she should be either free ranged or penned with a lot of time out. Having the run of the main floor of her foster home, this gives Serena lots of room to run and stretch her legs. Her favourite thing to do is bunny 500's under the dining room table. Once she is tired out from that, she will flop out on the hall rug for a nap. Serena loves to keep a close eye on her foster mom, and watches her from her favourite spot in the hall. Serena also lives with a large bunny friendly dog and is not afraid of her nor does she show any aggressive behaviour towards the dog. She even groomed a large dog that was visiting the home. Serena loves to explore and check out small spaces to see if she can fit! She is a really great eater, currently eating Martins Timothy Pellets and her big piles of hay don't stand a chance, her foster mom has to fill her hay a few times a day. She loves treats of course and will crawl on your lap to ensure you're not holding anything back from her. As well, has eaten all veggies offered to her thus far. Serena definitely loves comfort and frequently hops up on the futon in her room for naps, which is lined with a fleece blanket. She enjoys being pet on her head and back now and will squish right down and tooth purr to show her enjoyment. If you feel you have the patience, love and understanding to give Serena a home she can continue to flourish, trust and learn what being a loved bunny is all about, then send in your application to Rabbit Rescue .
IN THE NEWS
URGENT! Foster homes, supplies and donations are desperately needed!
If you think you would to foster for Rabbit Rescue, please contact us through this link.
Rabbit Rescue rescues hundreds of animals each year. While we primarily rescue rabbits, we also take in a gerbils, hamsters, mice, chinchillas, hedghogs, degus & sugargliders!!
Not sure if a rabbit is right for you? 'Test Drive' a rabbit today - we are always looking for foster people to love our bunnies until permanent homes can be found. We will teach you all you need to know about rabbits. This is a great way to help a rabbit in need and to see if a rabbit is right for you!
Who We Are
Rabbit Rescue Inc. is a REGISTERED CHARITY (BN 86095 9824 RR0001) that helps find new homes for domestic rabbits that are unwanted, abandoned, abused or neglected. Rabbit Rescue works with a number of animal controls, shelters and individual owners around the city to find these rabbits new loving homes. Rabbit Rescue Inc. is a no kill organization.
The Objectives of Rabbit Rescue Incorporated are to develop and provide programs and services that educate the public regarding animal welfare, and to provide protection and adoption services for domestic animals under risk of cruelty.
100% of donations go directly to the rabbits and we are happy to issue tax receipts for donations received
Wish List
Colour Copier
Foster Homes
Volunteer Drivers
Monetary Donations for medical and daily care
Cages of all shapes and sizes including dog crates
Animal carriers of all shapes and sizes
Water Bottles
Litter boxes all sizes
Yesterdays News/Daily Scoop litter, WoodStove Pellets
Timothy hay, alfalfa hay, pellets
Rabbit Toys
Large Containers for storing food & supplies
Grooming supplies - brushes, nail clippers
Canadian Tire Money
Office Supplies
Adopting a friend
All adult rabbits come spayed or neutered & health checked.
Sponsor a Bunny Today
Can't adopt a bunny but still want to help? For a small donation, you will receive a certificate of sponsorship with a photo of a bunny you helped save, and info on your bunny. You will also receive a tax receipt. Please email for more information.
Come Visit Us!
Foster homes are located across the GTA, North York, Thornhill, Bolton, Hamilton etc... Arrangements can be made to visit any of the rabbits, or we can have them brought to you! Please inquire for more information.
Click here to see our Happy Tails!
---
Rabbit Rescue Inc.


101 Holiday Inn Drive, PO Box 29143 Hespeler, PO, Cambridge, ON, N3C 0E6
Phone: 519-651-2345

Website: www.rabbitrescue.ca

Email: haviva@rabbitrescue.ca
Click here for a list of pets at this shelter

---

[Home] [Information] [Shelters] [Search]