---
Featured Pet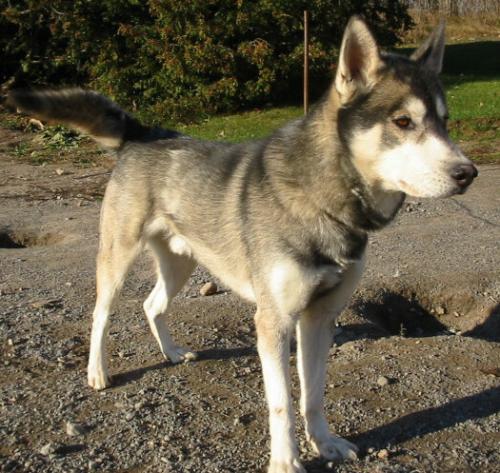 WHISTLER - ("Who Wants To Play... ?)Approx. 4 year old, male / Neutered--- he loves to cuddle and be close to you, and is well behaved with other dogs. Whistler is very social even while meeting new people, dogs, etc... he very quickly accepts any new experience and adjusts accordingly. He will make a great addition to any family, but will also need to have the time invested to continue with his training
*ATTENTION*
27th Annual Seguin Dog Sled Mail Run . .
27th Annual Seguin Dog Sled Mail Run
Website: http://www.angelfire.com/poetry/onthetrail/
Every year since 1985, envelopes with letters prepared especially for this event, are gathered, loaded onto sleds and several dog teams haul it to Rosseau, Ontario, 17 km through the bush on groomed trails. Teams gather and leave from the Village of Humphrey, Ontario, on Highway 141, to the cheers and good wishes from the many spectators and friends as the teams disappear in the bush on their way to the Rosseau Post Office to be received by the Post Mistress. The sledvelopes are hand stamped, a very old method of cancelling mail. These "sledvelopes" have become collector items all over the world. What a wonderful surprise for a child, or even adult, to receive mail which has travelled by dogsled, pulled by eager Siberian Huskies! If you would like to experience the excitement of this event, come to meet the drivers and the dogs on Saturday, February 19th, 2011 in the Village of Humphrey. Enjoy a pancake breakfast with the group at the Humphrey Community Centre. There will be activities for the children and many opportunities to have pictures taken with the beautiful, friendly huskies. To receive sledvelopes which travel by sled on Feb.19th, 2011: Kelly Collard, P.O. Box 268, Rosseau, ON, Canada, P0C 1J0 Phone: 705-732-4223
Email: kcollard88@gmail.com


We are currently not taking in any new Dogs at this time due to time and financial constrants. We will however; do anything we can to assist...
* Behavior Assessments.
* Behavior Modification Techniques.
* Trigger Identification and Avoidance.
* Target Training Schedules.
We hope that by assissting in this way, some of these Dogs will be able to "remain" in their current "Homes"... and to help "newly" adopted Dogs make a less stressful adjustment to their "New Homes"
Thank You all (Fostering, Transporting, Adopting, Donating) for "Caring"
---
"PETS AT THIS SHELTER"** To view information about a particular dog, simply click on that dogs name or picture from the list.
"PLEASE NOTE:"
We can only speak for the behaviour's of those dogs listed on this website that have been assessed "Here" and by "Our Assessment Team"... The Dogs that are placed "By The Owners / Other Shelters" through this site are done so "WITHOUT" our assessment. Please be sure to ask if the dog you are interested in has physically been "Through our Rescue Program"
Please also visit:
SIBERIAN HUSKY CLUB OF CANADA.
FIXED FOR LIFE - "Strutt Fur Strays" - Fundraiser
---
NEWS :
**Financial Assistance "Desperately" Needed to continue our efforts**
FUND RAISING: ..."PET PLAQUES" 100% of the proceeds from these plaques go directly to the care of the dogs.

DESPERATELY NEEDED...
FOSTER HOMES: In order to help these dogs to adjust to their change of environments and provide daily practice with their behaviour training, we are looking for people who have the ability to provide temporary homes for the dogs that are "Ready For Adoption". Please contact us if you feel you could assist us in this way. (Please be aware, there will be a process to being "accepted" as a suitable foster home, and this will be based on each particular dog and their needs... we hope no one will take offence, should they be turned down)
FINANCIAL ASSISTANCE: If you can not help by providing a temporary home to one of these dogs, but would still like to help out... Financial Donations can be made by cheque in the name of "SHEBA FOUNDATION" which go directly to the costs of Veterinarian expenses and will be applied against our constant "outstanding balance". Should you wish to assist in this way please post mark cheques to...
SHEBA FOUNDATION,
RR#1 ROSLIN ONT.
KOK-2YO
(and Thank You for caring).
---
Due to overwhelming time and financial constraints we are currently not taking in any new dogs at this time in order to reduce the number of dogs currently in this rescue. We would however, be more then happy to assist in any way we can, behaviour assessment and modification, training techniques, or just general questions. If you must find a "New Home" for your dog, please consider that up to 80 % of "FREE TO A GOOD HOME" adds fail, leaving the dog anxious and stressed. Being very particular with potential homes is the only way to ensure a good match for both your dog as well as the new family. Some points to consider?
1.) Insist the new family come (several) times to meet and bond with your dog prior to placement.
2.) If the new family has other dogs, they must also be introduced prior to placement (their first meeting should be at a location that is new to both dogs)
3.) Ensure that your dog is spayed/neutered prior to placing, as this helps to prevent him/her from being used for purposes other then companionship. It will also make them more adoptable if the new family does not have to incur this expense.
4.) Make it clear that you will be available to the new family for any questions or concerns they may have regarding the dog. Remember that, no matter how smooth you try to make the transition for the dog, they are going to be confused and may act in an uncharacteristic manner until they adjust to their new environment.
** "Take time to pet a dog... Chances are you?ll smile !
---
Who We Are
After having spent the better part of our lives with Siberian Huskies, and coming to better understand their hierarchy, behaviors and the causes associated with their behaviors. We began to take in Sibes from Humane Societies, Shelters, and owners, who for what ever the reasons could no longer handle or care for the dogs. We spend or time assessing any behavior problems, address them and then try to find a suitable "Forever" home. As 1 Siberian turned into 2 then 4,6,... we realized the magnitude of "unwanted" dogs that are out there. In 1995, we formed the S.H.E.B.A. Foundation, a non-profit Siberian Husky Rescue. It is in honor of our then 11+ year old Sheba; it is our way of giving back to the breed "some" of the Love and Loyalty that they have shown us over the years. There is no way to describe the feeling you get, when you watch a scared and confused soul slowly come out of it's shell and begin to live it's life and develop it's own personality. Our goal is to give these dogs a second chance at the life they deserve, and to help the public to understand that this breed, although beautiful, are definitely not for everyone. If you, or anyone you know is thinking of getting a dog; please consider adopting from a shelter or rescue, the dogs honestly seem to know what you've done for them. There are rescues out there for literally every breed imaginable, please check some out. Welcome to our site, and we hope you can help in some way.

Thank You, Paul and Nedi

And of course... "THE DOGS"


---
Adopting A Friend
Our Adoption Process is fairly lengthy and some what time consuming, however; we feel this system is very effective in matching the "Right Dog to The Right Home". The major cause of placement breakdown is "stress", both for the dog as well as their new family. Our system alleviates as much of this stress as possible, making the adjustment much easier for everyone involved. please feel free to contact us for further information.



SPONSORING:
Due to our increasing number of "Unadoptable" or "Special Adoption" dogs we are adding a sponsorship program to our rescue. If you would like to help in our efforts but do not have the room, or the time to physically adopt a dog, you can still help by sponsoring one of our "Long Term Dogs". This group consists of dogs that have serious behaviour, or abuse issues that will take extensive training and special handling to bring them around. Your sponsorship will help to care for these dogs during their stay with us. Realistically, some of these dogs will live out the remainder of their lives here with us... and of course this is no fault of their own. Again, if you are interested, please contact us for more information. Thank You.
Email: husky1@reztel.net





Come Visit Us!
We are located along Hwy 401, just North of Belleville, Ont. Approx. 3 hours West of Ottawa, and Approx. 2 hours East of Toronto. Directions are easy to follow... We look forward to seeing you. "Drive Safe".

SHEBA FOUNDATION
RR #1 Roslin, Ontario
K0K 2Y0
Phone: (613) 396-3695

Email: husky1@reztel.net

Email: husky1@reztel.net

Click here for a list of pets at this shelter

Click here to see our Dog Happy Tails!

---
---
---

[Home] [Information] [Shelters] [Search]