Golden Rescue™
---
Our Featured Pet...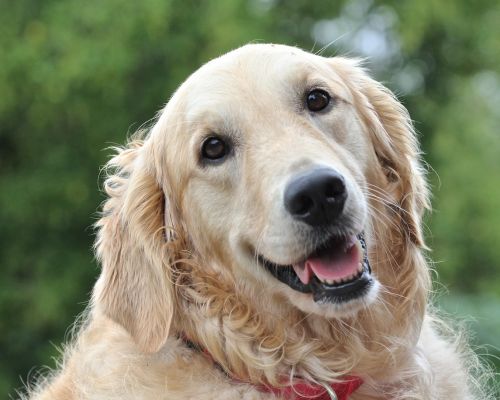 Savannah!
News
Who We Are
The Canadian Golden Retriever Adoption Service Inc. is a volunteer-operated, not-for-profit charitable organization dedicated to rescuing and re-homing displaced Golden Retrievers, and to educating the public, in general, about pet ownership. Our organization helps Golden Retrievers all across Ontario. We carefully screen all incoming dogs for socially acceptable behaviour and approve those whom we feel we can responsibly place. We provide spay/neuter service, micro-chipping, and all the necessary veterinary care required to place them in their Forever Homes. We provide public education by means of brochures, an informative and entertaining newsletter, public/media appearances, and canine educational events, which focus on responsible pet ownership and, in particular, the Golden Retriever breed.

Our organization exists, as the name implies, to rescue Goldens in trouble. Yes, we deal with many sad and disturbing stories of what some of our Goldens have had to endure before coming to us. Their trials and tribulations remind us that all Goldens start off as intelligent, loving goof balls and our mission is to bring back that 'goof' factor and give them the happy lives they deserve. They deserve to be lively and full of enthusiasm, comedians with no fear, and loyal companions with 'golden' smiles on their faces! We exist to put that smile back on their faces ~ a task harder in some than others ~ a task at times that is not easy…and sometimes an expensive task. Our Goldens are worth it…after all, what price is a smile?

Golden Rescue is a registered trademark of The Canadian Golden Retriever Adoption Service Inc.
Adopting a friend
We use a matching process to place our rescue Golden Retrievers, applicants are carefully screened for suitability and compatibility as well as criteria related to care and commitment. If you are considering adopting any of the Goldens including those posted on Petfinde or our website, an adoption application must be filled out. Our screening includes an initial interview over the phone and then a home visit before meeting the potential Golden in foster. To fill out our adoption application please visit our website at www.goldenrescue.ca
Come Visit Us!
Our rescue does not have a shelter but you can visit us at www.goldenrescue.ca
On our website you will find our adoption application and foster application as well as lots of information about us. Although our mailing address is in Barrie we have Golden Retrievers in foster all over the province.
---
The Canadian Golden Retriever Adoption Service Inc.
P.O. Box 31026
Barrie, ON L4N 0B3

Phone: 1-416-657-2445
Phone: 1-866-712-8444

Email: info@goldenrescue.ca
Click here for a list of pets at this shelter

---

[Home] [Information] [Shelters] [Search]