SETTER SANCTUARY
English Setter Rescue, Irish Setter Rescue, Gordon Setter Rescue, Irish Red and White Setter Rescue
Beautiful eyes and a heart-melting expression are hallmarks of the Setter family, as is a soft, silky coat with flowing feathers and unique colouring. English Setters show a variety of ticking and patches, typically in black & white (blue belton), orange & white (orange belton), or a canvas of black, tan & white (tricolour). The exuberant Irish Setter is the tallest of the setters with its rich chestnut or mahogany coat. The stable, loyal Gordon Setter sports a beautiful black and tan coat. The rare and ancient Irish Red & White Setter is described as white with deep red patches.

Setters are affectionate, intelligent, bird-driven dogs. Independent and active out-of-doors, setters love to be with their family indoors. Bred to find and point birds (the chase is fun too!), setters have incredible energy and stamina and hence require regular opportunities to run. With this basic need met, the setter owner will be rewarded by a sweet, happy, loyal dog who enjoys the comfort of sofas, laps and any other comfortable spot they can find.
---
2nd ANNUAL FUNDRAISER FOR SETTERS IN NEED
Click on the button and DONATE NOW to save a setter!

We all love these beautiful breeds, but in order to continue rescuing them, we need your help. All of our dogs are vet checked, heart worm tested, vaccinated and spayed or neutered prior to adoption. We also pay for any necessary additional veterinary expenses, for example, removal of tumours (common in females who were bred) and decaying or rotten/abscessed teeth.

While most of our setters are gentle souls, like anyone else, a history of abuse and/or neglect can lead to behavioural issues including SEVERE separation anxiety and other types of anxiety as well as reactivity to other dogs and/or people. Fortunately, because of the basic sweet nature of setters, they tend to respond well to positive behavioural intervention. As the reputation of Setter Sanctuary spreads, we have been getting more & more requests for assistance with rescue dogs. With your support, we will be able to save and rehabilitate these more difficult and heartbreaking cases.

This year, we again participated in the K9 Rescue Me Walkathon at Woofstock in Toronto on June 13, 2010. Our goal was to raise $2000. We are pleased to announce that we raised almost $1700, just shy of our goal. Thank you to all of our supporters. Without your financial support, we would not be able to take in these beautiful, loving dogs.

Donations can still be made directly through PayPal (http://www.paypal.com) to settersanctuary@hotmail.com or by cheque made out to K9 Rescue Me, with a memo to "Setter Sanctuary". Please mail to us at: Setter Sanctuary, c/o Joanne Wilk, 781 King St. W. #104, Toronto, ON, M5V 3L5.

Don't wait, DONATE NOW and know that you have saved a deserving setter's life.
Our Featured Pet...
WEBSTER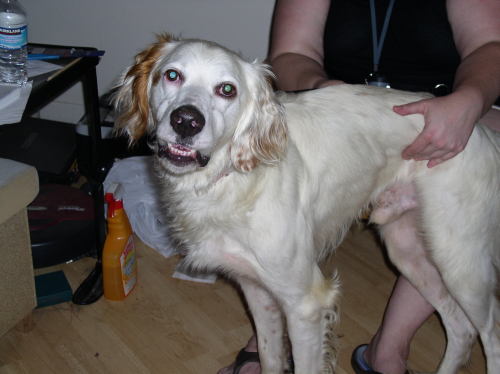 Webster was adopted! Congratulations to Jean & Morpheus!
---
NEWS:

Join us on Facebook or search "Setter Sanctuary".

Send us a tweet on Twitter.com (search "Setter Sanctuary")

For more information on how to be safe around dogs, visit DogGone Safe. For the month of May, Doggoone Safe is offering $10 off their new and informative online Basic Canine Body Language course, suitable for anyone interested in learning to speak "dog".
Past Events
June 11-12, 2010: We raised almost $1700 for Setter Sanctuary at the K9 Rescue Me Walkathon at Woofstock. A very special thanks for our volunteers, Jane & Doug with the beautiful Ceara, and of course to our most dedicated volunteer, Clarence and the lovely queen of Setter Sanctuary, Kelly.

November 6-15, 2009: Thanks to those who came to visit us at the Royal Winter Fair at the CNE grounds in Toronto, Canada, at the Helping Homeless Pets booth! . A sincere Thank You to our loyal volunteers, Chris & Robbie, Clarence & Kelly, Kathleen & Riley and Erica, Aaron & Amos!

June 13-14, 2009: WOOFSTOCK K9 Rescue Me Walkathon: Through your generous support, we reached our goal and raised over $2000 for the dogs of Setter Sanctuary!

April 10-12, 2009: ALL ABOUT PETS SHOW - Joanne & Robbie volunteered with Helping Homeless Pets to help raise awareness of rescues.

March 18 - 22, 2009: TORONTO SPORTSMEN'S SHOW - The show was again a great success! We hope that they will still allow dogs at their new venue next year.

Who We Are
Setter Sanctuary is a private, not-for-profit dog rescue run 100% by volunteers specializing in the needs of all setter types -- English, Irish, Gordon, Irish Red & White.

The majority of dogs found in rescue are the field type of English Setter. Bred for field work, these wonderful dogs are often smaller with less coat than the show bred English Setter. Sometimes referred to as the Llewellin Setter, this strain of setter is bred primarily for its ability as a hunting companion and not specifically for conformation. As a pet, the Llewellin Setter retains the gentle, loving temperament of the breed.
Our Mission
Setter Sanctuary is dedicated to evaluating and finding forever homes for any setter type in need of rehoming. In a loving atmosphere where the dogs can feel safe and secure, rescued setters are rehabilitated in volunteer foster homes and assessed regarding:
Interaction with dogs, humans & cats (if possible)
Manners
Housetraining
Level of training & trainability
Separation Anxiety; and more.
How You Can Help
As an all-volunteer organization, we welcome your interest and support. We are currently looking for volunteers for fostering, public education (eg, attendance at various dog-related events in the province of Ontario) and fundraising.

Financial donations are always welcome. 100% of proceeds go directly to the rescue dogs to pay for such expenses as spay/neuter, other veterinary care, medication, microchipping, food and other various expenses.

Adopting Your Dog
If you see a dog you are interested in meeting or would like to be on the wait list, contact us at settersanctuary@hotmail.com for an Adoption Interest form. The Adoption process itself will include, but is not limited to, an initial meeting, a home visit and an adoption contract.

For help with training, visit the following link:



For other rescues, please visit SitStay Dog Rescue Directory
---

Setter Sanctuary
Toronto, Ontario, Canada
Email: settersanctuary@hotmail.com


Click here for a list of pets at this shelter
---

[Home] [Information] [Shelters] [Search]