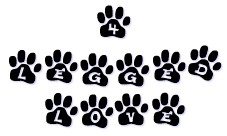 4 LEGGED LOVE
---
Who We Are
Who is 4 Legged Love? 4 Legged Love is a Private Animal Placement and Adoption Service and Dog Rescue in the Toronto, Ontario area that deals mainly with dogs but on tries to help out any companion animal in need of a new home. 4 Legged Love is made up of experienced volunteers. A majority of our dogs in the program are unwanted or abandoned and would otherwise be sitting in a pound awaiting their fate. Many of the dogs have come to us through volunteers at pounds who can see that the dogs deserve a second chance and their lives should not be cut short because of an irresponsible owner. We also help pet owners find new homes for their pets when unfortunate circumstances arise and they can no longer keep their pet but don't want to leave their beloved companion in a pound or humane society.
Adopting a friend
4 Legged Love works to place all dogs in our program in to permanent homes. We have a detailed screening process as well as Adoption Contracts. Our screening process allows us to take time with each potential adoptive family to find out what they are looking for in a dog so that we can match them up with the best possible companion. Each adoptive family must fill out one of our Adoption Application Forms and be approved before being able to adopt. Our volunteers do the best they can to make successful match ups between families and the dogs.
Come Visit Us!
All our adoptions are set up with pre-approved families through appointment only. If you are interested in adopting or if you would like to an Application please email us.
 
---
4 Legged Love

Etobicoke/GTA
Ontario, Canada

Email: