Our Featured Pet...
Jack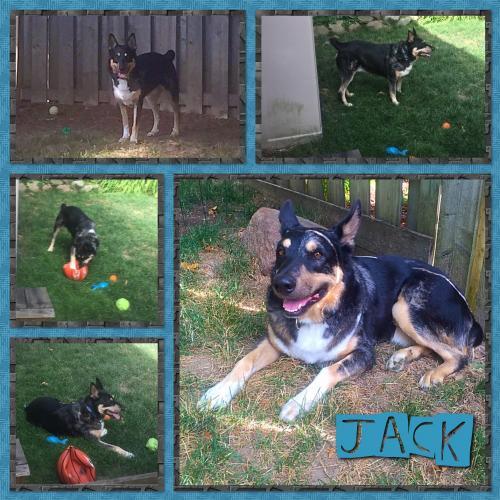 *************************************
Who We Are
About Speaking of Dogs
Speaking of Dogs, a Toronto-based organization initiated in 2001, is dedicated to educating and enlightening people about dogs through seminar forums, website support, outreach and rescue. Our goal is to end cruelty, abandonment, mistreatment and homelessness of man's best friend. With more than 50 years of combined experience and knowledge, the founders of Speaking of Dogs have worked in animal shelters, veterinary clinics, rescue organizations and training facilities and understand the needs of those devoted to the welfare of dogs.
Our Seminars
Speaking of Dogs hosts timely and topical seminars designed to enhance the relationship andeffectiveness of organizations and individuals who care for and about dogs. Over the past ten years, Speaking of Dogs has offered dynamic seminars on topics such as how to assess and prepare shelter and rescue dogs for adoption, shelter dog enrichment programs, understanding nutritional health, animal communication, dog/child safety, how dogs communicate with each other and positive training techniques with positive results.
Rescue Arm
Since 2001 Speaking of Dogs Rescue has helped transport, foster, re-home and vet hundreds ofdogs. All dogs entering our rescue arm are spayed or neutered, micro-chipped and have their medical needs attended to. The majority of dogs we take are from shelters and are seniors, but we also try and help any dog in need when space and finances permit. Our dogs are lovingly cared for in foster homes until a suitable forever placement is found. Our adoption process entails a written application, a telephone interview, reference and veterinary checks and an in home visit. We are dedicated to placing our dogs properly and permanently in homes that are responsible, caring and compassionate. We are committed to a dogs' quality of life and adopt only to suitably matched applicants.
Rescue Directory
Since 2001 Speaking of Dogs has published the Province of Ontario Breed Specific and All Breed Rescue Directory. This directory lists rescues in categories to help connect reputable rescues to shelter dogs in need. The directory is distributed at no charge to every animal control facility, humane society and animal shelter across the province and is funded by generous advertising dollars. The Rescue Directory can also by found online at www.speakingofdogs.com and click RESCUE DIRECTORY.
Foster Homes
Sadly, each new day brings a flood of emails and telephone pleas to help yet another abandoned dear dog. We do the best we can through our rescue efforts and networking. We are always in search of new foster homes where a dog can be cared for and loved until a permanent home is found. Speaking of Dogs Rescue covers food, medical attention and all the supplies required for the dogs in foster care. Foster parents need be responsible and patient people who will provide a safe environment for our dogs. A foster contract must be signed. This is a serious responsibility; however the experience is very rewarding. If you can open your heart and home to a foster dog please contact us.
Wish List
• Gas gift cards
•Pet Valu or Global Pet Foods gift cards
• Kong Toys
• Canned and dry quality dog foods
• Leashes, collars and harnesses – all sizes
• Blankets and cozy beds
• Toys and treats
• Brushes, shampoos and other grooming supplies
• Financial support for the many medical procedures required, microchips, food, supplies and
professional grooming
Adopting a Dog
Our adoption applicants are carefully screened for suitability and compatibility as well as criteria related to care and commitment. After an initial interview, you will be asked to provide references and agree to a home check prior to the placement of a dog. An adoption contract must be signed and dated and an adoption fee is required. We do reserve the right to deny an adoption applicant.
Our adoption fee is $350.00 which includes the basics: spay/neuter, all vaccines to date, deworming, microchipped and heartworm tested. To this, many of our dogs have often received additional vetting in the form of dentals, ex-rays, wellness blood panel screenings, urinalysis and/or other diagnostics to ensure they are healthy and completely vetted prior to adoption.
Disclaimer and Waiver of Liability:
Access to and use of the information herein is entirely at the risk of the user. Speaking of Dogs Rescue, Petfinder and all individuals associated therewith shall not be liable, directly or indirectly, to the user or any other third party for any damage resulting from the use of the information contained or implied in this Website.
Speaking of Dogs Rescue and its servants or agents assume no responsibility for and give no guarantees, undertakings or warranties concerning the accuracy, completeness or up-to-date nature of the information provided on the web site at this time and do not accept any liability whatsoever arising from any errors or omissions. Speaking of Dogs Rescue hereby formally disclaims liability in respect of such aforesaid matters.
The site sometimes links to external sites over which Speaking of Dogs Rescue has no control and accepts no responsibility.
By proceeding into the Speaking of Dogs Rescue Website you are accepting this disclaimer
Come Visit Us!
We do not have a shelter, but please come and visit our web site at:www.speakingofdogs.com
---
Speaking of Dogs Rescue
1277 York Mills Road
Box 33508
Toronto, ON M3A 3R5
Phone: 416-444-4190

Email: lhh4dogs@rogers.com
Click here for a list of pets at this shelter

---

[Home] [Information] [Shelters] [Search]