Heartland Great Dane Rescue Inc.
---
Our Featured Pet...
Reno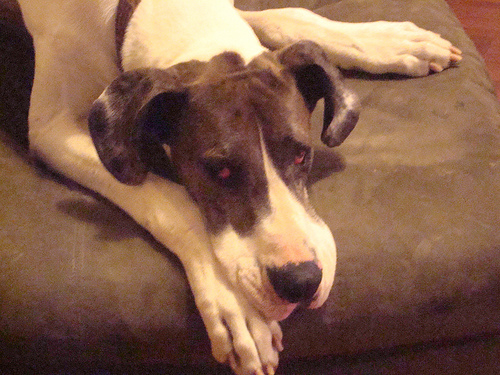 You want to know a little about me? Well I was really scared before I came to HGDR. Running through the streets, alone, hungry, and then having a dog attack me. Some people found me and took me to a place with lots of dogs that were barking and barking. All I wanted was to be rubbed on the head and loved. Don't I deserve that? Apparently the nice people at HGDR think I do! They picked me up and took me to this nice lady's house were I am being well taken care of. I had to go visit this place with more dogs but this time I didn't have to stay. My foster mom told me it would be ok, that we were just going to see the doggie doctor. The doggie doctor didn't look too happy when he saw me. He told my foster mom that I only weighed 97 pounds and needed to gain over 40 pounds. They did a test to see if I had worms in my heart and whew...thankfully I don't. It must feel weird to have worms in your heart! I am an easy going guy and like everyone and everything. Well, I haven't met anything so far that I don't like. Kids, check! Dogs, check! Cats, check! Big or small, I like them all. I am a submissive boy and don't like to start any trouble. I have a bossy boxer girl that I share my house with. There is also another boy boxer and a girl bulldog puppy. They're fun to play with! Cant forget the two skin kids that live here. The little one likes to dress me up and we play Batman and Robin! Do you like to give head rubs because my foster daddy gives em' to me all the time. He says I demand them if I want a rub. Listen up dogs! All you have to do is pop the arm up and it lands on your head. Come on dogs, I'm only 18 months old and I already know this... Did I mention that I am house trained and will tell you when I need to go. Yep, I'm a biggie boy! Crate, no problem! You tell me and I go in...I don't know what the big fuss it about?! They're going to let you out again, duh! I sit when told and I "go lay down" when told. I do have a little gas problem right now (mom says I need some bean-o) but hey...I'm a man after all! My foster mom told me to tell you that I pee all over the floor and that I'll chew your couch up....so don't tell her that I told you all about me! It can be our secret... Love, Reno Bean-o

NOTE: Reno is a very obedient Dane and only wants to please. He is excellent on his daily walks and does not pull. Reno has apparently never played with toys before like a well loved dog should. He is learning to play and is steadily coming out of his shell. Although he is very underweight he shows no signs of food aggression and will eat out of a three-year-olds hand. Besides the occasional zoomie, he is very laid back. Reno is a real woosie boy and will back down from any other dog.


Age: 18 Months
Color: Merlequin
Ears: Natural



For more information about Reno and how to adopt him, please visit Reno's Personal Page on our official site for Heartland Great Dane Rescue, Inc.

Note: If you are from a state other than Oklahoma, please contact your local Dane rescue group before contacting us.




News
Heartland Great Dane Rescue is currently sending out a plea to all Oklahoma residents for foster homes. We are overwhelmed with the number of abandoned Danes in our state and cannot provide care for all who need it. If you are interested in becoming a volunteer for our organization, please visit our website or send us an e-mail. We are looking for homes that love these gentle giants and want to help!

We are also in need of any donations to help our Danes. This would include crates, blankets, food, toys, collars, leashes, and of course, MONEY. If you would be interested in sponsoring a Dane in need, we can acknowledge you on our website. There are more Danes in Oklahoma needing assistance than our dollars can help. Time is ticking on many Danes. Donate your dollars to HGDR by clicking the image below.




Who We Are
Heartland Great Dane Rescue, Inc. is an Oklahoma Non-Profit Corporation dedicated to saving abandonded, abused, neglected and unwanted Great Danes. We are composed of an all volunteer staff and rely solely on donations to support our programs. We strive to help Danes in need and educate the public on the breed. We participate in several community events to help promote rescue and spay/neuter programs.


Adopting a friend
We do have an adoption application and process. If you live outside Oklahoma, we ask that you contact your local rescue first to see if they can be of assistance to you. If they cannot, we are willing to work with you through your local rescue to find the perfect Dane for your family. If you live in Oklahoma, the first step to adopting from us is to request an adoption application (e-mail is the prefferred method). For more information on our adoption proceedures, please see our adoption proceedures page of our official website: Heartland Great Dane Rescue, Inc.

NOTE: WE DO NOT, UNDER ANY CIRCUMSTANCES, ADOPT DOGS TO STATES OUTSIDE OF OKLAHOMA WITHOUT PRIOR PERMISSION FROM YOUR LOCAL RESCUE. Please visit Danes Online for a list of local rescues by state.
Events
We frequently participate in pet education events as well as Dane oriented events.

April brought Woofstock to our neck of the woods and it was a really fun event. We met some wonderful people and the dogs who came had a great time. Take a look at some of the fun.

In March, we celebrated another birthday. We enjoyed doggie games, prizes, cake (both people and doggie) and let the dogs have a gift exchange. For a few pictures, click here and visit our photobucket site.

Because of uncooperative weather in December and January, we decided to have a Valentines Day party for our volunteers and forego the Christmas Party. We had a lot of fun and a TON of food! If you'd like to see a few pictures from our party, come on over and take a peek.

We had fun at Paws on Parade in October, so scoot over and have a look at our pictures!

We attended the Camp Bow Wow Adopt-A-Thon on Saturday 9/15/07 and had a lot of fun and met some wonderful families looking for Danes! Zip over to our website and check out our pics .

We recently held our 2007 Great Dane Round Up. We had lots of fun even though we were braving the effects of Tropical Storm Erin. If you'd like to see some of us at play, feel free to visit our Round Up Page for some pictures of the fun! Shirts are still available from our cafe press site.

Here's where you can find pictures from our 2007 Birthday Bash and our Spring Fling

Keep a watch on our events page and come join us for some Dane Size Fun! We would love to have you and your pets in attendance!
Come Visit Us!
We welcome all to come visit our available pets at area events. We will post these events in the events section of this page. Unfortunately, because we use foster care to provide for our pets and not a facility, we ask that you begin adoption proceedures prior to visiting the dogs at our volunteers' homes.
---
Heartland Great Dane Rescue Inc.
Guthrie, OK 73044
we prefer contact by e-mail

Email: mjcates@cox.net
Click here for a list of pets at this shelter

---

[Home] [Information] [Shelters] [Search]