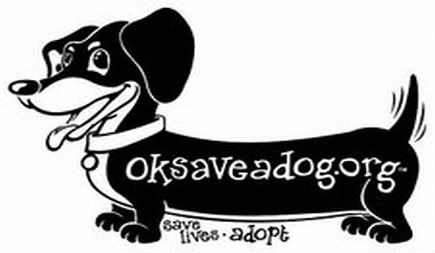 ---
ALL DOGS SHOWN BY APPOINTMENT ONLY, AFTER YOUR APPLICATION HAS BEEN APPROVED.
You can find the application below or at www.OKSaveADog.org

Adoption Process

If you are interested in adopting one of our wonderful dogs, the first step in the process is filling out an adoption application. You can be assured that all information will be used for the sole purpose of finding a companion that fits your lifestyle, and will never be sold or distributed in any manner.

A minimal adoption fee will be charged. This is only to recoup some of the costs involved in caring for each dog. When I take in a dog, they go straight to the vet as soon as she can take them. They are given all shots, dewormed, given Frontline for flea control, and spayed or neutered.

Please note, I do not receive assistance through grants or any other source except myself and donations. My average monthly cost for maintenance care (food, flea control, heartworm preventative) is $1000 to $1500. That doesn't count additional needs such as pens, fencing, crates, etc. When you consider these ongoing costs, you will realize the adoption fee truly is minimal!






---
Did You Know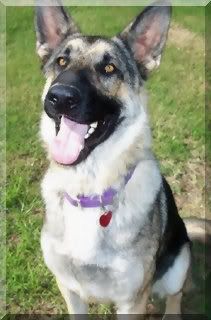 DONATE:





You decided that you wanted to move to an apartment that didn't allow pets. I don't know what lured you.

Maybe it was a boyfriend or a girlfriend. Maybe it was a great view. Maybe you liked the woodwork. At any rate, it was more important to you than she was.
So you took her down to the shelter, still wearing her cute little pink leopard collar with a bow, and you cheerfully wrote on the card that she was very healthy for her age and friendly and just likes to sleep in the sun! I guess you knew her pretty well - you put her birthday down on the card, too, making me believe you've probably had her for her entire life.

Then you left, secure in your rationalization that somehow, in the midst of kitten season, your seventeen year old cat would find a home. The shelter took a picture of her scared face and big eyes and put it on the web

For two weeks, I looked at that picture. I hoped someone else would see her fear and feel compelled to help her, but the public wasn't seeing her. She was back in isolation, getting vitamin B shots and subcutaneous fluids. The tech wrote "depressed" on her card. I'm not surprised.
I'd be depressed too if I went from "sleeping in the sun" to a metal cage with a thin layer of newspaper

Finally today, I couldn't stand it anymore. I felt too guilty thinking about her sitting in that cage at her age. So I went down and I got her, and now she's curled up on a fleece baby blanket in a cat tree in my bathroom. When I go in there, she rubs her head on my hand.

Today, I cleaned up your mess. I felt worse for your cat than you did. And all over the city, other rescuers did the same. They rescued your abandoned cats and dogs and bunnies and exotics. And we all wondered the same thing as we did it: How could you create this situation? How is it that you feel no remorse? How is it that you were you able to walk away from an animal you shared your home with for a year, ten years, fifteen years, knowing that they might die because of your actions?

I'll never meet you to ask you those questions. I just hope I meet the person who will be good enough to give your baby that sunny spot to sleep for the rest of her life (however long that is). She deserves it, and it's a crying shame you didn't have the decency to give it to her.




This clip is not easy to watch, but it's reality and something rescuers have to deal with on a daily basis, everyone should see it then send it to all their contacts.
Linking To This Movie
http://brightlion.com/InHope/InHope_en.aspx.
---
News

APPLICATIONS CAN BE FOUND AT www.OKSaveADog.org DESPERATELY NEED DONATIONS
I function 100% off adoption fees and donations, please consider donating! 100% of donations go to the dogs. Sorry I have no time for the phone please e-mail. Sorry, I no longer accept checks for adoption fees.

DONATIONS!? Checks gladly accepted always needed, please mail to : Ok Save A Dog Society 990214 S 3580 Rd Prague Ok 74864


Help save a life...donate today!



---
Contact OK Save A Dog

Cannot find my phone number??? There is a very good reason for this.



A RESCUERS ANSWERING MACHINE




"Hello, You have reached 123-4567, Tender Hearts Rescue. Due to the high volume of calls we have been receiving, please listen closely to the following options and choose the one that best describes you or your situation:

Press 1 if you think we are veterinarians and want free medical advice.

Press 2 if you know we are a rescue organization but want to save money and have us give you free, untrained medical advice anyway.

Press 3 if you make $200,000 a year but still want us to pay to spay the "stray" in your yard (house).

Press 4 if you have a 10-year-old dog and your 15-year-old son has suddenly become allergic and you need to find the dog a new home right away.

Press 5 if you have three dogs, had a baby and want to get rid of your dogs because you are the only person in the world to have a baby and dogs at the same time.

Press 6 if your dog is sick and needs a vet but you need the money for your vacation.

Press 7 if you just got a brand new puppy and your old dog is having problems adjusting so you want to get rid of the old one right away.

Press 8 if your little puppy has grown up and is no longer small and cute and you want to trade it in for a new model.

Press 9 if you are elderly and want to adopt a cute puppy who is not active and is going to outlive you.

Press 10 if your relative has died and you don't want to care for their elderly dog because it doesn't fit your lifestyle.

Press 11 if you are moving today and need to immediately place your 150 pound, 8-year-old, aggressive dog that isn't neutered.

Press 12 if you want an unpaid volunteer to come to your home today and pick up the dog you no longer want.

Press 13 if you have been feeding and caring for a "stray" for the last three years, are moving and suddenly determine it's not your dog.

Press 14 if you are calling at 6 a.m. to make sure you wake me up before I have to go to work so you can drop a dog off on your way to work.

Press 15 to leave us an anonymous garbled message, letting us know you have left a dog in our yard in the middle of January, which is in fact, better than just leaving the dog with no message.

Press 16 if you are going to get angry because we are not going to take your dog that you have had for fifteen years, because it is not our responsibility.

Press 17 if you are going to threaten to take your ten year old dog to be put down because we can't get to your house in the next hour.


Press 18 if you're going to get angry because the volunteers had the audacity to go on vacation and leave the dogs in care of a trusted volunteer who is not authorized to take your personal pet.

Press 19 if you want one of our perfectly trained, housebroken, kid and cat friendly purebred tiny dogs that we have an abundance of.

Press 20 if you want us to take your dog that has a slight aggression towards cats.

Press 21 if you have already called once and been told we don't take personal surrenders but thought you would get a different person this time with a different answer.

Press 22 if you want us to use space that would go to a stray to board your personal dog while you are on vacation, free of charge, of course.

Press 23 if it is Christmas Eve or Easter morning and you want me to deliver an eight week old puppy to your house by 6:30 am before your kids wake up.

Press 24 if you have bought your children a duckling, chick or baby bunny for Easter and it is now Christmas and no longer cute.

Press 25 if you want us to take your female dog who has already had ten litters, but we can't spay her because she is pregnant again and it is against your religion.

Press 26 if you're lying to make one of our younger volunteers feel bad and take your personal pet off your hands.

Press 27 if your cat is biting and not using the litter box because it is declawed, but are not willing to accept the responsibility that the cat's behavior is altered because of your nice furniture.

Press 28 if your two year old male dog is marking all over your house but you just haven't gotten around to having him neutered.

Press 29 if you previously had an outdoor only dog and are calling because she is suddenly pregnant.

Press 30 if you have done "everything" to housebreak your dog and have had no success but you don't want to crate the dog because it is cruel.

Press 31 if you didn't listen to the message asking for an evening phone number and you left your work number when all volunteers are also working and you are angry because no one called you back.

Press 32 if you need a puppy immediately and cannot wait because today is your daughter's birthday and you forgot when she was born.

Press 33 if your dog's coat doesn't match your new furniture and you need a different color or breed.

Press 34 if your new love doesn't like your dog and you are too stupid to get rid of the new friend (who will dump you in the next month anyway) instead of the dog.

Press 35 if you went through all these 'presses' and didn't hear enough.
This option will connect you to the sounds of tears being shed by one of our volunteers who is holding a discarded old dog while the vet mercifully frees him from of the grief of missing his family.


Please e-mail as I cannot return phone calls.

k9saver@gmail.com
I reply to all e-mails within 12 hours, if you do not hear from me by then, please write back and check your SPAM box for my reply.

OK Save a Dog

Prague , OK 74864

Please feel free to contact me either by mail or Email…

If your wondering why I don't list my phone number, here's why…I do this from home while my family puts up with the dog poop and barking. I also need to focus my time caring for and rescuing dogs in need. So I save my family aggravation by not publishing my phone number, and reserve the time I need for myself to care for the dogs!

My website, including available dogs, is kept current and I promptly respond to Email inquiries…so please check my website frequently and contact me via Email if you have any questions. If you're interested in adopting a dog, please fill out an application – it's the best way to begin the process! Thank you for your understanding!


---
The Reason
People ask me every day how, why I do this 365 days a year. Below is the best reason I have ever found.

The Reason

To you, from all your rescue dogs...
I would've died that day if not for you.
I would've given up on life if not for your kind eyes.
I would've used my teeth in fear if not for your gentle hands.
I would have left this life believing that all humans don't care
Believing there is no such thing as fur that isn't matted,
skin that isn't flea bitten, good food and enough of it, beds to sleep on,
someone to love me, to show me I deserve love just because I exist.
Your kind eyes, your loving smile, your gentle hands
Your big heart saved me...
You saved me from the terror of the pound,
Soothing away the memories of my old life.
You have taught me what it means to be loved.
I have seen you do the same for other dogs like me.
I have heard you ask yourself in times of despair
Why you do it
When there is no more money, no more room, no more homes
You open your heart a little bigger, stretch the money a little tighter
Make just a little more room...to save one more like me.
I tell you with the gratitude and love that shines in my eyes
In the best way I know how
Reminding you why you go on trying.
I am the reason
The dogs before me are the reason
As are the ones who come after.
Our lives would've been wasted, our love never given
We would die if not for you.
Author Unknown
---
Featured Pet
---
Application Form
PLEASE NOTE: A FEE IS CHARGED FOR ALL ADOPTIONS.
THE ADOPTION FEE HELPS RECOUP SOME OF THE MONEY THAT HAS BEEN SPENT ON THE DOG FOR SPAY/NEUTER, WORMING, SHOTS, FLEA CONTROL, HW TREATMENT, AND ALLOWS US TO CONTINUE HELPING DOGS. WE CONSIDER IT AN HONOR TO BE ABLE TO DO WHAT WE DO. WE HOPE THAT YOU CONSIDER IT AN HONOR TO BE ABLE TO MAKE A DIFFERENCE IN THE LIFE OF THE DOG. This application is not meant to be intrusive but to allow us to make sure the dog will work in YOUR situation. I want dogs to STAY in their homes, so I have to know what type things he will encounter. For example, I obviously do not want to send a cat aggressive dog to live with cats etc. I AM 501(c)(3) NON PROFIT ORGANIZATION AND RELY SOLEY UPON DONATIONS FOR OPERATION.
The answers to these questions will help us determine the best homes for our dogs and the suitability of your environment.
Please completely fill out form. This will enable us to place the dogs in the best possible home.
Thank You for applying to adopt a rescue dog. We answer 100% of our emails. If you do not hear from us in 24 hours please check your spam or e mail us again.
Submission of this application to OK Save a Dog must be initiated by persons at least 21 years of age. Applicants certify that they will have sole responsibility in the care and well being of the adopted animal. Any misrepresentation within this adoption application will invalidate the agreement. The dog will be reclaimed by OK Save a Dog and no refund will be given for the adoption fees.
After pushing send you will be taken to our website, to come back here please use your browser's back button.
---

[Home] [Information] [Shelters] [Search]
| | |
| --- | --- |
| | We use Patented Kuranda Dog Beds because they are durable, chew proof and easy to clean. If you would like to donate a bed to us, click here. |