Catahoula Rescue Inc.
---
Our Featured Pet...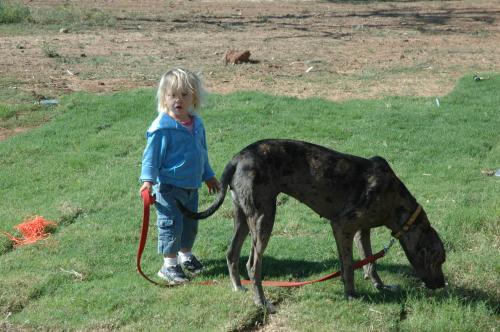 Mae! is a beautiful 1 year old female Catahoula Purebred and is really in need of her own home to make room for other homeless dogs. She is the sweetest dog ever. She loves everyone, including kids, cats and other dogs.
News
If you can't adopt but would like to donate to help our houlas in need we make it easy. You can also pay adoption fees by clicking here as well.
Who We Are
Catahoula Rescue, Inc. is a 501(c)3 nonprofit organization. We are an all volunteer organization. The mission of Catahoula Rescue, Inc. is to advocate for homeless Catahoulas and Catahoula mixes, to place these animals in permanent, loving homes, and to promote responsible guardianship through humane education. Catahoula Rescue saves dogs from death row at animal shelters and pounds, rehabilitates them if necessary, provides medical care, including spaying and neutering, and then fosters these dogs in volunteer's homes until a suitable forever home can be found. We also assist responsible Catahoula owners if they must find a new home for their dog. We can offer advice and options that might make it possible for the dog to stay with his family. If it is still necessary to rehome the dog, we will list him/her on our available pets page as long as they are up to date on their vaccinations and spayed or neutered. Because of the flood of dogs coming from shelters, it is unlikely that we can provide a foster home for an owner surrendered dog. Catahoula Rescue receives no funds from other groups or government sources. Our work is paid for by donations, adoption fees, and the volunteers themselves. For more information, please visit www.catahoularescue.com .
Adopting a friend
All dogs are spayed or neutered and up to date on rabies, DHLPP, and bordetella vaccinations. Some are microchipped. Adoption fees help to offset expenses incurred in rescue. These fees range from $100. - $150. The first step in adopting a Catahoula is to fill out an adoption application. An application can be obtained by contacting us at editor@catahoularescue.com or ONLINE at www.catahoularescue.com.(follow the How To Adopt link ) We have dogs coming into rescue on a continual basis; so if we don't have the one your looking for now, fill out an application, and we will notify you when a dog fitting your description comes into rescue.
Volunteers and Fosters Needed!
Catahoula Rescue, Inc. needs volunteers to help save these great dogs. We need people not only to help foster dogs, but to assist in many other ways. This includes transporting, checking shelters, photographing dogs, helping with placement, assisting at adoption days,public relations, computer help and fund raising. If you are interested in volunteering to help us save these dogs, please contact our volunteer coordinator Staci, at editor@catahoularescue.com
2007 Catahoula Calendars Still Available!!!

Check it out at http://www.catahoularescue.com/calendar2007.html
---
Catahoula Rescue Inc.

Prague, OK 74864
www.catahoularescue.com
Phone: 405-567-3133

Email: editor@catahoularescue.com
Click here for a list of pets at this shelter

---

[Home] [Information] [Shelters] [Search]