Foster Parents For Pooches
We are a small, non-profit, all volunteer group who perform many vital functions to save homeless animals.
Our goal is to match our animals with adopters who are committed to a lifetime of loving care.
Click here for a list of our adoptables or Click here to see our happy endings
---

Introducing Marley! A very social little girl who likes people, cats & dogs too!
Please email us for more information. Thanks!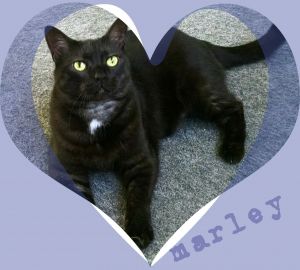 ---
Foster Parents For Pooches is a small non-profit dog rescue group established in 1990 in Cleveland, Ohio. Our primary focus is to rescue abandoned, homeless dogs from the streets. In recent years we've been rescuing cats & kittens too. We take care of all medical needs, provide training as needed, and find them loving families. We are tremendously grateful to the many individuals and organizations who have supported our efforts and helped us find homes for our rescued animals.

We work with local shelters in two ways - referring people to overlooked dogs at those shelters or by taking them into our foster homes. We also work with people who give up their pets, for whatever reason, by giving appropriate advice on placement. We are very sorry, but we cannot accept owner surrenders at this time. Please contact your local APL to surrender your dog.

If you would like to make a difference for a homeless animal but cannot adopt or foster, we are always in need of food/treats, crates, heartworm preventative tablets, flea/tick preventative, and Nylabone toys. If you would like to get involved, there are several ways you can help. 1) Provide temporary care to an animal in your home, all medical expenses are covered! 2) Play with and walk the dogs that are kept in a foster home or at a boarding kennel 3) Participate in a fund-raising or adoption event 4) Help us design a new web site

Of course, monetary contributions are always needed. Your donation will be used to save the life of an abused, neglected, abandoned and/or sick animal in need of a second chance at a happy life. Expenses include spays/neuters, vaccines, heartworm treatment, heartworm prevention, medications, surgeries and other necessary veterinary procedures.
---
Adoption Process: Please send an email with your contact information and we will send you an application or call you. All potential homes are screened to ensure a good match. Animals are fully vetted, including spay/neuter prior to adoption.

Donations: As many of our dogs are in bad shape when we find them, our medical expenses are often extraordinary. Expenses for even healthy dogs run anywhere from $200-$500 by the time they are fully vetted. Many are sick (heartworm is common) or have suffered abuse and injuries. Adoption fees rarely allow us to break even. Our work relies on the generosity of the community. 100% go directly for veterinary care, heartworm preventative, flea and tick preventative, food and when available - collars, leashes and treats. We are volunteer-based so we have no expenses for salaries or utilities. Your donations fully deductible and greatly appreciated. Thank you for your consideration.
---
Foster Parents for Pooches
Cleveland, Ohio 44118
Please email for more information: FosterParentsForPooches@gmail.com
Please be patient, we all have full-time jobs and are busy with other rescue matters.