Neighborhood Cat Helpers
NCH is offering an adult cat adoption special -- $35 each or 2 for $40. The goal is to get these wonderful cats and kittens into caring homes! The cats and kittens are housed in foster homes and you will be adopting cats and kittens that are already acclimated to a home-like environment. We encourage folks to visit and play with the cats and kittens in order to facilitate a match for your family.
---
Our Featured Pet...
Meet Bella! To learn more about her, click on her picture below: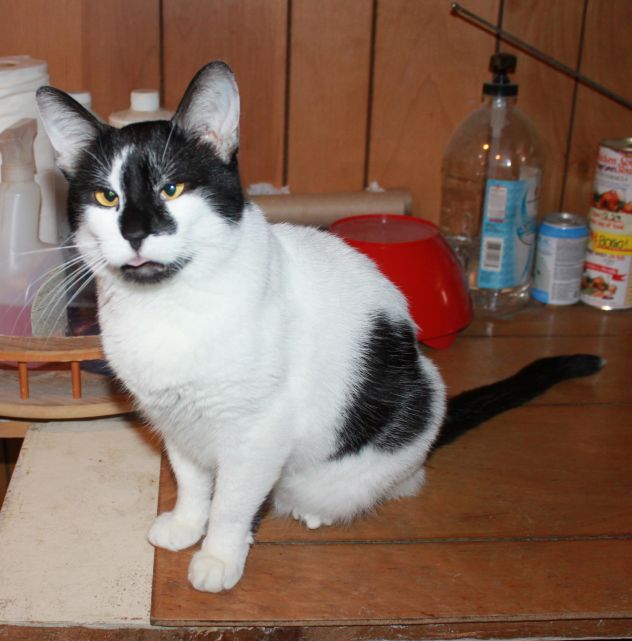 News
Although we are a small group with a short history, NCH has successfully fixed and vaccinated around 3,000 cats and kittens from over 250 sites in Hamilton County. More important than the numbers is that NCH follow up efforts indicate the cat multiplication at these sites has mostly ended. NCH also works to implement adequate food and shelter when necessary. Although NCH does not take in unwanted pets, NCH does work to place small friendly kittens from our TNR sites, kittens born in our foster care program, as well as a limited number of tame cats from these TNR sites into loving homes. Although NCH is not listed in the phone book, we continue to receive thousands of phone calls and e-mail messages each year from folks wanting assistance with various cat issues. Only a small portion of these contacts involve requests for TNR assistance. Please check out our Petfinder listings for our adult cats and consider opening your heart to one (or two) of these special kitties. They will love you for it!
Who We Are
Neighborhood Cat Helpers was founded in 2004 as a direct response to a PetSmart invitation encouraging us to expand our feline activities. NCH, a 501(c)3 charity organization, is a strict No Kill organization and is a proud signer of Nathan Winograd's National No Kill Declaration. We are a 100% volunteer organization and all volunteers are advocates of the No Kill philosophy. Thus, working with sympathetic veterinarians, we attempt to restore to full health any sick and injured cat we encounter at our TNR sites. Clearly pregnant cats are permitted to give birth at the TNR sites or in foster homes. Our primary mission is trap-neuter-return (TNR) and we are deeply committed to assisting and advocating the humane reduction of free-roaming feral and stray cats in Hamilton County using TNR. We are not a shelter and simply cannot take in strays and unwanted pets from the general population. We target TNR sites for our limited adoption efforts in order to ease the burden on the colony feeders. However, we are happy to provide the general public with tips on finding homes as well as information regarding low cost spay/neuter services. We also train new trappers and offer trapping advice to numerous others via phone or e-mail each year.
Adopting a friend
Our standard adoption fee for cats and kittens is $55.00/each or two for $60.00. For information about a specific cat or kitten or to arrange a meeting, please use the contact information in that animal's description and we will be back in touch shortly. All of our cats and kittens are spayed/neutered, tested for FeLV (feline leukemia) and FIV (feline aids), dewormed and flea-treated prior to adoption. We always have a variety of sweet, adorable cats and kittens available for adoption. We occasionally have special needs cats also needing loving homes. To continue to help Cincinnati's feral and abandoned cats, we can always use financial support, supplies and volunteer foster homes. Please contact us if you can help.
Come Visit Us!
We have several foster homes in the Cincinnati area. Please email us if you would like to visit with one of our adoptable cats or kittens at cincynch@gmail.com. Click here for a list of pets at this shelter

---

[Home] [Information] [Shelters] [Search]