For all latest rescue & adoption information,
please visit the Dachshund Rescue of Ohio Website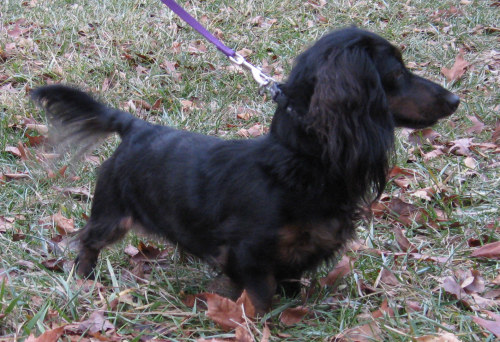 Ollie!
---
Who we are
PLEASE READ: WE ONLY ADOPT IN THE FOLLOWING AREAS. Ohio, Indiana, Michigan, and Pennsylvania. For those in Kentucky there is a Kentucky Dachshund Rescue.
We are a 501(c)3 non profit rescue. We have been in rescue for over 25 years. All of our dogs are in private foster homes. We are not a shelter / kennel, so there is no facility you can visit. We require a secure, physically fenced-in yard --- with no exceptions. If you have a pool that is not separate from the area the dog will have access to, your application will be declined. We do require a vet reference and a home visit prior to adopting our dogs. We may consider adopting to a family with children over 6 years of age. Our adoption fees are: Pups 0-1 year - $350.00. Pups 1 yr. to 3 years - $300.00. Dogs 3 - 5 years - $275. Dogs 6-10 - $250. Dogs over 10 years - $150. Mixed breeds - 200 to $250. Included in the adoption fee for the dogs is a six-month supply of heartworm prevention, flea prevention, plus HUG-a-Dog harness and leash. Please email us for an adoption application. Thank you.
Email us: wildwienerranch@live.com
website: www.dachshundrescueofohio.org

Click here for a list of pets Dachshund Rescue of Ohioe

---

[Pet-Finder Home] Pet-Finder Information] [Shelters] [Search Dogs]