Cherished Cockers Rescue
---
---
---
Our Featured Pet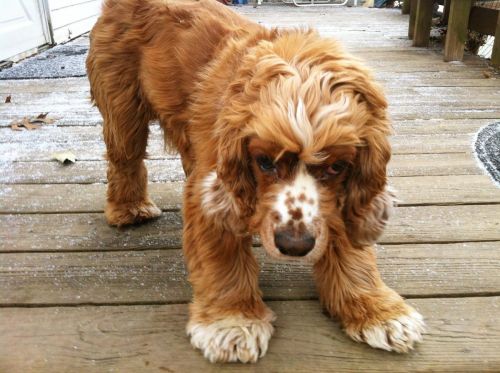 Hi! I'm Winston
---
Thank You & God Bless all of our friends who have donated to our cause this year. It enables us to continue our mission.
The friends who donate, volunteer, transport, foster, make calls, do home visits, and adopt, you are all special to us.
---
We care about the health and well being of cocker spaniels
Cherished Cockers Rescue is a group of volunteers dedicated to the rescue of cocker spaniels.
We rescue cockers in the states of Ohio, Indiana and Kentucky and aid in transport and relocation across the country.

Cherished Cockers Mission:
- We accept unwanted or displaced cocker spaniels from individuals, shelters and humane associations in Ohio, Kentucky and Indiana.
- We evaluate the general health and temperament of each dog and seek appropriate treatment.
- We place Cherished Cockers in suitable forever homes based on evaluations of family demographics.
Here is what to expect from our cocker spaniels:
- Our rescued dogs are spayed or neutered, are up to date on vaccinations and are heartworm negative prior to adoption.
- Many of our cocker spaniels are already housebroken, however some may require reinforcement and consistency.
- Our adoption donations range from $200 - $300 per adult dog based on the cost of care and the dog's adoptability.
- We do give a discount for some older dogs or dogs with disabilities.
Here is what is Required from you:
- To learn what is required from you, please read:
Our Adoption Contract
You must also fill out an Adoption Application to get pre approved to adopt:
- You will find it here:
Our Adoption Application
Contacting Cherished Cockers Rescue:
To find out more about our rescue, volunteer or donation opportunities or adopting a forever cocker friend, please contact us:

E Mail:
Cherished Cockers Rescue

Phone: (440) 209-8813
Fax: (440) 209-8893
For more information:
Cherished Cockers Rescue Web Site
We would love to have more foster volunteers so we can rescue and rehome more cocker spaniels. If you are interested in fostering or learning more about it, please complete a Foster Application Here and one of our wonderful volunteers will be in touch!
Click here for a list of pets at this shelter

---

[Home] [Information] [Shelters] [Search]