Who We Are
The Scratching Post is a nonprofit, no-kill shelter for stray and abandoned cats. Our shelter is run almost entirely by volunteers, a dedicated group of people who work every day to care for the cats and find them permanent homes.

In the spring of 2008 we moved into our new shelter building at 6948 Plainfield Road. Just two doors down from our old shelter, the new facility is a vast improvement in conditions for both the cats and our volunteers. See pictures of the new shelter here.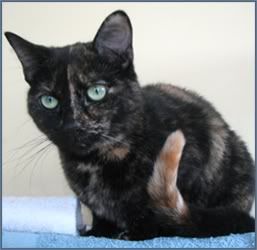 Adoptable Cats
Click here or on the picture to view our adoptable cats.

We add photos of our cats to this list as the cats cooperate with us, so there will always be cats at The Scratching Post who are not profiled here. We encourage you to visit the shelter to meet all of our cats!
Come Visit Us!
From I-71: Exit at Montgomery Road/US 22 & 3. Travel south on Montgomery Road to Plainfield Road ( the traffic light just past the CVS drug store). Turn right on Plainfield Road. The shelter is less than 1/2 mile ahead on the right in a one-story brick building (directly across the street from Meier's Wine Cellar). The Meow Mart store, run by the shelter, is located next door.

From I-75 South: Exit at Galbraith Road. Turn left off the exit ramp and travel 3 miles to the intersection with Plainfield Road (just past the Dillonvale Shopping Plaza). Turn right on Plainfield Road. Travel south on Plainfield Road until you cross the railroad tracks; the shelter will be just ahead on the left.