Hands Of Hope Animal Rescue
Bringing families together one rescue at a time!!
Contact Email: Countrygirlhart@aol.com
All responses will be made between the hours of 10am-6pm Monday thru Saturday (unless scheduled previously by appointment)
Our Featured Pet...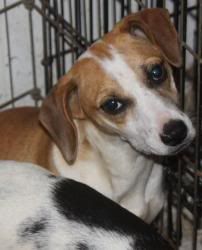 "
Nita
Nita is a sweet little girl who is looking for the love that she never had. Her and her 3 sisters were dropped off at kill shelter. They were all very scared of humans and are very shy when you try to pet them. When they first got here they were so scared they wouldn't even accept a cookie from our hand. They have over come that hurdle but need more work. They love attention and want you to pet them and love them. Nita is the shyest of them and needs to be reassured that your not gonna hurt her. Once she is near you its all LOVE. We believe they are Doxi/beagle mixes, they are full grown at about 15lbs. She is spayed, UTD on shots including Rabies. Do you think you have enough love to share with Nita?
About US
We are a small home based rescue trying to make a difference in the world we live in one dog at a time. Our puppies/dogs/cats/kittens come strickly from kill shelters. Our Goal is for no more pets to be killed in shelters because they are unwanted and to make dogs in kill shelters feel wanted, our best friends deserve so much more! We are a Legal NY State Not for Profit animal Rescue with a 501c3 that is pending. We are also registered with the Dept. of Agriculture. Most of our animals come from high Kill shelters. Anywhere from GA to NY and everything in between. We rescue adults and Puppies. Being a home based we have to limit the amount of adults we have to one at a time. No animal deserves to be killed because of irresponsible owners. Hopefully, one day people will realize that spaying or neutering a pet will stop the senseless killing of the innocent. But until that day there will be many people just like me who are willing, ready and able to step up and help in anyway, shape or form!
About Me
I would like to tell you a little about myself. I have been rescuing animals for as long as I can remember. But I think the real turning point in my life was my first big rescue at age of 11 or 12. I had been walking though the woods one day and I stumbled across a "make shift" farm. There were 100's of chickens there. I started talking to the man who said he raised them for fresh eggs. I started visiting the chickens every day. I was noticing Larger hens as well as some of the larger roosters were disappearing. Well, one day I went there and found about 5 roosters dying in cages and a tree stump with blood and feathers all around it. Blood all over the roosters. I started crying when I realized what was really going on and why I didn't see many roosters around the area. He was killing the hens for food and fighting the roosters. Even in my 12 year old mind I knew that was wrong. I decided at that time it was my responisblity to help these animals. So yes, I broke the law and went there in the middle of the night and stole all of the birds. Took me Hours. One bird under each arm, chicks cupped in the folds of my shirt. I set them all up in my garage. Well it didn't take long for my mother to hear strange noises in the Garage she went in to investigate. Needless to say she screamed when she saw HUNDREDS of chickens of all sizes and ages running around our garage. My mother not understanding my plight and not being an animal lover made me return all of the birds to this evil man. I cried for days knowing their fate, but was helpless to fight it. From that day forward I was determined to dedicate my life to helping All animals great and small.


How to Adopt
If you are interested in any of our puppies or dogs please email for an application.There is a $25 NON REFUNDABLE application processing fee. The fee will be applied to your adoption fee once you are approved. The adoption fee can be sent though Paypal at time of returning the application. Under NO circumstances is the Application Fee Refundable. Once your application is approved we will set up a time and day for you to meet the puppy of your choice. We do not make appointments with anyone who does not have an approved application.
Every Animal deserves a chance at a happy and loved life, If you feel you can give one of our many rescues that life, Email us for an application.
Information on Adoption
Puppies 8 weeks to 12 weeks will not be adopted out to households with children under the age of 6 years old. We reserve the right to deny any application for safety of our dogs/puppies. Every puppy who is adopted from us receives their first puppy shot, wormer (puppies usually have their first 2 shots by time of adoption). All of that is included in our adoption fee of $225 for a puppy, The adoption fee for an adult is $200 that includes being up to date on booster shots, including rabies.
If it is required for us to hold the puppy/dog for more then 3 days no matter the reason ie: puppy to young or the adopter can not pick up before then) a non refundable deposit of $150 must be provided. The deposit will be applied to the adoption fee when you pick up the puppy/dog. Please understand this has been put into place after trying to be accommodating to adopters and the puppy ending up not having a home after being held for days or weeks and missing out on other opportunities of being adopted.
Out of State Adoptions
Also, we do allow out of state adoptions. You must have a Excellent Vet Reference and you must pick up the puppy/dog from us on Long Island, we do not provide transport. We need to request once your application is approved you must send 1/2 the adoption fee (non refundable) though paypal immediately. The deposit will be applied to the adoption fee when you pick up your dog/puppy.
Pieces of my Heart
by Jim Willis, Author
Our paths will cross for only a short time, but while you are in my care I will be devoted to you. If memories of your former life are painful, I will help erase them. No longer will you hunger and I will help to heal your wounds. If your former life was good, I will promise you an even better future.

One day our time together will come to an end and you will go off to your new home, healthy, happy and healed. As a parting gift, I will give you a piece of my heart to remember me by. I may shed a tear . . . not for my loss, but for your gain.

Perhaps our paths may cross again for a fleeting instant and I will be comforted by the aura of love that surrounds you. There will always be a bond between us, though we walk separate paths through this life.

After we reach our heavenly reward our paths may cross again. You may try to return the piece of my heart with thanks for all that I did for you. I will tell you to keep it and thank you for showing me that I could be better than I thought I could be, and that I learned in giving came the greatest gifts.

The pieces of our hearts are like grains of sand. They are pulled along a current beyond our control until they come together and form a safe haven.

I, like you, came to understand what it meant to be saved.
You will never know love until you have a rescue dog!!
---
Hands Of Hope Animal Rescue
Long Island, NY
Please email for more information

Email: countrygirlhart@aol.com
Click here for our pet list
---

[Home] [Information] [Shelters] [Search]