Bunny and Clyde Rescue
---
Our Featured Pet...
Cezanne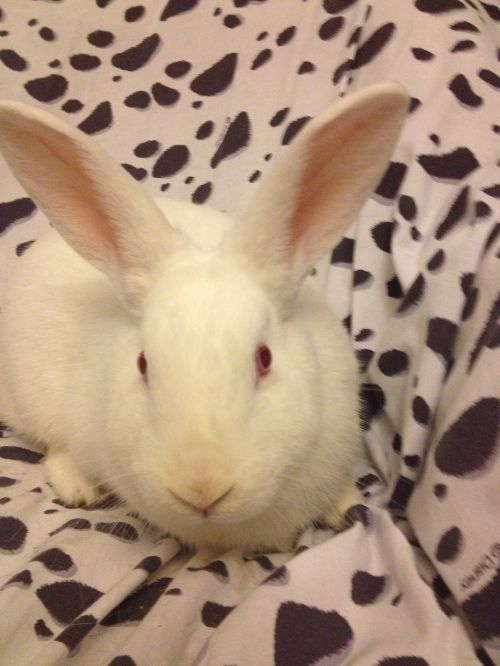 Terra Meierdierck, founder and President of Bunny and Clyde Rescue, is an Educator and is involved with the Upstate NY House Rabbit Society. If we do not have any rabbits that fit the needs of your family, please feel free to view our adoptables on: therabbitresource.org. We have many rabbits in foster homes across New York State who can be transported to Bunny and Clyde Rescue.
News
Bunny and Clyde Rescue is currently looking for foster homes. If you are able to assist us, please contact us at bunnyandclyderescue@gmail.com. We also always could use a free hand cleaning cages, or just playing with/socializing rabbits. If you are looking to volunteer, please also reach out to us.
Why Adopt a Rabbit?

Rabbits make wonderful indoor companions! They can be litterbox trained, can coexist happily with non-aggressive cats & dogs, and can live 10 years or longer. As indoor companion animals, they provide affection and lots of laughs with their silly antics and curious nature. They are more social, healthier, and happier when they are spayed or neutered. They also thrive best with daily exercise, affection and companionship. Its important to remember during this time of the year that rabbits are NOT Easter pets - neither are chicks. Rabbits have a lifespan of 8 - 15 years, depending on the breed. My boyfriend and I have 3 rabbits of our own, in addition to 3 cats. He will often say that the rabbits require a lot more time, attention and maintenance than the cats do. If you are looking for a social pet that enjoys to be part of the family, a rabbit is for you. I gets a call about once a week from a parent that bought a rabbit for their child as an Easter or Christmas present, but now wants to re-home their pet. Rabbits do require a lot of maintenance, time out of the cage and a commitment of 8 - 15 years. Despite common belief, they should not live outside. Please read rabbit.org to learn more about rabbits.
Adopting a friend
Please email us to schedule a visitation time at bunnyandclyderescue@gmail.com.
Who We Are
Bunny and Clyde Rescue (B&C) is a non-profit animal rescue group located in Orange County, NY. We specialize in rabbit and small animal rescue.

Bunny and Clyde Rescue was conceived several years ago when founder and president, Terra Meierdierck, discovered four very large white rabbits (New Zealand Whites) on the side of the road in Branch Brook Park in Newark, NJ. All four rabbits had been tattooed in their ears and were obviously released (or semi-rescued) lab animals. Terra took the four rabbits and immediately found loving homes for two of them. The remaining two, Frosty and Bunnicula, became permanent members of her family and Bunny and Clyde Rescue was born.

There are many rabbits out there who need homes and we hope that you will consider one of them as your family companion. They make wonderful family members and are loving, loyal and sociable creatures.
---
Bunny and Clyde Rescue
PO Box 67
Warwick, NY 10990
www.bunnyandclyde.org


Please Contact Us Via Email: bunnyandclyderescue@gmail.com
Click here for a list of pets at this shelter

---

[Home] [Information] [Shelters] [Search]