Diana's Cat Shelter
Check us out on Facebook and join our group!
Just click the link below
Our Featured Pet...
Our featured pet is Cali, the calico. To learn more about Cali or any of our other cats up for adoption, just click on Our Adoptable Pet List!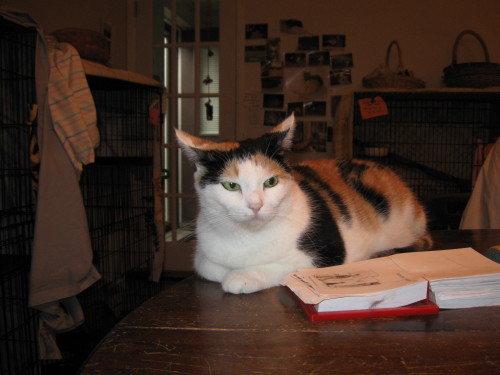 Cali
Who We Are
The shelter is here to house, rescue and care for unwanted, stray and surrendered cats. The cats will be spayed or neutered and brought up to date on their vaccinations. The cats are housed in humane cages and are allowed to roam freely outside of their cages regularly everyday. Cats are brought to a veterinarian and will be put on any medications that are needed. Overall the cats will be fed and habituated for their eventual adoption into a loving home.

The shelter also assists in providing low cost spaying and neutering for cat owners who cannot afford veterinarian's fees. All such procedures will be performed by properly licensed veterinarians. If the owner is unable to afford the fees, the shelter will assist them in paying for the procedure. The shelter runs entirely off of donations, and it is through these donations that allow us to assist in providing these services to cat owners. Any and all donations made to the shelter are greatly appreciated.


Adopting a Friend
The adoption fee for a cat is $50.00. This includes the cat being spayed/neutered and being brought up to date on its vaccinations. The adoption fee for a kitten in also $50.00, but has an additional $35.00 deposit which will be returned once the kitten has been spayed/neutered.

To be eligible to adopt you must be over the age of 21 and be out of school. You must also be living in a permanent residence and have a good enough financial standing that you can assure us that your adopted cat will be well taken care of. You need to inform us of your regular veterinarian, and if you don't have one then one that you plan on using. If you are renting your property, a signed letter is required from your landlord showing that they are allowing you to adopt a cat.

We adopt out our cats and kittens with the understanding that they will be kept indoors. We also refuse to adopt out a cat if the adopter plans on having the cat declawed.
Donations