2000 Spays and Neuters Animal Rescue
---
Our Featured Pet...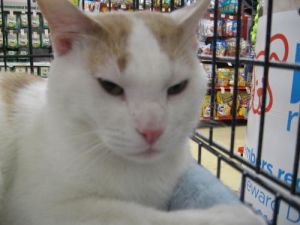 CALVIN followed a 5 year old boy home > His Mom turned around and there was Calvin. WHAT A BEAUTIFUL - STRIKINGLY BEAUTIFUL - CAT and very gentle. Recently "dumped" on the street and totally needing a home, now we have Calvin and he is all set to meet you. Buff and white - he just is sparlkly clean and beautiful and a very gentle young cat. fiv/felv neg please come and meet Calvin at Petco - 92 st and Broadway - Wednesdays and Sundays - 3-7 also Fridays at Petco - 86 St and Lexington. or by appt.
News
A few of our lovely cats could use a bit of fostering TLC. Some rescues have never lived with people or worse, have been hurt by them, and need a little extra time before going to a forever home. If you would be interested in helping us, please contact the organization email or stop by and see us at Petco, 92nd and Broadway on Wednesdays from 3-6 to talk to Joan.
Who We Are
In 2000 our goal was to offer 2000 free spays and neuters, since then we have continued our mission to help rescue groups and to promote the adoption of homeless animals. We continue to enable rescuers to help hundreds and hundreds of cats (and sometimes dogs, when we're able) that would otherwise have been left on the streets.
Adopting a friend
We get to know all our adoptable animals and if you are looking for a particular type or personality, please feel free to contact us for further information. Our desire is to find the perfect lifetime match!
Come Visit Us!
Every Wednesday and Sundays 3-6 PM at Petco, 92nd and Broadway NYC!
---
2000 Spays and Neuters Animal Rescue





Email: spaysandneuters2000@gmail.com
Click here for a list of pets at this shelter

---

[Home] [Information] [Shelters] [Search]