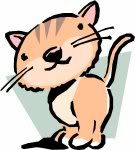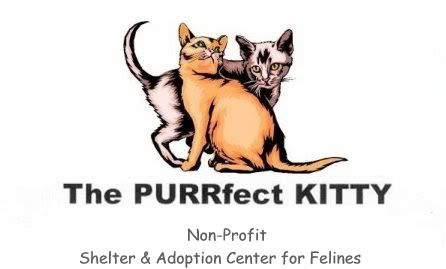 ---
Welcome
The PURRfect KITTY is a 501(c)3 Non-Profit, No-Kill Shelter-Sanctuary for Felines. Our mission is to provide a healthy, loving environment for felines who don't have a furrever home. The PURRfect KITTY receives no federal, state or local government funds to operate and we have no major sponsors/donors. The generosity from people like you is essential for our success and survival. If you would like to make a tax-deductible donation please mail it to our address listed below or you can make a secure credit-card donation by clicking here: YES, I want to donate!

Please consider becoming a "recurring donor" for just $10 per month. There's no hassle, no paperwork! Just click on the box that says "Make this a recurring donation" and it's done! It's that quick & simple yet it means so much towards helping our kitties. Please click here: YES, I want to be a recurring donor!

You can also send us a gift certificate from PETCO so we can buy supplies for our kitties. Thank you for your generosity !!!
---
A Little Info. About Our Kitties
All of our Resident Kitties have come from less fortunate situations and their lives have truly changed for the better.
You can see their photos and stories by visting our website at: Photo Gallery .
---
News & Current Events
Please see our News & Events page on our website at: News & Events
---
Our "Wish List"
Monetary Donations are ALWAYS needed and we have a Wish List of:

LITTER:

Swheat Scoop - Natural Wheat Litter
Found in most Pet Stores, TARGET and possibly other stores including Super Markets.
Packed in a white bag or box.

Arm & Hammer "ESSENTIALS"
Found in TARGET, some Pet Stores, ShopRite, Walmart and possibly other stores.
Packed in an orange BAG. This is the only Arm & Hammer in a "BAG".
We only use the 10.5 lb. or the 9 lb. bag, we never use the 18 lb. bag because it has an awful scent.


WET FOOD (canned):

Friskies Flavors:

- Classic Pate:
Turkey & Giblets, Mixed Grill, Liver & Chicken, Supreme Supper,
Poultry Platter and Tasty Treasures Turkey & Cheese Pate'.

- Savory Shreds:
Chicken in Gravy, Turkey & Cheese, Turkey & Giblets, Beef in Gravy,

These are the ONLY Friskies we use.


DRY FOOD:
"Nature's Variety Instinct" Turkey Meal & Duck Meal

"Wellness CORE" Turkey & Duck

Purina "NATURALS"


OTHER SUPPLIES NEEDED:

- PetSmart, Petco, Target and ShopRite Gift Cards
- Papertowels
- 13-gal. Draw-String Garbage Bags
- Antibacterial Dishwashing Liquid
- Green Works Antibacterial Spray and Wipes (found in Target)
- Fantastik Lemon Spray and Fantastik Spray with Bleach
- Laundry Detergent & Clorox Bleach
- New (unused) Cat Beds
- New Cat Toys
- Lint Rollers
- Clean (Recently washed please) Large Bath Towels
- Plastic Bags from the SuperMarket (without holes please!)

Our funding is minimal and all these donations truly help... Thank You SO Much!!
---
Volunteering at our Shelter
Sorry, we are not currently recruiting any new volunteers.
---
Have you FOUND a cat, kittens or both and need help or advice?
Please do not e-mail or leave a message on our voicemail.
Please contact your local Animal "Rescue Group" for help or advice.
To look for an Animal Rescue Group in your area, please try the link below.

We are a physical Shelter where rescued felines are housed & cared for. We do not go out to locations and do the rescuing. We help the Rescue Groups with the felines that need placing. If you need to place a cat with us, please follow the steps listed under Feline PLACEMENT. Sorry, we are not accepting KITTENS.
To look for another facility, please try the links below. We do not have anyone that we can specifically refer you to.

To find another shelter try this link: Pets911

To find a Rescue Group, TNR group, Traps or Low Cost Spay/Neuter or Low Cost Veterinary Services, here is a helpful link: Long Island Cat Project

---
"IN-YOUR-HOME" Kitty Nail-Clipping Services
We offer "in-your-home" nail clippings for kitties for local residence of:

Plainview, Old Bethpage & Syosset: $15 per visit.

Other Areas: $20 - $30 Depending on location and schedule.

We service most of Nassau County and Western Suffolk.

Deduct $5 from any location if your kitty was adopted from our Shelter.
---
YES, we have PET-SITTING available!
Don't board your kitty in a cage.......we will take care of your kitty in your home while you're away.

For LOCAL residents of Plainview, Bethpage & Syosset only.
Other areas may be considered but there will be an additional cost.

Pet-Sitting Fees:

$15 per day (one daily visit) for our adopted kitties.
$20 per day (one daily visit) for all other kitties.
Add an additional $5 per day for cats outside your home
(outdoor ferals, strays that you feed on your property) this applies to all customers.

We only offer one daily visit (morning OR afternoon) to the home, sorry, no evening visits.
We can supply an automatic feeder for night-time feeding if needed.

The responsible, trustworthy owner of the Shelter will personally be taking care of your kitties.
No additional cost to water your indoor plants, take in the mail and put out the garbage! :)


---
The PURRfect KITTY
P.O. Box 766
Plainview, NY 11803
Phone: 516-586-5555

Website: www.thepurrfectkitty.com
Email: purrfectkitty@optonline.net



---