Louis Animal Foundation Inc.
---
Our Featured Pet...
Pluto!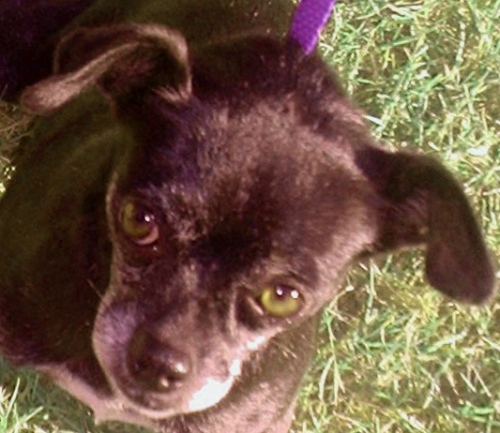 Pugwinkle is a 5 or 6 year old spayed female Chihuahua/Pug mix. She is often passed over for younger dogs, even though at 5 or 6 years old, she has many good years left to give. She is an affectionate lap dog, looking for a lap of her own. Adopt a little New Yorker! Great News! Pugwinkle was adopted!
News
We have an extra "Sandwich Board" of the type used to advertise in front of businesses for $30.00. These typically sell from $39-90.00. If interested, please call 212 685-3858. Be sure to speak to the answering machine. Purchaser should be in NYC, since you will have to pick up the item.
Who We Are
The mission of the Louis Animal Foundation is to provide a practical approach to animal overpopulation. The Foundation operates a mobile spay/neuter vehicle, currently deployed in the Southern US. Bequests and donations are desperately needed to help subsidize spay/neuter for people who can afford to pay little or nothing toward the cost of the surgery. Most of the organizations who operate these vehicles have millions of dollars in endowment. We have no endowment, yet we press on, despite almost insurmountable odds, because we want to solve overpopulation. A half million dollar bequest would enable us to spay and neuter every dog and cat in a small or modest sized county in the South. A $100,000 bequest would provide for the spaying and neutering of all dogs and cats in a small Southern town. Please understand that while rescue, fostering and adoption are great for the individual animals we help, only sufficient spaying and neutering solves overpopulation of companion dogs and cats in the long run. Please support our spay/neuter efforts!
Adopting a friend
Adopters fill out an information form and sign a contract. Adoption fees vary depending on the animal's age and what medical care has been provided for him or her. If you are interested in adoption, please call. The adoption form, kindly provided by someone with some technical knowledge, is no longer working.

Come Visit Us!
Louis Animal Foundation animals are all housed in individual foster homes. They are not at the headquarters location. Please call if you are interested in meeting one of our adoptable animals.
---
Louis Animal Foundation Inc.
35 East 35th Street
Suite 5D
New York, NY 10016
Phone: (347) 244-2477 (cell)

Email: nyarlafi@gmail.com Please call if interested in an animal.
Click here for a list of pets at this shelter

---

[Home] [Information] [Shelters] [Search]