Paws To Love Adoptions Inc.
---
Companion Animal of the Month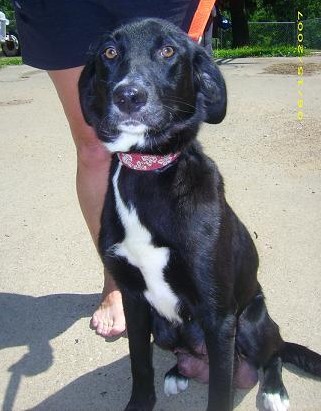 ---
News
THE VIDEO LINKED BELOW, WHILE VALUABLE AND INFORMATIVE, MAY ALSO BE DISTURBING. PLEASE CONSIDER THIS WHEN DECIDING WHETHER TO VIEW IT.
THESE ARE NEW ORLEANS' PETS IN 2007

(click the arrow, lower left corner, to view the video)
---
Who We Are
Paws To Love is a private,not-for profit 501(c)(3) tax exempt rescue organization which seeks to assist abandoned and/or stray animals. Our mission is to place these rescued animals into responsible, loving and permanent homes. Paws To Love also educates the public about the importance of spaying and neutering, the importance of the right type of food and the importance of not over-vaccinating.
---
Adopting a Pet
If you live in the NY/NJ area, just phone, e-mail, or visit us any weekend. In speaking with you, we can determine if we have the pet who's been looking for you. If we do have that pet, a meeting can be arranged, if you haven't met already. We will require that you are at least 21 years old; completion of an adoption application; vet and reference checks; and verification of all information included in the application. Should you be approved to adopt one of our pets, and a good match is made, the adoption process will include completion of an adoption contract and a fee. In many cases a visit to your home will be a prerequisite to adoption. All of our pets are vet checked, tested, vaccinated, and spayed or neutered .
---
Volunteering
Please consider volunteering with us...there's so much to do to successfully care for and place homeless pets! Homeless pets need baths, and grooming, and walks, and playtime, and taxi services to various appointments, and publicity, and food, and supplies, and funds, and...and....and...! If you are moved to assist them, please contact us and let us know any ideas you have for doing so. Chances are that you, the pet loving public, have more skills and ideas than we can even imagine, for helping the animals.
We Need Foster Homes!
If you can provide a foster home to a homeless dog until s/he can be adopted, this will directly enable us to save another from physical/mental/emotional deterioration in a public shelter; abuse as a result of being abandoned to "Free To Good Home" ads; or death due to overcrowding (commonly referred to as "euthanasia"). By offering temporary shelter to a homeless dog, you enable us to search for and secure the "one true home" each pet needs and deserves. PLEASE CONSIDER JOINING OUR TEAM, BY BECOMING A PET FOSTER PARENT!
---
Donations
Your donations are gratefully accepted, in general to care for our many orphans and homeless friends; and specifically for Flag and Firecracker's recent surgery (See "Our Pet List" above, and click on Flag and/or Firecracker). Please help us pay the bill for these surgeries and hospitalization, by sending your contribution to Paws To Love Adoptions, Inc., P.O. Box 1350, Grand Central Station, New York, NY 10163 marked "For The Boys;" or click on the PayPal link below to donate online. Thank you for your kind support!
---
Come Visit Us!
We have been the grateful guests of PETCO in Ramsey, NJ for over 8 years! Please visit us any Saturday or Sunday afternoon. Please, however, don't call the store about our pets. They will not have the information you need, and will be unnecessarily burdened by the phone calls!

Map to our location

---
Paws To Love Adoptions Inc.
P.O. Box 1350 Grand Central Station
New York NY 10163
Phone: 718-294-8058
Email: paws2lov@optonline.net


---

[Home] [Information] [Shelters] [Search]