Companion Animal Network Television's
"Pick-A-Pal" Adoptions
with experts in animal control, veterinary medicine, dog training, rescue and more
To find out about all our services and how they can help you or an animal friend please visit our website at www.CompanionAnimalNetworkTV.org
---
This is how we train our dogs to behave. Is it any wonder our adoption program is called "PICK-A-PAL"? .....if we can get Pit Bulls to behave like this just imagine the other sweeties we have for you and your family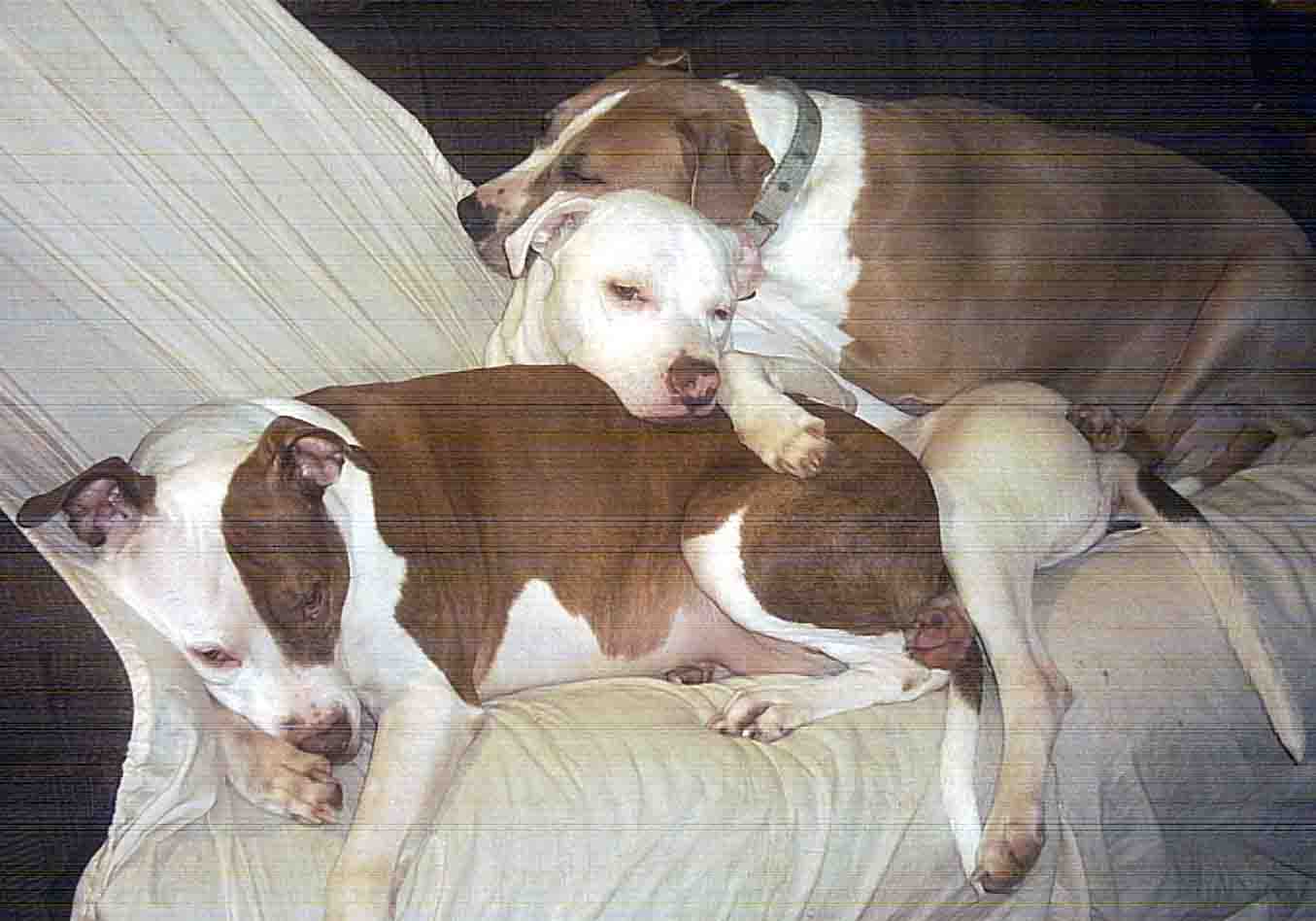 These three dogs never knew each other, came from different sources to us, but within a few weeks we had them all acting like they were from the same litter. How can we pull this off? Can we guarantee that ANY animal, dog or cat, which we adopt out will also behave this way? The answers to both questions is a resounding YES! Because our animals live in private homes with an expert dog trainer and rehabilitator, we can make almost any dog and/or dog or cat get along with each other within a few weeks.


What's more, all our PALS come fully vaccinated, dewormed, spayed, and a super low cost ($5-6 p/day believe it or not) boarding facility for whenever you and your family go away. Plus we give you a one month trial period. There is no adoption fee but we do ask for reimbursement of veterinary necessities such as vaccinations and alteration. The total amount of reimbursement we ask for is only $75 for mixed breeds and $100 for full breeds as they usually require more veterinary expenses. Plus our PALS are delivered to your home absolutely free! If you are the wonderful lifetime home we are looking for we'll bend over backwards for you (and our PALS).
---
On the prowl for the perfect companion to suit your lifestyle?
Our service guarantees a perfect match for you and gives you a one month trial period. PLUS........the animal comes already vaccinated, dewormed, spayed or neutered, a bath, and use of our super low-cost ($5p/day) boarding facility for when you go away, AND FREE MICROCHIP IDENTIFICATION SO YOUR LOVED ONE WILL BE GUARANTEED TO BE FOUND AND RETURNED IF LOST!!!!!!
WE RECEIVE MANY ENQUIRIES FROM PET GUARDIANS WHO WANT TO GIVE UP THEIR FRIEND. WE URGE ALL SUCH PARTIES TO BE AWARE THAT STATISTICALLY 70-80% OF ANIMALS WHO ARE GIVEN UP FOR ANY REASON, REGARDLESS OF TO WHOM, END UP DYING ONE WAY OR ANOTHER WITHIN 2 YEARS. IF YOU STILL WANT TO GIVE UP YOUR MOST FAITHFUL FRIEND THEN PLEASE ONLY CALL US AFTER 9 PM OR WEEKENDS....AND BE PREPARED TO ANSWER SOME VERY SERIOUS QUESTIONS. WE DO NOT GUARANTEE THAT WE WILL TAKE IN ANY ANIMALS AS THAT SHOULD BE AN ABSOLUTE LAST RESORT AFTER EVERY CONCEIVABLE SACRIFICE IS MADE TO KEEP YOUR BUDDY. WE MAY, AT OUR DISCRETION, DECIDE TO LIST AN ANIMAL YOU WANT TO FIND A HOME FOR, AND THEREBY ACT AS A MATCHMAKER. iF INTERESTED PLEASE SEND AN EMAIL TO adoptions@companionanimalnetworktv.org

---

Companion Animal Network Television
PO Box 750214
Forest Hills, NY 11375
Phone: 718-544-PETS (7387)

Email: adoptions@companionanimalnetworktv.org
Click here for a list of pets at this shelter


---





[Home] [Information] [Shelters] [Search]