G.R.A.S.P., Inc.
Greece Residents Assisting Stray Pets
P.O. Box 26741 Rochester, NY 14626
---
Featured Pets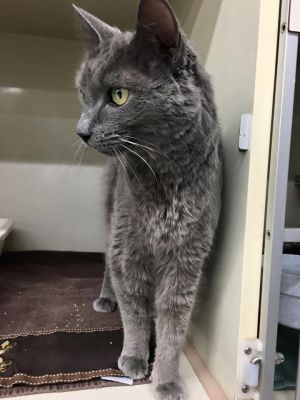 Cade
Hi, I'm Cade!

Cade is brand new to GRASP and was picked up as a stray. Cade's foster mom is still getting to know him. We do know that he's about 8 years old and is a good-natured, handsome gray kitty. Cade is mostly independent, but every so often he decides he wants to snuggle. He can be vocal when he wants attention. Talkative cats are fun! Cade is the only pet at his foster home, so at this time we do not know how he would be with other cats or dogs. If you'd like an independent, but happy and chatty kitty to join your family, Cade might be the cat for you!

DOB 2/7/08

As our featured cat, Cade's adoption fee has been reduced to $40.00.

This pet has been combo-tested for Feline Leukemia and FIV, received rabies vaccinations along with all other age-appropriate vaccinations and are altered.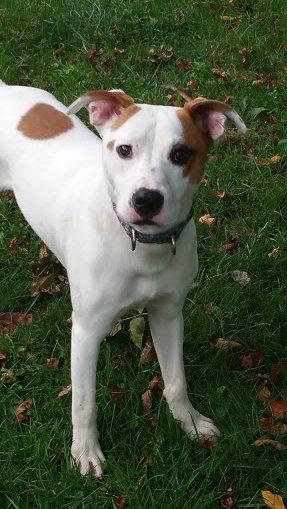 Trubby
Hi, my name is Trubby!

I am a Pit Bull mix! I just turned a year old. I love to play with foster moms other dogs, play fetch, go for walks, and play in water (mud is even better!) I am good at entertaining myself by throwing toys up in the air and chasing them. I also love to cuddle with my people, give kisses, take baths, and get my nails done! New places, people and new dogs are scary to me! I am being conditioned to not feel threatened by these things. I did not have a lot of guidance or exposure to new people and things in my previous environment. I am really a happy go lucky guy once I get to know you and your pets! I really get upset with screaming, crying and kids running around. I prefer older children who are a bit more calm. I am food motivated, HIGHLY intelligent, and aim to please, so teaching me new things is easy! I am very good about coming when called, even if I am a distance away. I need a 6' fenced in yard cause when I am excited I can jump high! I will give you lots of love and enjoyment if you are willing to spend some time to get to know me! I am house and crate trained and can be left out loose in the house during the night. I am beginning to have short periods of daytime out of the crate left alone. So far I have been pretty good about being respectful of the home! Please check out my videos here: https://youtu.be/dHGwVxNjsNc https://youtu.be/ZFX4pbAaPJQ

AS OUR FEATURED DOG, TRUBBY'S ADOPTION FEE HAS BEEN REDUCED TO $100!


DOB: August 2014

My adoption fee includes spaying, distemper, rabies and bordetella vaccinations, heartworm test and microchip. Please share and apply if interested at our GRASP website, www.graspinc.org


If you have a question about these featured pets, please contact us. You can also fill out an online application.
Please visit www.graspinc.org to learn more about this great group!
---
G.R.A.S.P., Inc.
Greece Residents Assisting Stray Pets
P.O. Box 26741
Rochester, NY 14626
Phone: (585) 234-1953 (Voice Mail)
Email: View our contact page for the correct team for your inquiry
We are a non-profit organization entirely funded by donations from the public.
---

[Home] [Information] [Shelters] [Search]