G.R.A.S.P., Inc.
Greece Residents Assisting Stray Pets
P.O. Box 26741 Rochester, NY 14626
---
Featured Pets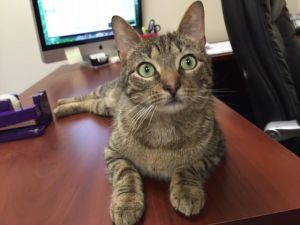 Beth
Hi, I'm Beth!

I am a 1-year-old, tiny little kitty - weighing only 7 pounds! A girl's got to keep her figure, right? I love attention and my foster humans say I don't know what personal space is. I'm not really sure what they mean by that. I could sleep on your lap all day and love every second of it. I like to run around and play with toys too, when my foster humans are too busy to cuddle. I haven't socialized well with other four-legged friends, so I need to be an only pet. Will you let me join your family so we can just snuggle forever and ever?

DOB: 2/25/15

As our featured cat, Beth's adoption fee has been reduced to $70.00.

This pet has been combo-tested for Feline Leukemia and FIV, received rabies vaccinations along with all other age-appropriate vaccinations and are altered.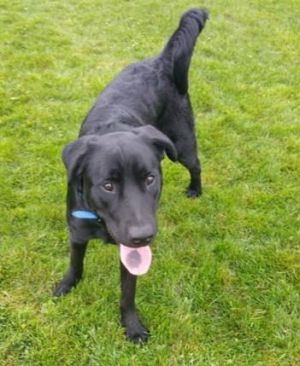 Jasper
Hi, my name is Jasper!

Jasper is a 3 year old, Black Lab Mix, weighing approximately 60 lbs. Jasper is the SWEETEST boy who just wants to be loved and cuddled! Unfortunately, he was seized from a home with 23 other large dogs. Because of this, Jasper longs for the one on one attention and the love he was denied. As you can imagine, Jasper was not trained, taken for rides, or brought out for walks. He lived a sheltered life for the first three years and was just "another dog" to the owners. Jasper needs some training to learn how to appropriately interact with people. Since he had little to no interaction with people, he thinks people are just another dog to play with. So he can be mouthy and use his mouth to get you to play. He also jumps on people to get their attention Jasper loves, loves, loves to run since he most likely didn't have the option to go out in a fenced in yard to play. We are not even sure if he was let out of the house at all :-( The good thing is, Jasper wants to learn and has great potential! He is a very smart dog who just needs some guidance! Due to his severe neglect of socializing he has a lot to learn. So far, Jasper has been house trained, crate trained and is learning to fetch. Jasper needs to learn that baths and car rides are good things and how to walk on a leash. He does well with most dogs and we are looking for a home with another dog (preferred female) as that gives Jasper a sense of security and a role model to follow. He has a physical style of play, so he would do best with a dog his size, age and play style. We are looking for a family with children 16+ years old until he can get his style of human interaction managed. We are requiring a fenced in yard for this boy so he can have the opportunity to be a dog! We are not sure how he would do with cats. Please consider giving this boy the home with love he deserves. Jasper is so worth it as he will give love back to you tenfold! He really is a great dog whose spirit has not been broken and is a very happy dog! Jasper's adoption will come with 4 one on one training sessions with a certified animal behaviorist if we are not able to raise the funds for a "training camp". His adoption fee is $275 and includes neuter, vaccinations, microchip, etc.! Please apply at www.graspinc.org to foster or adopt this handsome, loving dog!

AS OUR FEATURED DOG, JASPER'S ADOPTION FEE HAS BEEN REDUCED TO $245!


DOB: 2013

My adoption fee includes spaying, distemper, rabies and bordetella vaccinations, heartworm test and microchip. Please share and apply if interested at our GRASP website, www.graspinc.org


If you have a question about these featured pets, please contact us. You can also fill out an online application.
Please visit www.graspinc.org to learn more about this great group!
---
G.R.A.S.P., Inc.
Greece Residents Assisting Stray Pets
P.O. Box 26741
Rochester, NY 14626
Phone: (585) 234-1953 (Voice Mail)
Email: View our contact page for the correct team for your inquiry
We are a non-profit organization entirely funded by donations from the public.
---

[Home] [Information] [Shelters] [Search]