G.R.A.S.P., Inc.
Greece Residents Assisting Stray Pets
P.O. Box 26741 Rochester, NY 14626
---
Featured Pets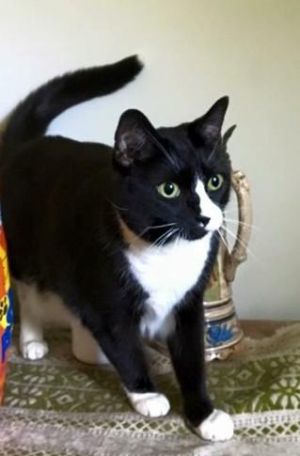 Lilly
Lilly came to GRASP when her owner found herself homeless. A temporary place was located, but after several months that was no longer an option and she knew it was in Lilly's best interest to find a new forever family. Lilly is sweet and social. She likes to be petted and to be in your lap. She purrs easily. She likes treats very much and gets excited when she hears the container shake. If she is unsure of a situation she may find a place to just hang back and observe for a bit, but she is not shy. She doesn't need much; she is content to just watch the birds out the window and hang out. She does fine with school age children, which she is used to from her previous home. She has always lived indoors, and has done fine in her foster home with other nice cats of varying ages. If they get too much in her space, she will remind them to back up. Lilly has not yet met any dogs, and is microchipped.

DOB 4/3/10

As our Featured Cat, Lilly's Adoption Fee has been reduced to $40! (NOTE: No other discounts apply to our Featured Pets)

This pet has been combo-tested for Feline Leukemia and FIV, received rabies vaccinations along with all other age-appropriate vaccinations and are altered.




Jade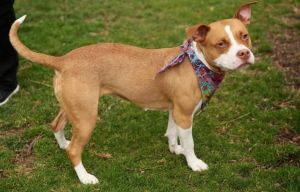 **FOSTER/ADOPTER NEEDED** Jade is a little compact, gem weighing about 45 lbs! Jade just turned a year old and is believed to be a pit mix. She was found as a stray a few months ago so we have no history on her. We believe Jade had little, to no, socialization with animals during the critical, formative ages where dogs learn how to interact with other pets. Jade was house and crate trained when she was living in a home. Currently she is in a boarding facility because we do not have any fosters to meet her needs. Jade is a sweet girl that absolutely loves to cuddle and to have her belly rubbed! Jade is a fun loving dog! Everyone who meets her just falls in LOVE with her! Jade knows all of her basic commands as well as shake. Jade needs to work on loose leash walking, especially when she sees another dog or small animal. Jade is a high energy dog who loves to go on walks and jogs. Jade is even learning the treadmill! Jade also requires a 6 foot fenced in yard so that she can have the ability to run around to meet her energy needs and remain safely in the yard. We are looking for a home where she would be the only pet. We also need a relatively calm home where there is one to two adults maximum. Jade is high strung and does best when her environment is kept low key. If you have the setting described above and would like to foster or adopt this silly, intelligent girl, apply at graspinc.org. Visit Jade's PETFINDER LISTING TO VIEW AN ADORABLE VIDEO @https://www.petfinder.com/petdetail/34849728

****Jade's adoption fee will be waived for the adopter and includes all vetting, spay, and microchip. We just want to see JADE live happily ever after in her perfect home!

My adoption fee includes spaying, distemper, rabies and bordetella vaccinations, heartworm test and microchip. Please share and apply if interested at our GRASP website, www.graspinc.org




If you have a question about these featured pets, please contact us. You can also fill out an online application.
Please visit www.graspinc.org to learn more about this great group!
---
G.R.A.S.P., Inc.
Greece Residents Assisting Stray Pets
P.O. Box 26741
Rochester, NY 14626
Phone: (585) 234-1953 (Voice Mail)
Email: View our contact page for the correct team for your inquiry
We are a non-profit organization entirely funded by donations from the public.
---

[Home] [Information] [Shelters] [Search]