Times Herald Record
by Mary Esparra

Bonded Malamutes Are Beautiful To Watch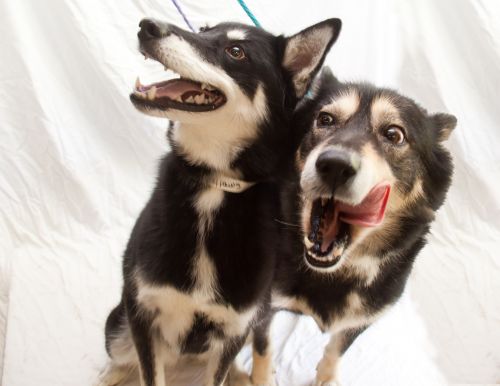 Animal shelter workers often tell me that two pets must be adopted together, that they are "bonded." My heart sinks for these pets. It's hard enough finding an adopter for two that can't or won't be separated is a daunting task.

But bonded pets have been together a long time, and it is in their best interests to stay together, even if that means a longer shelter stay.
Giselle and Lizzy are a bonded pair of malamutes, possibly mother and daughter who were abandoned in Bear Mountain and brought to the Town of Highlands Dog Pound.
"It's a town facility so they're not as networked as regular shelters are," said Michelle Gorta, directer of the Canine Sanctuary in Mountainville, "so we take them in when we are able, to help out and place them because we have more exposure in our location."
Giselle is a 3-4 year old possible purebred malamute.
"She's very chunky," said Gorta. "Somebody loved her. She's very acclimated to people."
Lizzy is a 1-year-old possible malamute mix and smaller than Giselle. She is athletic and once climbed an 8-foot fence at the shelter, "maybe because she was separated from her mom or just incredibly bored," reported Gorta.
Their kennels are side by side at the shelter with only a chain link separating them.
Gorta learned quickly just how bonded Lizzy is to Giselle.
"When we were taking Mom out first for playtime, you could hear Lizzy inside "screaming" the whole time she was gone. We learned they need to go out together.
"When they run together in the backyard, they're just beautiful. They run in tandem and stop together, "but Giselle doesn't need it," said Gorta, "and Lizzy just needs to learn basic training."
Their history unknown, they are being evaluated with other animals but are OK with kids.
"They're such great company for each other," said Gorta.
"They're a built-in family. A lot of people get a dog and then think about getting another. These two are easy together; they're not harder than getting one dog."



BEWARE THE ADORABLE GOLDEN RETRIEVER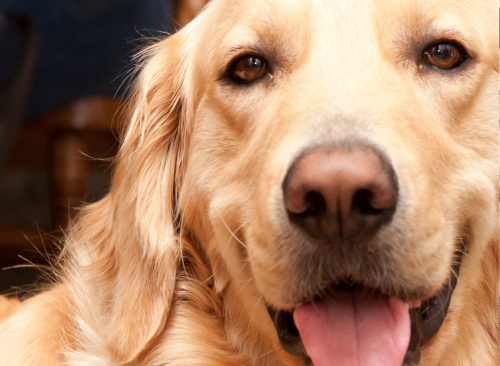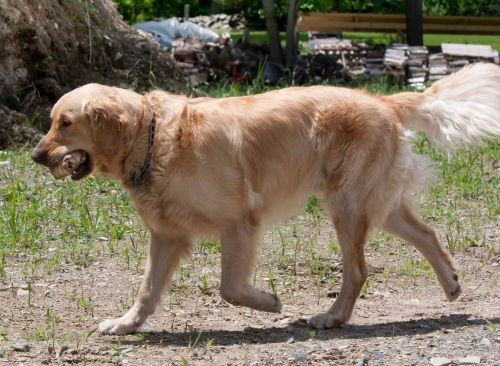 You would have to be made of stone not to fall in love with one of America's favorite breeds: the golden retriever. The adorable golden retriever that came to us through rescue, Shadow (now known as Sheldon) had many people quickly fall for his beauty, love, and charm. Unfortunately, some just as quickly fell out of love with him. While Sheldon's story has the happiest of endings, many dogs suffer these same problems that this poor dog had to endure until he found his forever home.

Before he came into the rescue network, Shadow had already had at least two previous homes we were told of. Already large for his age at eight months old, he was pushing seventy pounds of unruly but loving good nature. His next three homes, all experienced with golden retrievers and known personally by Shadow's benefactor, all returned him. In between going to the states of Florida and New Hampshire and another home in Orange County, Shadow stayed with the dogs of the Canine Sanctuary in a kennel. He endured all of these changes but eventually they began to take their toll: Shadow's fifth home had the owner calling us with problems such as jumping on a couch, then guarding it. He began resource guarding, generally his food or a toy, and showing all the signs of a confused displaced dog. And, of course, he eventually lost that fifth home.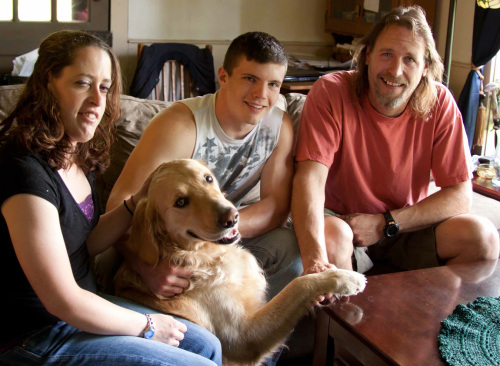 After seeing Shadow featured in the Times Herald-Record, Todd Best came to the Canine Sanctuary in June 2011. Todd was sure he could provide all that Shadow needed to become the well behaved loyal companion he was bred to be. Todd experienced several weeks of just visiting Shadow, training him in weekly classes and even going on a two-hour "pack" walk along with fifteen homeless dogs and about seventeen volunteers. Showing all the way he was committed to Shadow, Todd brought him home before the end of the month.

We are happy to report that exactly one year later, Todd, true to his word, kept this wonderful dog and turned him into the well-behaved, joyful dog we always knew was there. Recently, Canine Sanctuary volunteers along with photographer Toni Lund visited Shadow (who has been given the new name of Sheldon) and Todd on their horse farm in Orange County.

As the volunteers approached their home, Sheldon stood completely still by the front porch, watching the car and not moving until humans and dogs began to make their way up the driveway. Now part watch dog as well as greeter, Sheldon does not leave his property. He keeps a watchful eye on Todd at all times.

Todd told us he began Sheldon's training by doing two important things: the first being to run Sheldon along side the quad, through trails in their woods, several miles to the horse barn. He also tethered Sheldon to his waist as they went through their daily chores, including feeding eight goats and turning out and feeding the horses. Sheldon quickly bonded with Todd and now truly loves all members of the family.

Now a solid but trim 94 pounds, Sheldon continues to follow Todd, his family members, or staff from the barn as they go about their day. He has active busy days and is loved by all. There was no mistaking the happiness in this dog and the loyalty he shares with Todd.

Many thanks to Todd, his family, friends and staff at the barn who all contributed to Sheldon's training and giving him the love and attention he deserves. All of us at the Canine Sanctuary offer our deepest gratitude for giving this wonderful dog a chance and not giving up....All the best Sheldon in now, your forever home.


Greta Visits WGNY Fox Radio 103.1FM!
Bob O and Lori G learn about Greta's story!
Canine Sanctuary upcoming dinner fundraiser discussed!

Greta, who was available for adoption, is a 6 years young German Shepherd/Labrador Retriever mix. This affectionate, sweet-natured girl was recently invited to visit WGNY Fox Radio! Photos by Toni Lund www.tonilund.net .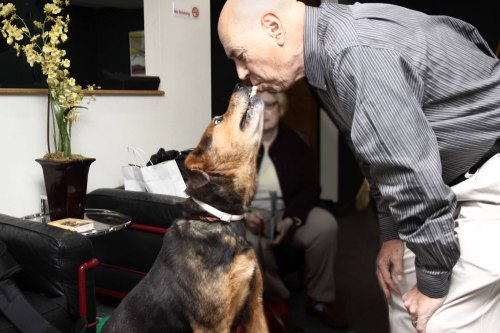 Greta gets treats from Van Ritshie of WGNY Fox Oldies Station 98.9 FM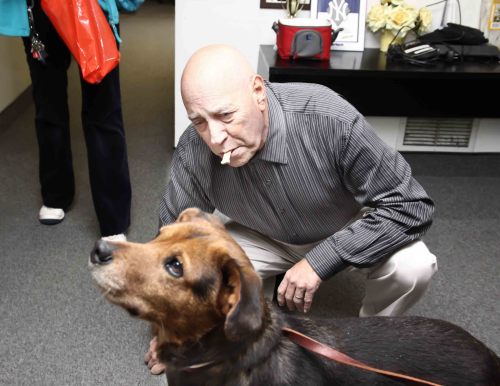 Greta and Van "discuss" her favorite treats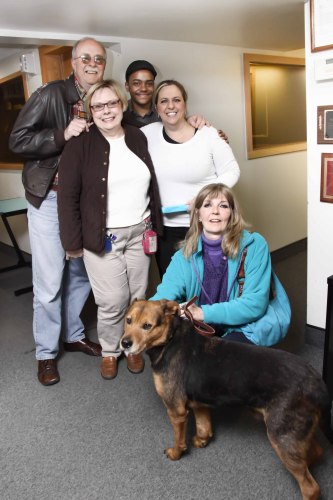 DJs Bob O. and Lori G of WGNY Fox 103.1 intern Kevin, Linda Jobson, Miichelle Gorta and Greta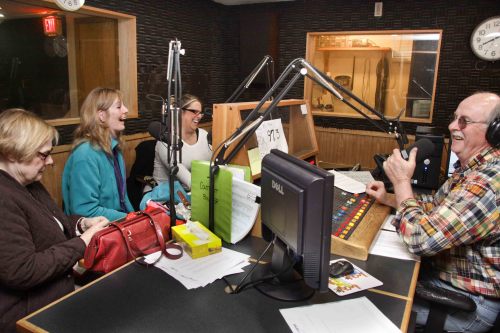 Linda Jobson owner/operator Colby Kennels, Michelle Gorta, the Canine Sanctuary, Lori G and Bob O, WGNY Fox 103.1 morning DJs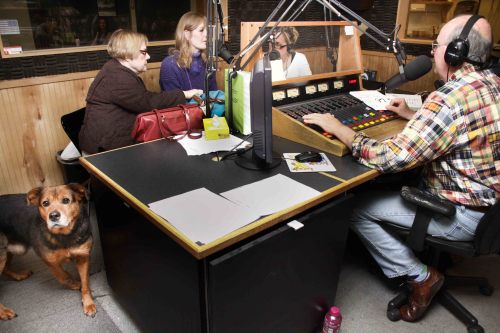 On the Air at WGNY Fox 103.1FM with morning DJs Bob O and Lori G. Greta gets on the air too!
Romeo
Times Herald Record
By Mary Esparra

It always seems miraculous to me when all the pieces of an adoption puzzle come together to form a beautiful, meant-to-be picture.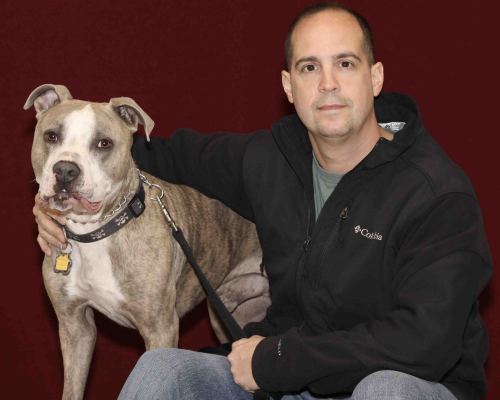 On death row at a New York City shelter in March 2011, Romeo was pulled by NYC's Amster Dog Rescue, which saw potential in him.
Although New York State Trooper Steve Margini of New Windsor was on AmsterDog's list of potential foster homes, he hesitated when he got the call to take the pit bull mix. His senior pit bull Moose didn't have much time left and wouldn't be able to keep up with a young dog with a strong play drive. There was also Margini's daughter's kitten to think about.

Margini agreed to take it day by day. Romeo was first quarantined at Flannery Animal Hospital, scared and standoffish, where staff worked on his confidence and socialization skills.

Michelle Gorta of the Canine Sanctuary in Mountainville offered to take Romeo at Colby Kennels, where the sanctuary boards its adoptable dogs. Margini offered to transport him.

"Before I even pulled out of the parking lot," said Margini, "he jumped on me and started licking me and laid on his back in my lap. I just knew he was a great dog."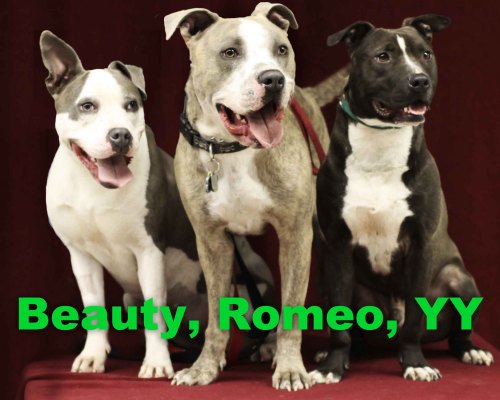 Romeo stayed at Colby Kennels a few weeks, and Margini visited him. After Romeo's neuter surgery, Margini offered to take him home to recuperate, and that's all it took to seal the deal.
"I said, 'You know what? I'm not sending him back there.' He's such a great dog; I just fell in love with him."
Romeo plays with the kitten and slept with Moose, who passed away a few weeks ago.

"Romeo never roughhoused with him or growled at him," Margini said. "They would lie down together and take naps."

On his days off, Margini now takes Romeo back to the kennels, where Romeo volunteers to help exercise some of the adoptable dogs.
"He loves it so much," said Margini. "It's nice, because it tires him out for the day, and it works well for (Gorta) because those dogs need to be taken out and socialized. Romeo is so good; you can put him with any dog. He's so game, he'll run around for an hour." Gorta appreciates her new volunteer dog exerciser.

"Romeo romps around the big backyard with pit bull-Great Dane mix Beauty and adorable and lovable Y.Y.," she said. "Romeo provides a much-needed interactive playtime for the kennel dogs who don't always chase balls or play with toys. When Romeo shows up, all three tear around the yard in full play mode, flying through puddles, mud or snow. Wrestling matches break out or a quick game of catch-me-if-you-can."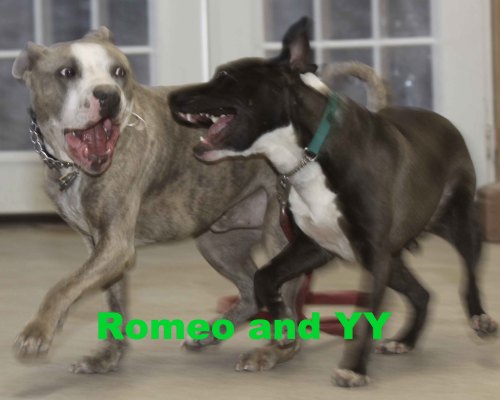 Margini advocates the adoption of pit bulls. "I just want people considering adopting a dog to consider adopting a pit," he said. "Their personality is a lot different than other dogs; they're real personable. They're very affectionate and have a real strong play drive. "That dog makes me laugh every day. They have this expressiveness about them and loyalty. They make great company."

Romeo found a home, shelter dogs got an exerciser and friend to play with, and Margini's mourning from the loss of a beloved pet has eased.

"If I hadn't had Romeo at the time, it would've been awful," Margini said. "He was definitely meant to be with me. I love him to death."

Canine Sanctuary stray training program. (Photos show pets who have now been adopted)
Our rescue group is committed to training every dog that comes into our care. While behaviors is not the number one reason why dogs are returned, we feel it is part of the problem. We make sure we get to know our dogs well and enlist the community on this effort. For everything from pack walks with volunteers and our dogs, to adoption events, we try to pair people with the homeless waiting to be adopted. We offer full assistance upon adoption and have a motto "get rid of the problem, not the dog."

We have trainers willing to assist with problems that appear upon adoption or after the dog is in the home. We don't leave new adoptees on their own unless they feel they have acclimated their new dog and are comfortable with the entire process. We offer the same for our cats and kittens adopted but do not generally have much difficulty in that area.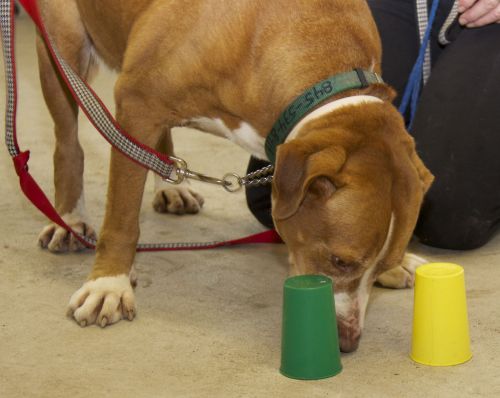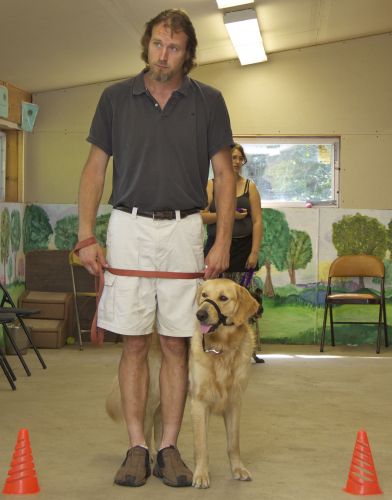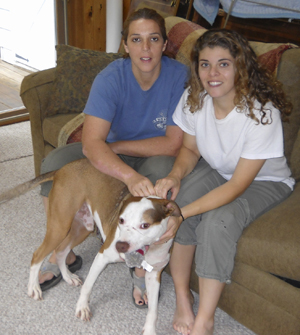 Snugs Has Found His Forever Home!

Snuggles, aka Snugs, recently turned two years old.
After a year of being fostered with Canine Sanctuary Director Michelle Gorta, on July 29th, Snugs went to his forever home.
At a family gathering in June 2010, Michelle's niece, Yvonne Raggo, and her friend Dawn Fantini, met and fell
in love with Snugs and wanted to adopt him, however, they were saving to buy a home and knew it was going to take a year. During the remainder
of 2010 and into 2011, Eve and Dawn regularly sent food, toys, treats, and flea and tick preventative to help with Snugs care. True to their word, one year later, July 29, 2011, they adopted Snugs one week after moving into their home in Rockland County where both women are police officers.
Snugs has a new name; PD Snugs. He was welcomed by six year old Cocker Spaniel Bella, and a somewhat put out black and white feline, named Spanky.

Eve states that he remains a happy and loving dog whose spirit is pure joy. Eve and Dawn are so happy to have such a loving and loyal protective dog.

Dedicated in loving memory to a sweet little Pit Bull who never had a forever home.
He gave his love to his caretakers in a kennel where love is freely given to those without homes,
and he lived his life within the safety of the Canine Sanctuary.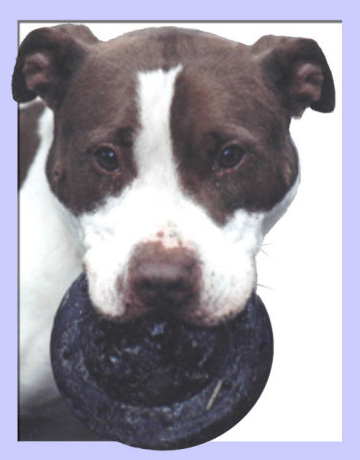 Jackie Wang


You Can Help! Donations Saves Lives!

Thank You For Your Support!

Canine Sanctuary | PO Box 52 Mountainville, NY 10953
Tel: 845-534-8414 | Email: emilythepitbull@gmail.com



[Home] [Information] [Shelters] [Search